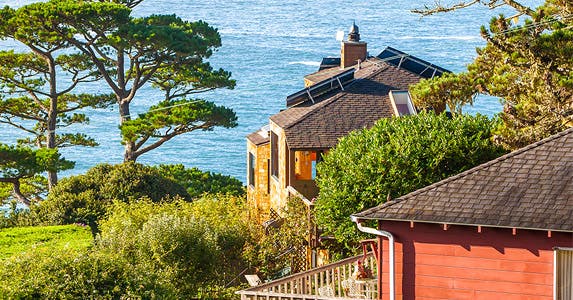 Insurance choices for a green home
An energy-efficient home is the superhero of housing, providing homeowners with lower utility bills, reduced risk of fire and other benefits, all while helping to sustain the planet. Federal, state and local energy rebates often pick up part of the expense of "going green."
But before you install that solar panel array, wind turbine or solar water heater, check with your home insurance agent. After all, you don't want to make a dumb insurance move with your energy-smart home.
Insurers are bullish on green homes. Farmers, Fireman's Fund, State Farm, Travelers and others offer: premium rebates for building green; policy endorsements that pay the difference to repair a damaged home with environmentally friendly materials; or both.
Ed Charlebois, vice president of personal insurance for Travelers, says there's a good reason insurers roll out the red carpet for a green home.
"It shows that this homeowner is very into good home maintenance, and I will tell you that better-maintained homes are less risky," he says. "It's not that you have a solar water heater; it's that you care about your home and you're going to maintain it to a higher standard."
Here's a look at some insurance considerations when going green.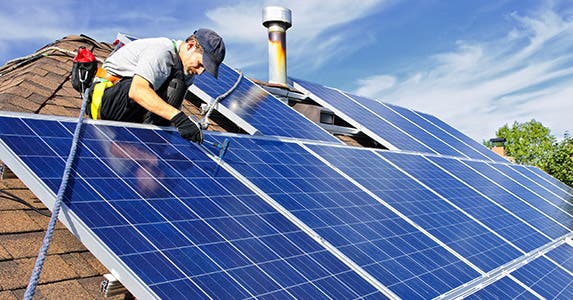 Solar panels: Don't hit the roof!
U.S. home solar installations are growing, with California, Arizona and Hawaii leading the way. But while those energy-saving panels — which can cost in the neighborhood of $20,000 or more for a full array — are typically mounted on the roof, they're probably not covered under the roof portion of home insurance.
"They're part of the building; therefore, they're covered under the building coverage," says Charlebois, explaining that part of your policy would likely pay the full replacement cost for the panels in the event of loss.
That's good news if your roof coverage is "actual cash value," or ACV, which pays less than full replacement by factoring in depreciation.
Note that if your roof incorporates the new "solar shingles" (aka "building-integrated photovoltaics" or BIPVs) that collect solar energy and double as your roof covering, you'll want to upgrade your roof coverage accordingly.
One popular option avoids the home insurance mambo entirely: Lease your panels.
A leasing arrangement offered by SolarCity, a San Mateo, California, solar power provider, includes insurance coverage that assumes all risk for property damage or theft of its roof arrays.
"No additional insurance is required of the customer with respect to the solar system," says spokesman Jonathan Bass.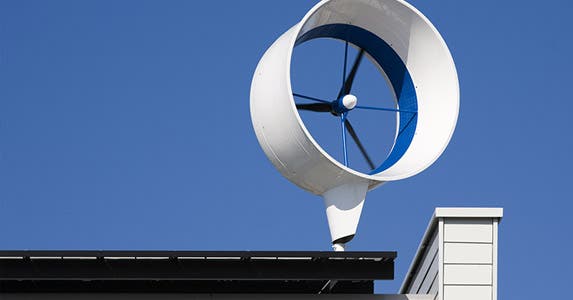 Wind turbine: Location, location
Though hardly a fixture yet in residential settings, power-generating wind turbines are slowly migrating from remote commercial wind fields to America's rooftops and backyards.
Ahmann-Martin, a Minnesota-based risk and benefits consulting firm that specializes in renewable energy insurance, notes on its website that many home insurance companies won't cover wind turbines because they've yet to assess the risks.
While some insurers offer property coverage for windstorm, lightning and ice damage to a turbine, the owner may be required to purchase general liability insurance if he or she sells excess power to the local utility.
Charlebois says the insurance on a home's wind turbine would likely depend on its location.
"If it's roof-mounted, it's part of the building, not the roof," he says, meaning you could expect full replacement coverage for any damage.
"If it's out in the yard, it becomes what's called an accessory or 'appurtenant' structure, the same as a pool or shed," he adds. "In that case, you want to make sure you have replacement cost and enough coverage in that section of your policy."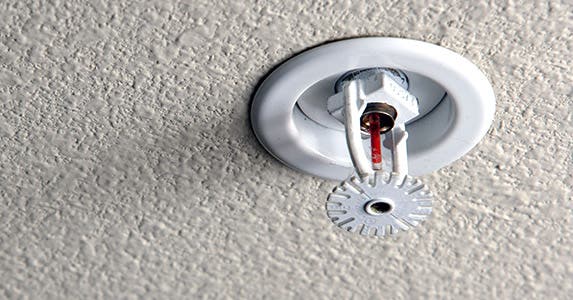 Home sprinklers save lives
In California and Maryland, as well as in select communities nationwide, sprinklers aren't just a green home accessory — they're required by law in new construction.
What makes a home sprinkler green? Simple: Being able to detect and extinguish a fire before it engulfs the entire structure, thereby avoiding the toxic gases released by burning synthetic materials in homes.
"Today's energy-efficient homes are sealed real tight, so when a fire starts, it burns quicker and the smoke becomes deadlier," explains Peg Paul, spokeswoman for the Home Fire Sprinkler Coalition, a nonprofit educational group based in the Chicago area.
Jeff Feid, a loss mitigation administrator with State Farm Insurance in Bloomington, Illinois, says homeowners should know that:
Home sprinklers are now recommended as part of the International Building Code.
Many insurers, including State Farm, offer premium discounts for sprinklers.
Optional homeowners "ordinance or law" coverage may pay 5 percent to 10 percent of the cost to install sprinklers (at an average cost of $1.31 per square foot) while you're repairing or rebuilding an insured home.
"Sprinklers are so valuable in saving lives and protecting property that if you're not including them, you're almost constructing a substandard home now," Feid says.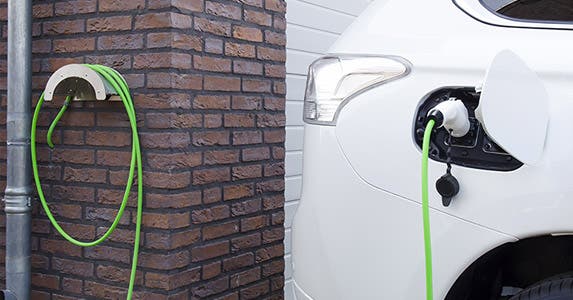 EV chargers plug right in
Much has been said about the environmental advantages of plug-in hybrid vehicles. But how do home insurers feel about the gadgets used to charge those electric cars?
No worries, says Charlebois. Most of the equipment that's used to charge the battery is located onboard a hybrid vehicle. You plug into a home outlet that's virtually the same as the one that heats your clothes dryer. In fact, some plug-in hybrid drivers use a splitter to get double duty out of their dryer outlet.
"I haven't seen any claims associated with car chargers," he admits. "You hear about batteries causing fires in the cars, but if a home charging station is properly installed, there shouldn't be any problem."
In fact, it's no different from another common household convenience.
"It's like having a central vacuum system in your house," he says. "When you went from the one you push around, which would be covered under contents, to the one that is centrally installed, then it becomes part of your building. So, you have coverage under your homeowners policy."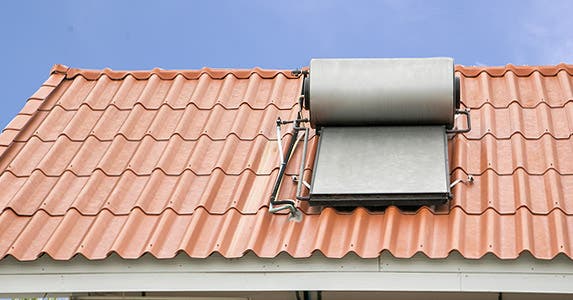 Solar H2O heater? A-OK!
Solar water-heater systems come in two varieties:
Active systems pump water or nonfreezing heat-transfer fluid through roof-mounted collectors, then return sun-heated water to the home's hot water storage tank.
Passive systems accomplish much of the same thing by dispensing with the pump and using thermodynamics (the natural rise of warm water) to fill a roof-mounted collector.
Charlebois says solar water heaters are covered in the same way as solar panels. "If they're mounted on top of the roof and not part of it, they're part of the building," he says.
But, just as with home fire-sprinkler systems, it's a good idea to check with your insurance agent any time a green home addition involves additional plumbing, especially in colder climates.
"During one recent winter, places that normally don't get that cold got very cold, and there were frozen interior home sprinkler systems that caused major damage because the pipes froze and burst and dispersed water across the home," he recalls.
Feid says installation is key.
"Sprinkler pipes are put in heated spaces," he says. "If you're a reputable and informed contractor, you would avoid putting pipes any place where they would likely freeze."