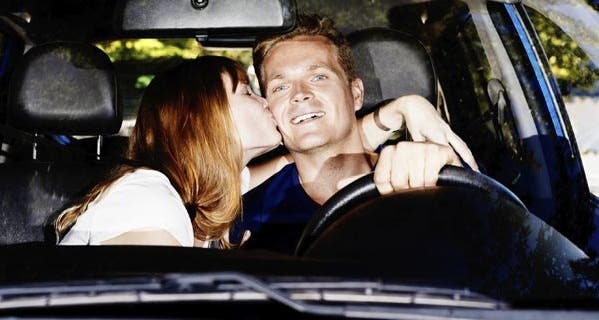 Is it really worth the risk to snap that selfie during your morning commute? Apparently, some drivers think so. We're willing to bet that's a secret they want kept from their car insurance company.
Taking selfies is just one of several extreme distracted-driving behaviors that people were willing to admit to in a new online survey of nearly 2,000 adult drivers conducted by Erie Insurance.
Just in time for April — aka National Distracted Driving Awareness Month — here's a look at eight odd and dangerous driver distractions, with the percentages of motorists who were brave enough to own up to their behavior.
Who takes distracted driving to extremes?
Public displays of affection:

15 percent

Styling hair:

15 percent

Changing clothes:

9 percent

Applying makeup:

8 percent

Brushing and/or flossing teeth:

4 percent

Taking selfies:

4 percent

Switching drivers:

3 percent

Using the bathroom:

3 percent
Source: Erie Insurance
The survey also found that some people curl their eyelashes, put in contact lenses and scratch off lotto tickets while behind the wheel.
No laughing matter
The findings underscore the potential danger that distracted drivers face, Doug Smith, senior vice president of personal lines for Erie Insurance, says in a statement.
"We hope our survey will get people talking about the importance of eliminating distracted driving and keeping their focus on the road," he says.
Regardless of how bizarre — and risky — the above behaviors may seem, texting while driving is "the most alarming distraction," says the National Highway Traffic Safety Administration, or NHTSA.
Too much texting
Thirty percent of motorists report they have sent texts while driving, Erie's survey found. Southern-based drivers text the most; those in the Northeast text the least.
More than 420,000 people were injured in crashes caused by distracted driving in 2012, according to NHTSA, and another 3,328 were killed.
Additionally, millennials have a bad driving rap: 20-something drivers comprise nearly 30 percent of fatal distracted-driving collisions.
Here's a look at how six driver distractions rank on the danger scale.
Follow me on Twitter @CrissiPonder.