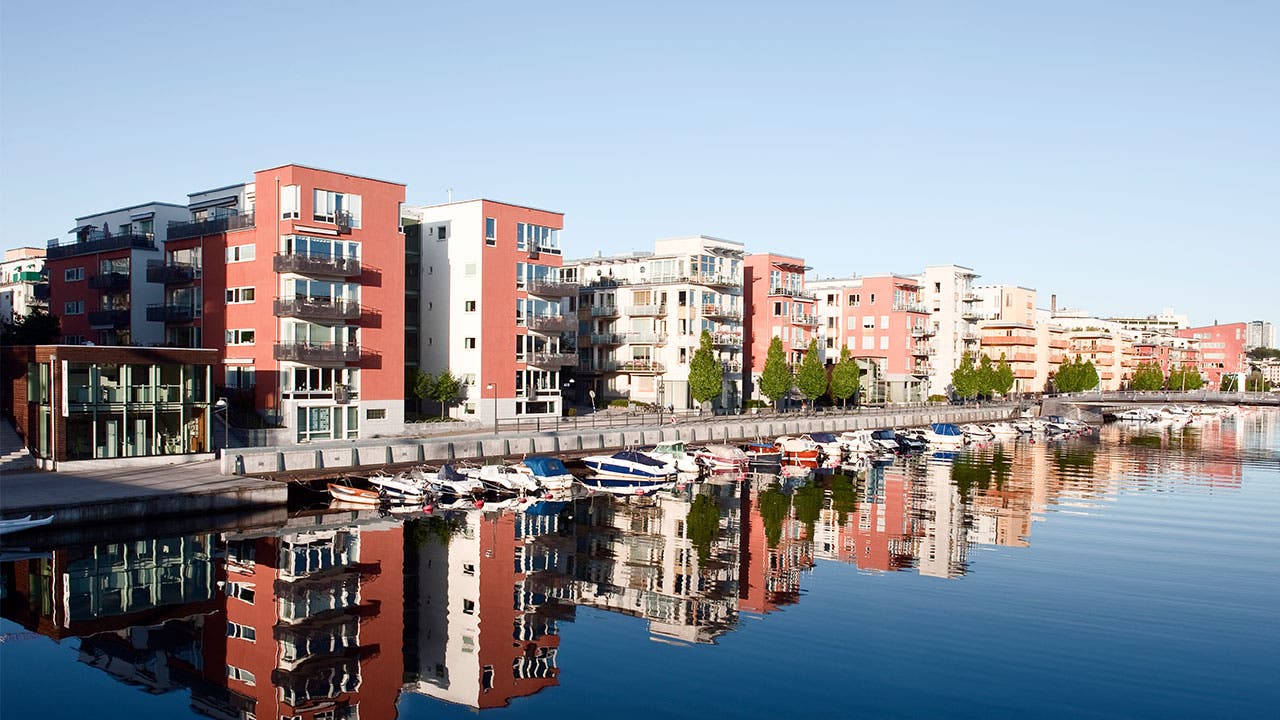 Homebuyers are getting slight relief as mortgage rates eased across the board this week, according to Bankrate's weekly rate survey.
The benchmark 30-year fixed rate is 4.7 percent, down 6 basis points from last week, according to Bankrate's survey of large lenders. Also, the 15-year fixed rate and 5/1 adjustable rate both fell to 4.15 percent and 4.12 percent, respectively.
Meanwhile, mortgage applications jumped 5.1 percent for the week ending June 15 from the previous week, according to the Mortgage Bankers Association's seasonally adjusted weekly survey.
Purchase applications rose 4 percent over the previous week. In a surprising twist, refinance applications spiked 6 percent over the same time frame, the MBA reported. The refinance share of total mortgage activity has been down in recent weeks as rates climbed. However, that share of activity surged to 36.8 percent from 35.6 percent in the previous week.
Existing-home sales retreat (again) in May
Record-high home prices and limited inventory dragged down existing-home sales in May for a second consecutive month, according to data from the National Association of Realtors.
Total existing-home sales dipped 0.4 percent to a seasonally adjusted annual rate of 5.43 million, from the downwardly revised 5.45 million in April, NAR reported. Existing sales are now 3 percent below last year and have slid year over year for three months in a row.
Despite a strong economy and job market, a trifecta of low housing inventory, higher home prices and surging interest rates is holding buyers back, says NAR chief economist Lawrence Yun.
The median existing-home price for all housing types last month was $264,800 (an all-time high), up 4.9 percent over May 2017.
Meanwhile, total housing inventory at the end of May rose 2.8 percent to 1.85 million existing homes on the market. But that's still 6.1 percent below last year's inventory level of 1.97 million, NAR reported.
New housing starts soar in May
In other industry news, total U.S. housing starts jumped 5 percent in May to 1.35 million units – the highest level since July 2007, according to a joint release from the U.S. Department of Housing and Urban Development and the Commerce Department.
Single-family housing starts rose 3.9 percent to 936,000 units – the second highest reading since the Great Recession.
Despite the positive boost in housing starts, building permits – a metric of future new-home building – fell 4.6 percent in May from April's revised rate, with single-family permits down 2.2 percent.
As homebuyers continue to face rising home prices and fewer choices in the resale-home market, their appetite for new construction has grown. However, booming consumer demand is being overshadowed by rising construction costs.
Builders' confidence in the new, single-family housing market fell two points to 68 in June on the NAHB/Wells Fargo Housing Market Index (HMI). The main reason: Builders fear that U.S. tariffs on Canadian lumber and other imported goods will impact affordability. Higher lumber prices have tacked on nearly $9,000 to the cost of single-family homes since January 2017, according to the NAHB.
Mortgage rates this week
The benchmark 30-year fixed-rate mortgage fell this week to 4.70 percent from 4.76 percent, according to Bankrate's weekly survey of large lenders. A year ago, it was 4.05 percent. Four weeks ago, the rate was 4.80 percent. The 30-year fixed-rate average for this week is 0.10 percentage points below the 52-week high of 4.80 percent, and is 0.75 percentage points above the 52-week low of 3.95 percent.
The 30-year fixed mortgages in this week's survey had an average total of 0.31 discount and origination points.
Over the past 52 weeks, the 30-year fixed has averaged 4.30 percent. This week's rate is 0.40 percentage points higher than the 52-week average.
The 15-year fixed-rate mortgage fell to 4.15 percent from 4.18 percent.
The 5/1 adjustable-rate mortgage fell to 4.12 percent from 4.16 percent.
The 30-year fixed-rate jumbo mortgage fell to 4.63 percent from 4.70 percent.
At the current 30-year fixed rate, you'll pay $518.64 each month for every $100,000 you borrow, down from $522.25 last week.
At the current 15-year fixed rate, you'll pay $747.23 each month for every $100,000 you borrow, down from $748.74 last week.
At the current 5/1 ARM rate, you'll pay $484.36 each month for every $100,000 you borrow, down from $486.69 last week.
Results of Bankrate.com's weekly national survey of large lenders conducted June 20, 2018, and the effect on monthly payments for a $165,000 loan:
The "Bankrate.com National Average," or "national survey of large lenders," is conducted weekly. The results of this survey are quoted in our weekly articles and national media outlets. To conduct the National Average survey, Bankrate obtains rate information from the 10 largest banks and thrifts in 10 large U.S. markets. In the Bankrate.com national survey, our Market Analysis team gathers rates and/or yields on banking deposits, loans and mortgages. We've conducted this survey in the same manner for more than 30 years, and because it's consistently done the way it is, it gives an accurate national apples-to-apples comparison.