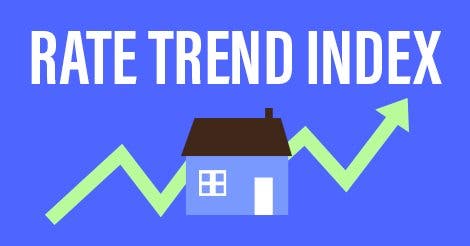 Each week, Bankrate surveys experts in the mortgage field to see where they believe mortgage interest rates are headed.
This week (Feb. 21-27), 42 percent of the panelists believe mortgage rates will rise over the next week or so; 8 percent think rates will fall; and 50 percent believe rates will remain relatively unchanged (plus or minus 2 basis points).
Calculate your monthly payment using Bankrate's mortgage calculator.
This week, will rates go up, down or remain unchanged?

| Up | Down | Unchanged |
| --- | --- | --- |
| 56% | 13% | 31% |
Read the comments and rate predictions of mortgage experts and Bankrate analysts below.
42% say rates will go up
8% say rates will go down
Les Parker

Senior vice president of LoanLogics, Trevose, Pennsylvania

Here's a song parody that became the first single to top the charts in the U.S. posthumously. Sitting on the locks of the day; Watchin' the screen, scroll away. Sittin' on the locks of the day; Markin' time. Technically interest rates should go higher, but the global equity markets still present ugly technical pictures worldwide. Provided the dollar remains stable to strong, expect lower rates soon.
50% say rates will remain unchanged
Michael Becker

Branch manager, Sierra Pacific Mortgage, White Marsh, Maryland

hankfully mortgage rates have seemed to stabilize over the last few days. Given the large amount of debt the U.S. Treasury is selling this week, this is a welcomed situation. Whether they stay here or go higher will depend on what is in the Fed minutes. Should the Fed hint at increasing their number of rate hikes, we could see mortgage rates move higher. I think the minutes won't show this and that rates will be flat in the coming week.

Michael Cox

Founding director and executive-in-residence of the O'Neil Center for Global Markets & Freedom SMU Cox School of Business & former chief economist, Dallas Federal Reserve Bank, Dallas

There will be no change.

David Kuiper

Vice president,
Northpointe Bank, Holland, Michigan

Things seem to have calmed down just a bit in the world of mortgage interest rates, and they seem to be looking for a place to settle after several weeks of being on the rise. It would be prudent at this time to lock into an interest rate if that option is available to you to secure a "sure thing" and ensure protection from any further volatility. Contact your local mortgage professional to see what this might look like for you, whether you're looking to buy, build or refinance.

Dick Lepre

Senior loan officer,
RPM Mortgage, San Francisco

It is difficult to tell short-term what the techs say for rates, but what is sure is that the daily, weekly and monthly techs are extremely oversold. Any unexpected event bad for the economy event will cause a very large rally and lower yields and rates.

Logan Mohtashami

Senior loan officer, AMC Lending Group, Irvine, California

Key line to remember on the 10-year yield is 2.92 percent. I know this doesn't get talked about much from people, but for me this is the last line of defense before we make the mother of all tests at 3.03 percent. So far, we haven't been able to close above 2.92 percent and get follow-through action. Inflation data core is looking strong, but be mindful core CPI and PCE haven't been above 2 percent together since 2012. Context is key with inflation.

Jim Sahnger

Mortgage planner, Schaffer Mortgage, Palm Beach Gardens, Florida

Rates have been increasing since mid-September, battling an incredibly vibrant stock market. The stock market is up roughly 11 to 13 percent while yields are up on the 10-year Treasury over 30 percent and mortgage rates are up roughly 15 percent. I think we'll take a breather over the next week. That said, don't float your rate lock. Tail winds look like things will continue to get a bit worse before we get better.
About the Bankrate.com Rate Trend Index
Bankrate's panel of experts is comprised of economists, mortgage bankers, mortgage brokers and other industry experts who provide residential first mortgages to consumers. Results from Bankrate.com's Mortgage Rate Trend Index are released each Thursday.