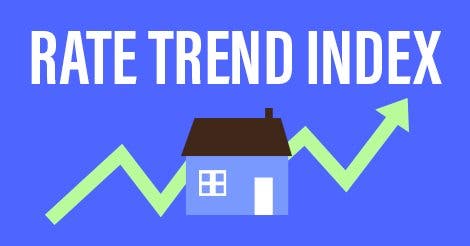 Each week, Bankrate surveys experts in the mortgage field to see where they believe mortgage interest rates are headed.
This week (Oct. 10-Oct. 16), 42 percent of panelists believe mortgage rates will rise over the next week or so; 25 percent think rates will fall; and 33 percent believe rates will remain relatively unchanged (plus or minus 2 basis points).
Calculate your monthly payment using Bankrate's mortgage calculator.
This week, will rates go up, down or remain unchanged?

| Up | Down | Unchanged |
| --- | --- | --- |
| 42% | 25% | 33% |
Read the comments and rate predictions of mortgage experts and Bankrate analysts below.
42% say rates will go up
Michael Cox

Founding director and executive-in-residence of the O'Neil Center for Global Markets & Freedom SMU Cox School of Business and former chief economist, Dallas Federal Reserve Bank, Dallas

Rates are trending up.

Derek Egeberg

Certified mortgage planning specialist and branch manager,
Academy Mortgage, Yuma, Arizona

Rates will move higher. Market volatility continues to become the norm and, as such, rates continue to drift higher as the economy marches ahead.

Shaun Guerrero

Branch manager, New American Funding, Silverdale, Washington

Rates will continue to rise this week.

Jim Sahnger

Mortgage planner, Schaffer Mortgage, Palm Beach Gardens, Florida

Rates will rise. Bonds continue to look for a bottom, higher rates, and there doesn't appear to be a sturdy floor coming anytime soon. The largest buyer in the bond arena, the Fed, stepped away from the table in October. Bonds and mortgage rates have been addicted to the sugar that's been coming and now we've been left to the savor the taste of what we've got without intervention. It's hard to say where we'll land but for the time being, higher in rates is the trend, just not our friend.
25% say rates will go down
Nancy Vanden Houten, CFA

Senior research analyst,
Stone and McCarthy Research, New York

Rates will drop.

Dick Lepre

Senior loan officer, RPM Mortgage, San Francisco

Rates will fall. The techs are still extremely oversold and due for a bullish correction. This has been the case for several weeks but the Treasury market has not followed the techs. Instead we are seeing the highest Treasury yields and mortgage rates in several years. A concern is that the tight labor market and Fed policy will cause inflation.

Logan Mohtashami

Senior loan officer, AMC Lending Group, Irvine, California

Rates will drop. One major point here is that although many people are claiming that the 10-year yield channel trend from 1981 has been broken, I disagree. I remind everyone that the interim high back on June 12, 2007 was 5.26 percent and that channel up trend has not been broken. Oil prices are stabilizing here but have not fallen, today the Dow is down over 400 points but yields only down 3.22 percent. As long as we don't close above 3.25 percent and get next-day follow through selling, we can stabilize here and go slightly lower — but keep a head's up on that 3.25 percent level. The next stop after that would be the 3.41 to 3.48 percent, area which would be a bigger deal in my view.
33% say rates will remain unchanged
Michael Becker

Branch manager, Sierra Pacific Mortgage, White Marsh, Maryland

Treasury yields and mortgage rates are now at their highest levels in seven years. Bond markets have quickly repriced for current economic conditions. The fact that no negative shocks to the markets, like a trade war, have caused a flight to safety and bid for bonds means this spike in rates is here to stay. However, I do think the worst of the spike in rates is over and we can stay at the current levels for the coming week. Mortgage rates will be flat in the coming week.

Greg McBride, CFA

Senior vice president and chief financial analyst, Bankrate.com

Rates spiked over the past week but unless the Consumer Price Index creates a scare about inflation, the bond market should settle down, leaving rates little changed.

Les Parker

Managing director, Transformational Mortgage Solutions, Trevose, Pennsylvania

Mortgage rates will go nowhere. Here's a parody that focuses on the consequences of the Italian budget and the view from European Union, from Hank Williams Sr (1952): "Your cheatin' chart; Makes E U weep; They'll try and try; To make you shrink; But shrink won't come; No budget deal; Your cheatin' chart; just might come true." The Italian budget affair exposes the EU political underbelly. Expect higher rates if investors focus on the strong US economy. Expect lower rates if investors fear troubles in Europe and emerging markets. The question is: do they cancel one another out?

Shashank Shekhar

CEO, Arcus Lending, San Jose, California

Mortgage rates will remain the same. The deterioration of mortgage-backed securities pricing (which results in higher mortgage rates) is a real and longer-term trend and perfectly natural in the face of stronger economic growth and inflation. Even if we get a little improvement (read – lower rates) here and there, expect the overall mortgage rates each month to be higher than the month before. As for this week, after the sudden recent spike, we might just see a calmer week with little change to mortgage rates.
About the Bankrate.com Rate Trend Index
Bankrate's panel of experts is comprised of economists, mortgage bankers, mortgage brokers and other industry experts who provide residential first mortgages to consumers. Results from Bankrate.com's Mortgage Rate Trend Index are released each Thursday.