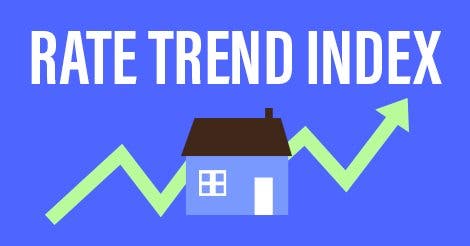 Each week, Bankrate surveys experts in the mortgage field to see where they believe mortgage interest rates are headed.
This week (Oct. 17-22), 18 percent of panelists believe mortgage rates will rise over the next week or so; 18 percent think rates will fall; and 64 percent believe rates will remain relatively unchanged (plus or minus 2 basis points).
Calculate your monthly payment using Bankrate's mortgage calculator.
This week, will rates go up, down or remain unchanged?

| Up | Down | Unchanged |
| --- | --- | --- |
| 18% | 18% | 64% |
Read the comments and rate predictions of mortgage experts and Bankrate analysts below.
18% say rates will go up
Bob Moulton

President,
Americana Mortgage Group, Manhasset, New York

Rates are on the rise.

Elizabeth Rose

Sales Manager,
Nations Lending, Dallas

Our improving and growing economy continues to put pressure on mortgage bonds, moving rates higher. Bonds are smack in the middle of a wide trading range and could easily worsen.
18% say rates will go down
Dick Lepre

Senior loan officer,
RPM Mortgage, San Francisco

The techs say that we should see modestly lower Treasury yields and rate in the coming week.

Robert A. Brusca

Chief Economist,
Fact and Opinion Economics, New York

Mortgage rates will settle lower this week in line with the air that is coming out of US Treasury yields over the past week.
64% say rates will remain unchanged
David Kuiper

Vice president,
Northpointe Bank, Holland, Michigan

No Change. While it may be true that mortgage interest rates are at the highest point they've been in seven years, if you look at interest rates from a historical context, they are still extremely attractive. There is some intra-day volatility occurring in the markets, as the continued push/pull of positive/negative economic news is released. Overall, the US economy is very strong, and higher interest rates are appropriate…remember…a rising tide lifts all boats – that is to say that as interest rates may be rising for our borrowing needs, they are also increasing our investment returns.

Logan Mohtashami

Senior loan officer, AMC Lending Group, Irvine, California

Last week's lower rate call was just based on the pure technical level of the 10 year yield hitting 3.25 percent and not breaking it's 37-year long term trend, which is a controversial topic. Wednesday pricing of the 10 year yield is 3.17 percent. Right now that 3.11 percent level is key and needs to be broken to have another leg lower but I am really looking for a true break under 3.05 percent to make it meaningful. Oil prices have been heading down, which is a plus for rates. Right now we are in a tight range between 3.11 percent – 3.25 percent. Keep an eye out on any closes above 3.25 percent and any closes below 3.05 percent to break out of this.

Greg McBride, CFA

Senior vice president and chief financial analyst, Bankrate.com

Bouts of market volatility will keep bond yields in check, with limited movement in mortgage rates.

Joel Naroff

President and Chief Economist, Naroff Economics, Holland, Pennsylvania

No big economic news until the GDP report is released.

Les Parker

Senior vice president of LoanLogics, Trevose, Pennsylvania

Mortgage Rates will go nowhere. Here's a parody that focuses on the market returning to low volatility from British rock band Whitesnake. (1982): "Here we go again a slow moan; Goin' down the low Vol road, we've clearly known" Slowly investors moan over the mix of uninspired US Stocks, weak inflation, a gloomy international economic backdrop, and a red-hot US economy. It's the same old story of nervous inertia.

Jim Sahnger

Mortgage planner, Schaffer Mortgage, Palm Beach Gardens, Florida

Rates have appeared to step off the escalator over the past few sessions amid the volatility in the stock market and geopolitical arena. Tariff chatter and the anxiety from it seem to have taken a back seat to other issues including real inflation issues like job and wage growth. A humming economy is a threat to low rates but so is a normalizing economic environment of risk vs reward from a true investment perspective with a declining Fed balance sheet. Short term look for rates to remain stable.

Shashank Shekhar

CEO,
Arcus Lending, San Jose, California

After rising to a seven-year high ~two weeks back, mortgage rates have remained mostly stable. The meeting minutes from the Federal Open Market Committee (FOMC) didn't contain any surprises. There is no other major economic event or announcements that can have a significant impact on the rates. Also, after the sudden steep hike in late September/early October, the markets should pause for a week or so. Put all that together and we might just have a quiet week on the mortgage rates front.
About the Bankrate.com Rate Trend Index
Bankrate's panel of experts is comprised of economists, mortgage bankers, mortgage brokers and other industry experts who provide residential first mortgages to consumers. Results from Bankrate.com's Mortgage Rate Trend Index are released each Thursday.