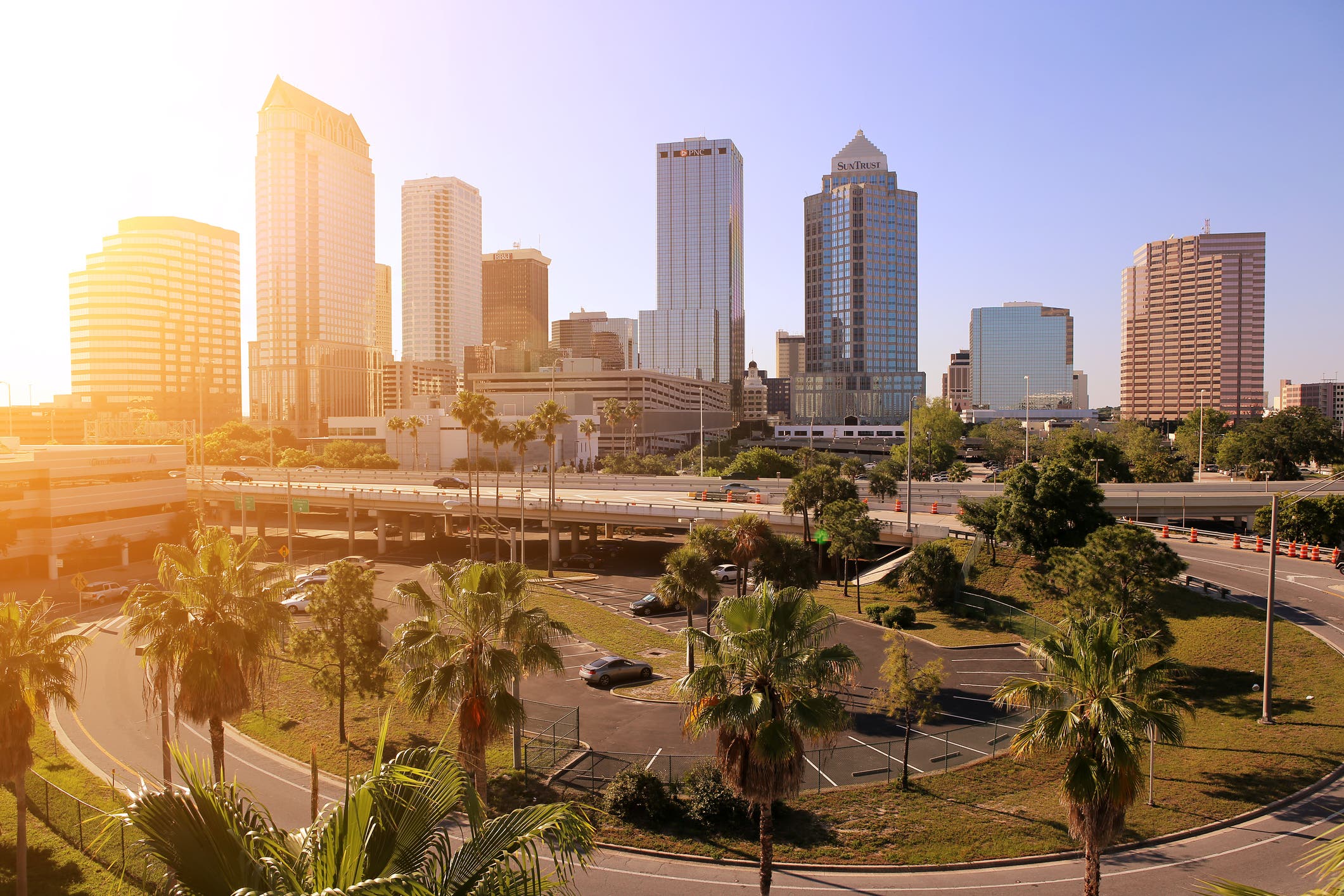 Driving in Florida has its challenges. Heavy tropical rainstorms are common, making roads slippery and hazardous. The state has the largest number of drivers over 60. With almost 14 million licensed drivers, Florida is the third largest state of licensed drivers in the country.
The perfect storm of busy roads and challenging weather conditions make the Sunshine State one of the most expensive places in the country for car insurance, but you can save money on your Florida car insurance premiums by comparing insurers. Round up the following information to get the most accurate quote:
Car year, make and model
Vehicle identification number (VIN) for each vehicle on the policy
Date of birth for everyone on the policy
Drivers license information for everyone included on the policy
Expected amount of miles to be driven in one year
Cheapest Car Insurance Companies in Florida
The three cheapest auto insurance companies in Florida include GEICO, USAA and Progressive. Florida is the fifth most expensive state for auto insurance with an average annual cost of $822 per year.
Compare quotes to find the best Florida car insurance deal. Here are the state's most popular insurers and their customer satisfaction rating, according to J.D. Power:
State Farm – State Farm is the most popular of the car insurance companies in Florida. They offer more than a dozen driver discounts including good driving record and student away at school discounts.
Geico – Geico, known for their low rates, is a popular choice in Florida as the nation's second-largest car insurance company.
Allstate – Allstate is the winner of the J.D. Power customer satisfaction award with an overall score of 5 out of 5. They are one of the few insurers offering gap insurance to cover a new vehicle's rapid drop in value.
Progressive – Young drivers or drivers with a poor driving record or a low credit score may have luck getting insured through Progressive.
Esurance –  Esurance scores in the top three car insurance companies in customer satisfaction with an excellent 5 out of 5 rating.
Finding the right cheap car insurance in Florida for you
Car insurance companies often specialize in different types of drivers. Depending on your history, the cheapest Florida car insurance may be different for you than for someone else.
Cheapest car insurance for good drivers
If you're a good driver with a claim-free driving history, you're likely to get a great deal from any insurer. State Farm and Allstate offer the best customer service, paired with affordable premiums, for the most value.
Cheapest car insurance for students
Students on a budget should get a quote from Progressive, the cheapest Florida car insurer in many scenarios. They offer a good student and distant student discount program that makes it affordable to keep your child on your policy or help them insure themselves.
Cheapest car insurance for people with low credit
Insurers often use credit reports to determine auto insurance premiums. Consumer Affairs reported that, "Geico seems to rely on credit scores the least, with a premium fluctuation of 32%."
Cheapest car insurance for people with accidents
Accidents can happen to anyone, so why should you pay for a mistake for the rest of your life? Esurance is a good option for Florida drivers with past accidents because they offer accident forgiveness and a Safe Driving Bonus Check to drivers after being claim-free for a set time.
Average car insurance cost in Florida
Florida is one of the most expensive states for car insurance. It ranks fifth in average car insurance expenses in an Insurance Information Institute study. The Zebra details average costs by driver type further:
| Average insurance cost for state minimum insurance requirement | Average cost for drivers with low credit | Average cost for drivers with accidents or a poor driving record |
| --- | --- | --- |
| $822/year | $3,470/year | as high as $2,740/year |
Car insurance discounts in Florida
You can save on your auto insurance by checking to see if you qualify for Florida car insurance discounts. Insurers reward customers that pay their premiums early or automatically, as well as those that buy other insurance policies besides auto insurance from them. Here's a quick look at what the top auto insurance companies in Florida offer discounts and coverage on:
Allstate
Esurance
Geico
Progressive
State Farm
Multi-Policy
x
x
x
x
x
Good Student
x
x
x
x
x
Gap Insurance
Coverage
x
x
x
x
Automatic Payment
x
x
x
Vehicle Safety
Equipment
x
x
x
x
x
Anti-Theft
Equipment
x
x
x
x
x
Good Driving
History
x
x
x
x
x
State minimum insurance requirements in Florida
Florida's minimum insurance coverage is $10,000 of personal injury protection (PIP) and $10,000 in property damage liability (PDL).
Personal Injury Protection (PIP) is also known as Florida No-Fault Insurance. It covers you, household members and car passengers that don't have their own PIP, regardless of fault, up to your policy's limits.
Property Damage Liability (PDL) pays for damages that you or your household family members cause to other people's property in a car crash up to your policy's limits.
Frequently asked questions
What is the cheapest car insurance in Florida?
Rates for car insurance always vary by person, but some of the cheapest car insurance companies include Geico, USAA and Progressive.
What is the minimum car insurance coverage required in Florida?
The state's minimum required coverage of Personal Injury Protection (PIP) and Property Damage Liability (PDL) is the cheapest. The drawback is how low the coverage is – $10,000 for each. This may not fully cover property damage or injury to oneself or family members riding in the car.
Why is Florida car insurance so expensive?
Florida car insurance is expensive because Florida is a no-fault state, so drivers must pay their own expenses caused by an accident regardless of fault. Car insurance in Florida is also so expensive as the state has the highest claim rates due to a few factors: