You won't be faulted if you can't quite wrap your brain around the concept of no-fault insurance. It's a complicated facet of auto insurance that's often misunderstood. Does it mean, as you might guess, that you will never be blamed for a crash?
Not quite. At its core, no-fault auto insurance lets a policyholder recoup accident-related losses from his or her own insurer, regardless of who was at fault, according to Michael Barry, a vice president of the industry-supported Insurance Information Institute.
No-fault coverage is aimed at quickly paying claims for personal injury. You won't have to take the other driver to court; in fact, your ability to sue may be limited.
Compare auto insurance quotes and save
Is yours a no-fault state?
If you're involved in a car crash and carry no-fault insurance, you'll be covered for your own medical expenses and lost pay. Some no-fault states limit the amount of money you can collect from your auto insurer, while others do not.
Barry says 12 states have no-fault auto insurance in place.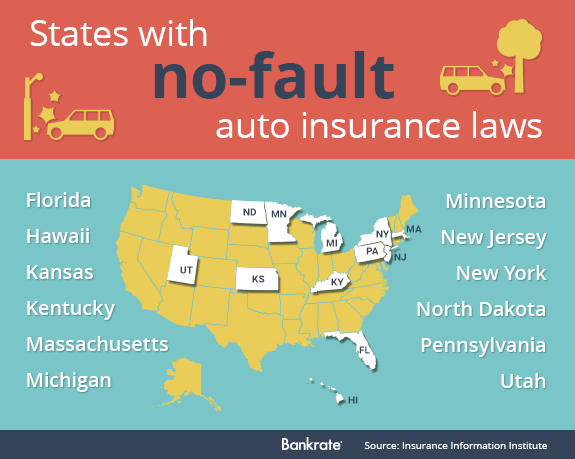 In 3 states on the list — Kentucky, New Jersey and Pennsylvania — policyholders may choose traditional insurance instead of no-fault insurance, according to Allstate.
Puerto Rico also has a no-fault system.
Wherever you live, what you pay for auto insurance can be affected by your credit score. Check your credit score for free and get advice on how to boost it at myBankrate.
No-fault pros and cons
No-fault coverage was designed to lower the cost of auto insurance by keeping smaller-dollar claims out of the courts, Barry says.
"No-fault insurance arose out of public dissatisfaction with the traditional auto liability insurance system," he says. "To reduce the delays and inefficiencies of that system, legislation was introduced in the 1970s in many states, allowing — for the first time — accident victims to recover medical and hospital expenses, as well as lost income, from their own insurance companies."
However, the no-fault system hasn't quite worked as intended, critics say.
Robert Hunter, director of insurance for the nonprofit Consumer Federation of America, says fraudsters and others have exploited no-fault insurance to line their own pockets.
For instance, fraudsters in states such as Florida and New York have faked car wrecks to illegally siphon money from the no-fault system, Hunter says. That has helped drive up auto insurance rates for some consumers.
The National Insurance Crime Bureau says many questionable auto insurance claims in no-fault states have been tied to organized crime rings.
Correcting no-fault's faults
A 2010 report from the RAND Corp. think tank cites 2 other reasons, besides fraud, why no-fault coverage contributes to higher auto insurance rates:
In no-fault states, auto insurers pay for a larger number of medical services than in states without no-fault coverage. Those services include hospital stays, emergency room visits, chiropractic treatment and psychotherapy.
Auto insurers pay more for the same medical services in no-fault states than in states lacking no-fault insurance.
Experts told the RAND Corp. that no-fault laws have shifted costs from health insurers to auto insurance companies, and that the auto insurers aren't quite as adept at fighting high medical bills.
Lawmakers in several no-fault states have pushed for reforms. Florida legislators passed a measure in 2012 that the state Office of Insurance Regulation says has resulted in a "substantial decline" in fraud.