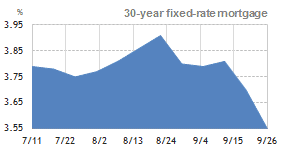 The Fed has handed mortgage borrowers a once-in-a-lifetime opportunity. Mortgage rates have plummeted to the lowest levels in modern history, opening the doors to new groups of refinancers and surprising many homebuyers.
30 year fixed rate mortgage – 3 month trend
The benchmark 30-year fixed-rate mortgage fell to 3.55 percent from 3.7 percent, according to the Bankrate.com national survey of large lenders. The mortgages in this week's survey had an average total of 0.39 discount and origination points. One year ago, the mortgage index stood at 4.3 percent; four weeks ago, it was 3.8 percent.
The benchmark 15-year fixed-rate mortgage fell to 2.88 percent from 2.95 percent. The benchmark 5/1 adjustable-rate mortgage fell to 2.68 percent from 2.69 percent.
All of those are record lows in Bankrate's weekly survey, which began in 1985, when the 30-year fixed mortgage was above 12 percent.
Weekly national mortgage survey
Results of Bankrate.com's Sept. 26, 2012, weekly national survey of large lenders and the effect on monthly payments for a $165,000 loan:
It's been about two weeks since the Federal Reserve started a new round of bond purchases, a third round of quantitative easing nicknamed QE3. The 30-year fixed rate was 3.81 percent a day before the announcement and has fallen more than a quarter of a percentage point.
Rates were expected to fall slightly because of the Fed's new efforts to keep rates low. But some analysts were surprised by this week's steep decline, especially because higher mortgage fees imposed by Fannie Mae and Freddie Mac have added upward pressure on rates.
"I'm shocked," says Michael Becker, mortgage banker at WCS Funding in Baltimore. "Even with the increase on guarantee fees (by Fannie and Freddie), they are still incredibly low."
FHA refinancers may qualify now
The new lows represent a renewed chance for homeowners who tried to refinance with the Federal Housing Administration streamline program but didn't qualify because of high mortgage insurance premiums, says Derek Egeberg, a branch manager at Academy Mortgage in Yuma, Ariz.
The Federal Housing Administration offers streamline refinances for borrowers with FHA mortgages if the refinance reduces the borrower's monthly payments by 5 percent or more. Many homeowners couldn't refinance under this plan because FHA's high mortgage insurance premiums ate away most of their potential savings. The streamline program reduces the mortgage insurance fees for mortgages endorsed by May 2009. Borrowers who got their mortgages after that are stuck with the higher fees.
But with rates so low, more of these borrowers can meet the savings threshold — even as they choose slightly higher rates to cover closing costs, Egeberg says.
Borrowers who recently refinanced thinking they had grabbed the lowest rate in history also may benefit from the new lows, Becker says.
"Anybody who has a mortgage should look at refinancing at this point," Becker says. "Of course, if you have a lower balance it might not make sense, but at least take a look at it. It doesn't hurt."
Buyers celebrate
Buyers who are ready to lock an interest rate had a nice surprise this week as they realized their mortgage payments will be more affordable than they initially expected.
"I locked (rates for) two buyers yesterday on FHA 30-year loans at 3 percent," Egeberg says. "That is ridiculously low."
While low rates are not necessarily the reason homebuyers decide to buy a home, they help the housing market because they make homebuying more affordable.
"For those who can buy now or those who can refinance, this is the most amazing opportunity I have ever seen," Egeberg says as he recalls the rate his parents paid when they bought their home in 1981. "Their first mortgage was at 12 percent. Their second mortgage, 14 percent."
Low rates key to housing recovery
As home prices begin to rise in many parts of the country, the low rates will be crucial to keep the housing market alive and to keep homes affordable, Becker says.
Home prices increased 1.6 percent in July, compared to June, according to the latest Standard & Poor's 500 index/Case-Shiller 20-City Composite Home Price Index. The 20 cities tracked by the index have seen price gains for three months in a row.
"The news on home prices in this report confirms recent good news about housing," says David Blitzer, chairman of the index committee at S&P Dow Jones Indices. "Single family housing starts are well ahead of last year's pace, existing home sales are up, the inventory of homes for sale is down, and foreclosure activity is slowing. All in all, we are more optimistic about housing. Upbeat trends continue."