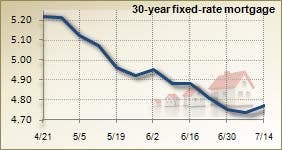 Mortgage rates went up for the first time in six weeks. Even so, rates are still extraordinarily low. But not a lot of people are taking advantage of them.
The benchmark 30-year fixed-rate mortgage rose 3 basis points this week, to 4.77 percent, according to the Bankrate.com national survey of large lenders. A basis point is one-hundredth of 1 percentage point. The mortgages in this week's survey had an average total of 0.41 discount and origination points. One year ago, the mortgage index was 5.58 percent; four weeks ago, it was 4.88 percent.
The benchmark 15-year fixed-rate mortgage rose 1 basis point, to 4.23 percent. The benchmark 5/1 adjustable-rate mortgage rose 6 basis points, to 4.12 percent.
To put rates in perspective, at 4.77 percent, the 30-year fixed has been lower only two times in the nearly 25-year history of Bankrate's weekly rate survey. Those two times happened to be the previous two weeks.
Still on the fence
It's human nature for a fence straddler to jump off the fence only when poked. And that goes for mortgages, too: People tend to delay filing home loan applications while rates are falling.
Then, after mortgage rates have seemingly hit bottom and bounce higher, folks flock to mortgage offices and file applications. They jump off the fence when they're poked by higher rates.
Weekly national mortgage survey
Results of Bankrate.com's July 14, 2010 weekly national survey of large lenders and the effect on monthly payments for a $165,000 loan:
That doesn't seem to be happening this time. According to the Mortgage Bankers Association, overall home loan applications fell 2.9 percent last week, even after adjusting for the Fourth of July holiday. Refinance applications were down, and purchase applications were at their lowest level since December 1996. Compared to the week of the Fourth of July last year, purchase applications were down 43 percent.
"The big picture is one of total uncertainty, complete lack of consumer confidence and business-and-investment confidence. Nobody knows anything good," says Dick Lepre, senior loan consultant for Residential Pacific Mortgage in San Francisco.
Usually, interest rates fall when consumer confidence slips away. Lepre thinks that eventually will happen, maybe in three or four months. Right now, "what we're seeing is technical selling from an overbought market," he says.
Long wait for recovery
Consumers aren't the only gloomy observers out there. The Federal Reserve is whistling a distinctly minor-key tune, too. The Federal Reserve Board released its latest economic projections Wednesday, and most members revised their expectations downward.
According to the Fed's summary, the board members "expected the recovery to continue and inflation to remain subdued, but with, on balance, slightly weaker real activity and a bit lower inflation than in the projections" they made in April.
The Fed says it anticipates "the unemployment rate slowly trending lower over the next few years," falling from 9.5 percent last month to a rate of 7.1 percent to 7.5 percent at the end of 2012. If you think that's a slow recovery, check out what the Fed predicts next.
The central bank says it will "take some time for the economy to converge fully to its longer-run path." That's Fedspeak suggesting it will take some time for the economy to return to normal levels of growth, unemployment and inflation.
How long is "some time?" The Fed says most members of the Federal Open Market Committee expect "the convergence process to take no more than five to six years."