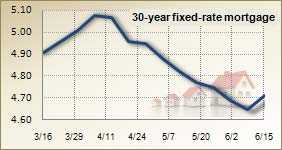 Mortgage rates rose this week as investors seemed to regain confidence in the stock market, despite signs of a still-weak economy.
The benchmark 30-year, fixed-rate mortgage rose 6 basis points this week, to 4.71 percent, according to the Bankrate.com national survey of large lenders. A basis point is one-hundredth of 1 percentage point. The mortgages in this week's survey had an average total of 0.41 discount and origination points. One year ago, the mortgage index was 4.88 percent; four weeks ago, it was 4.77 percent.
The benchmark 15-year, fixed-rate mortgage rose 7 basis points, to 3.86 percent. The benchmark 5/1 adjustable-rate mortgage rose 5 basis points, to 3.4 percent.
The 30-year-fixed rate had declined for nine weeks in a row before this week's jump, according to Bankrate's survey.
The increase should be perceived as more of a "market adjustment" than a sign that rates will spike soon, says Brett Sinnott of CMG Mortgage in San Ramon, Calif. Like other mortgage experts, Sinnott believes rates will fluctuate by a few basis points in coming weeks but will remain low at least through the summer.
Weekly national mortgage survey
Results of Bankrate.com's June 15, 2011, weekly national survey of large lenders and the effect on monthly payments for a $165,000 loan:
Noting that yields on 10-year Treasuries have dipped below 3 percent in the last couple of weeks, Sinnott says, "Once Treasury (yields) fall below 3 percent, you know it will adjust back at some point. And that's what's happening this week."
Rise in the stock market
A rally in the stock market put some upward pressure on mortgage rates this week, he says. Investors who had been opting for the safety of bonds for the past couple of months are becoming more confident in the stock market and moving their money into the riskier investment.
"If you want to know where rates are going to this week, all you have to do is watch the stock market," Sinnott says. "For the first time in a while you can clearly see that correlation. If stocks go up, so will rates."
Scott Eggen, senior vice president of capital markets at PrimeLending in Dallas, agrees that mortgage rates will be closely tied to changes in the stock market this week, but he doesn't expect the upward pressure on rates to last.
"Investors are taking some of that bond money and putting it back on stocks," he says. "So yes, we'll see some leveling off this week, but the fundamentals of the economy are still weak."
Feeble economy
Economic data released this week didn't show a recovering economy, but at least the readings were in line with what economists had expected. That can be viewed as some improvement since many of the reports that had been released in prior weeks were much worse than investors and economists had expected.
Sales among U.S. retailers fell 0.2 percent in May, according to data released Tuesday by the Commerce Department. That's not necessarily good news, but it's better than the 0.5 percent drop some economists had expected. Excluding a drop of 2.9 percent in auto sales, overall retail sales rose 0.3 percent. The decline in auto sales is partly attributed to manufacturing disruptions in Japan because of the March 11 earthquake and tsunami.
But the same report shows consumers are still struggling financially as they pulled back on purchasing furniture, electronics and appliances.
"Consumers are hurting," Sinnott says. "Until that changes and we have some significant signs of recovery, I don't see a major spike in rates."