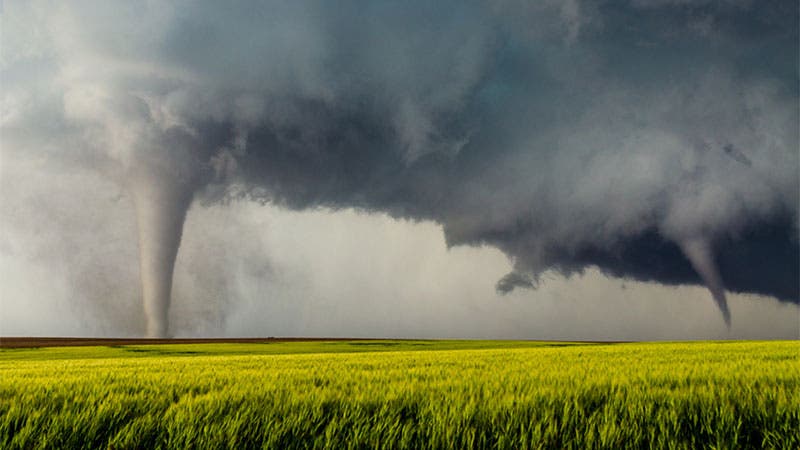 While tornadoes can happen virtually anywhere in the U.S., they do tend to be concentrated in certain regions. No matter where you live, make sure you have the proper home insurance coverage ahead of time, because tornadoes, storms, hail, tropical storms and floods can hit and cause damage anywhere.
The top 10 worst states for tornadoes
According to the National Weather Service and the Insurance Information Institute, the top 10 states in number of tornadoes in 2018 were:
Louisiana – 86
Iowa – 84
Mississippi – 68
Illinois – 64
Alabama – 52
Texas – 52
Florida – 48
Missouri – 48
Kansas – 45
Kentucky – 41
Assessing your Tornado Damage Coverage
Damage to the structure of your home caused by a tornado is usually covered by a standard homeowners policy – you won't need an additional tornado insurance policy. Your personal belongings would also be covered, so it would be helpful to have an inventory at the ready in the event of a tornado or other natural disaster.
It's important to check with your insurance company and know regulations by state. In some coastal states, wind damage is not a standard part of homeowner insurance due to the frequency and expense of hurricanes and tropical storms. Hurricane, tornado, wind or storm coverage could be an add-on to a policy.
Protecting your home from tornadoes
In addition to making sure you're covered by your home insurance in the event of a tornado, these tips can help you physically safeguard your home and belongings:
Strengthen your garage by reinforcing it with vertical bracing
Secure your windows with plywood, and use clips
Remove branches and trees that are on the verge of breaking
Keep important paper records in a secure location away from home
Floods and other hazards
Unlike tornado and wind damage, flood damage isn't included as a part of homeowners insurance. If you need flood insurance based on where you live, you'll need to purchase it through an insurance agent or an insurer that participates in the federally backed National Flood Insurance Program.
Renters should consider flood insurance, while not for the expense and rebuilding of their actual building or home, but for their property and valuables inside the home, condo or apartment.
Hazard insurance is included as part of a standard homeowners insurance policy. It is the part of the insurance which will replace the structure and contents of a home in case of a natural disaster. Hazard insurance also covers medical bills and potential legal bills if someone is injured at your property.