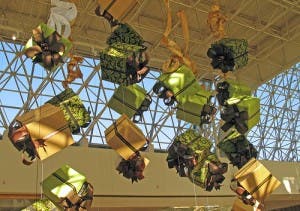 In the spirit of the holiday season, Bankrate's credit card blog is giving you the gift of credit card tips! We will be posting one tip a day over the next 12 business days to make sure you and your wallet are merry and bright once your Christmas list is completed. Happy shopping!
This is the season when finding an extra $5 in old jeans or even a collection of quarters in the couch can really help a cash-strapped holiday shopper — am I right? Here's another place to find untapped cash: unused credit card rewards.
There are many ways that your rewards credit card can help save you money, from providing hefty discounts on purchases to offsetting some costs altogether.
"So many of us forget about our rewards and how they accumulate without ever being used," says John Ulzheimer, credit expert at Credit Sesame. "You'd be surprised how many gift cards and balance credits you could haul in during the holiday season based on nothing more than your spending during the prior 11 months."
Here are four ways your rewards credit card can help you stay within your holiday budget this year:
Gift cards: As Ulzheimer mentioned, many rewards programs allow cardholders to buy gift cards using earned point or miles. Better yet, Chase is offering select discounted gift cards — between 10 percent and 20 percent off — through the end of December. Check your card issuer for similar deals.
Actual gifts: Many credit card issuers offer merchandise that you can buy using your rewards points. Another bonus: If you use the issuer's online shopping portal, you often receive bonus rewards from those purchases. Check your rewards card website for more details.
Travel: Use those miles to buy airfare to get the family to Grandma's house. Or, check to see if your rewards program offers gas station gift cards to help pay for holiday road trips.
Cash-back: Pay off your holiday purchases by getting statement credits after the holidays are over, so you can start the New Year debt-free.
For his part, Ulzheimer says he has an American Express general-purpose gift card and two Lowe's gift cards coming that he plans to use for gifts or to give as gifts.
"And they cost me the grand total of nothing," he says, "because I redeemed points or airline miles."
How are you using rewards to help your holiday shopping?
Follow me on Twitter: @JannaHerron.