Chase Freedom Unlimited® review
At Bankrate we strive to help you make smarter financial decisions. While we adhere to strict editorial integrity, this post may contain references to products from our partners. Here's an explanation for how we make money.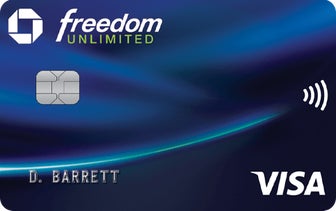 Recommended Credit Score
Good to Excellent (670 - 850)

A FICO score/credit score is used to represent the creditworthiness of a person and may be one indicator to the credit type you are eligible for. However, credit score alone does not guarantee or imply approval for any financial product.
Annual Fee:

$0

Purchase Intro APR:

0% Intro APR on Purchases for 15 months

Regular APR:

14.99 - 23.74% Variable
Terms and Restrictions Apply
Bankrate Rating
Our writers, editors and industry experts score credit cards based on a variety of factors including card features, bonus offers and independent research. Credit card issuers have no say or influence on how we rate cards.
Chase Freedom Unlimited® Overview
The Chase Freedom Unlimited® has long been a favorite among fans of cash back credit cards, but the card may now hold even greater appeal for rewards-savvy cardholders looking to get started with Chase Ultimate Rewards.
Chase recently revamped the Freedom Unlimited card's rewards scheme to offer bonus cash back on travel purchased through the Ultimate Rewards portal, as well as on dining and drugstore purchases. Meanwhile, the 1.5 percent cash back rate on general purchases and valuable perks like travel cancellation/interruption insurance and DoorDash DashPass make the card worth holding onto for budding travelers and low-maintenance cash back enthusiasts alike.
Just keep in mind that you'll need excellent credit to qualify or prequalify, and, although the card offers a solid average cash back rate, you'll get the most value out of your rewards when you pair the Freedom Unlimited with a higher-tier Chase travel credit card.
Want more details? Jump to the following sections:
What are the advantages and disadvantages?
Advantages
No annual fee
Boost rewards value when you transfer points to a higher-tier Chase card
Comes with an introductory APR on new purchases
Great benefits for a no annual fee card, including travel cancellation/interruption insurance and complimentary DoorDash DashPass
Disadvantages
You'll only get 5 percent back on travel if you book through the Ultimate Rewards portal
No promotional balance transfer offer included
A deeper look into the current card offer
Quick highlights
Rewards Rate: 5 percent cash back on Lyft purchases (through March 2022); 5 percent cash back on travel purchased through Chase Ultimate Rewards; 3 percent cash back on dining; 3 percent cash back on drugstore purchases; 1.5 percent cash back on all purchases
Welcome Offer: $200 cash bonus with this card when you spend $500 on your card within three months of account opening
Annual Fee: $0
Purchase Intro APR: 0 percent intro APR on purchases for 15 months
Balance Transfer Intro APR: None
Regular APR: 14.99 percent to 23.74 percent (variable)
A solid sign-up bonus
The Chase Freedom Unlimited is currently offering an impressive welcome bonus of $200 cash back after you spend $500 in your first three months of card ownership. This is $50 higher than the card's previous offering of a $150 cash back bonus for spending $500 in the first three months and stands as the card's highest flat cash bonus to date.
If you've been eyeing the Freedom Unlimited and waiting for the best time to apply, the current welcome bonus should be a great motivator. Compared to other no-annual-fee cash back cards' intro bonuses, the Freedom Unlimited's $200 bonus with a $500 spending requirement is standard at the moment (a 0.4 bonus-to-spending ratio), although other cards may impose a higher spending requirement for a $200 to $250 value.
Generous cash back
With its recent refresh, the Chase Freedom Unlimited stands out as one of the most valuable no-annual-fee cash back cards on the market. In fact, the Freedom Unlimited actually earns Chase Ultimate Rewards points that can be redeemed for cash back at a 1:1 rate—which makes the Freedom Unlimited uniquely valuable as a beginner's rewards credit card if you're looking to travel with a premium Chase card down the road.
How you earn
The Freedom Unlimited earns 5 percent cash back on all travel purchased via the Chase Ultimate Rewards portal and on Lyft purchases (through March 2022), 3 percent back on dining (including eligible takeout and delivery purchases) and 3 percent back at drugstores. That's in addition to the 1.5 percent cash back the card already earns on general purchases.
This combination of a solid base cash back rate and a generous bonus cash back rate in multiple categories makes the Freedom Unlimited a very valuable no-annual-fee credit card and a great entry point for frequent travelers who want to get started with credit card rewards.
How to redeem
The Chase Freedom Unlimited offers a ton of choice for how you can redeem your rewards. You can opt for cash back in the form of a statement credit or direct deposit, redeem for travel or gift cards or shop online at Amazon.com. Like many other credit cards, you can also redeem your rewards for charitable contributions (which currently have a 25 percent boost in value).
You can also combine your rewards with a premium Ultimate Rewards card, like the Chase Sapphire Preferred® Card, Chase Sapphire Reserve® or Ink Business Preferred® Credit Card to enjoy additional flexibility, such as the ability to move your rewards to one of Chase's transfer partners at a 1:1 ratio.
How much are the rewards worth?
The value of Chase Freedom Unlimited rewards will vary depending on how you choose to redeem them. Here's a look at what sort of value you can expect on average with each redemption method:
Cash back (statement credit or deposit): 1 cent
Travel: 1 cent
Gift cards: 1 cent
Apple purchases: 1 cent
Amazon.com purchases: 0.8 cents
Charitable contributions: 1.25 cents
If you have a premium Ultimate Rewards card, you can get even more value out of your points: Combine your rewards with the Sapphire Preferred or Ink Business Preferred cards and redeem for travel through the Ultimate Rewards portal and you'll enjoy a value of 1.25 cents per point, a 25 percent increase versus the value you'd get redeeming for cash back. It's even better with the Sapphire Reserve, as your points are worth 1.5 cents each when redeemed for travel through the Ultimate Rewards portal.
Other Chase Freedom Unlimited benefits
While the Chase Freedom Unlimited card's perks can't compete with those you'll find on a luxury travel card like the Sapphire Reserve, the card still offers a number of useful consumer benefits. Here are a few standouts:
Complimentary DashPass subscription
A great complement to the Freedom Unlimited card's bonus rewards on dining purchases, DashPass is a subscription service from the popular food delivery company DoorDash that gets you unlimited deliveries for a $0 delivery fee on orders over $12. The Freedom Unlimited comes with three months of free DashPass membership, after which—if you don't cancel beforehand—you're automatically enrolled in DashPass for 50 percent off the monthly rate (typically $9.99 per month) for the next nine months. Make sure you're eligible by activating before Dec. 31, 2021.
Purchase protection and extended warranty coverage
If something you bought with the card is damaged or stolen within 120 days of your purchase, the Freedom Unlimited covers the cost up to $500 per claim and $50,000 per account. Plus, eligible U.S. manufacturer's warranties of three years or less on items you purchase with the card are extended by a year.
Trip cancellation and interruption insurance
Trip cancellation and interruption insurance are prized perks when travel looks uncertain. What's more, you typically only find this level of coverage with travel cards carrying a hefty annual fee. If your trip is canceled or cut short due to sickness, severe weather or other covered circumstances, you can be reimbursed up to $1,500 per person and $6,000 per trip for prepaid tickets and nonrefundable passenger fares.
Chase Pay Yourself Back
As of last October, Chase extended the Pay Yourself Back tool to the Chase Freedom card series, which can make your rewards a force for good. Pay Yourself Back lets you use points to cover purchases you've made within the last 90 days with a 25 to 50 percent value boost.
At this time, the Freedom Unlimited can only use Pay Yourself Back to cover charitable donations to 12 select organizations at 1.25 cents-per-point rate (until Dec. 21, 2021), which now includes funding vaccine rides with Lyft. However, you can cover recent grocery store, dining and home improvement store purchases with a Sapphire Preferred (25 percent boost) or Sapphire Reserve (50 percent boost) card until Sept. 30, 2021. This means that you can use your Freedom Unlimited to collect rewards on categories outside the Sapphire Reserve's reach and then pool them with the Reserve for an impressive 1.5 cent redemption value toward grocery runs or food deliveries.
Rates and Fees
Luckily, the Chase Freedom Unlimited is very low on fees. Assuming you pay your balance on time and in full, it costs nothing to carry the card.
First-year card value vs. ongoing value
Although the Chase Freedom Unlimited doesn't come with as many valuable perks or credits as Chase's premium cards, its additional bonus categories still provide a considerable value beyond the weight of your first year's intro offers. Compared to "standard" flat-rate cash back cards that typically earn 1.5 percent on all purchases, such as the Capital One Quicksilver Cash Rewards Credit Card, the Freedom Unlimited can rake in much more. By our estimates, a typical year with the Quicksilver could earn you around $441, while the Freedom Unlimited may collect about $633 on the same budget.
You can stretch your value even further with a Chase Ultimate Rewards card like the Sapphire Reserve. The Reserve card's 50 percent bonus redemption value can turn your $633 worth of cash back into approximately $950 toward travel through Chase. That's an excellent value considering there is no annual fee to recoup with the Freedom Unlimited.
Benefits and Costs
First-year value
Ongoing value (no welcome offers)
Yearly rewards*
+$633.50
+$633.50
Welcome offers
+$200 (after you spend $500 in your first 3 months from account opening.)
N/A
Perks (of monetary value)
+$74.92 (DoorDash DashPass offer)
N/A
Annual fee
-$0
-$0
Total value
$908.42
$633.50
Total value of intro purchase APR**

Intro APR: 0% for 15 months on purchases
Interest savings: $102
Months of payment saved: 0 months

Ongoing APR: 14.99% to 23.74% (variable)
Minimum rate approximately 7% below average APR
Maximum rate approximately 38% higher than average APR
*Based on the following estimates for annual expenditures by category: groceries ($4,600); dining ($3,500); household utilities, fuels and public services ($4,000); household supplies, furnishings and home improvement ($2,800); apparel and services and department stores ($1,800); gas and gas stations ($2,000); transit and ride-shares ($800); entertainment ($3,000); personal care products and services, household operations and other miscellaneous spending ($3,300); travel ($2,000); pharmacies and drugstores ($1,300); online shopping ($1,800).
**Intro and ongoing APR card data based on a $1,000 unexpected expense, average credit card interest rate (at time of writing), minimum ongoing variable APR and the minimum monthly payment to pay off the balance within the card's intro APR period factored into Bankrate's credit card payoff calculator for comparison.
How the Chase Freedom Unlimited compares to other cash back cards
A lot of cash back credit cards are on the market today, and most cards in this niche do not charge an annual fee. However, some cards stand out due to various benefits they offer or for their lucrative initial bonuses.
Here are some of the top cash back credit cards you may want to consider:
Feature
Chase Freedom Unlimited
Citi® Double Cash Card
Blue Cash Preferred® Card from American Express
Annual Fee
$0
$0
$95
(waived first year)
Rewards Rate

5% cash back on Lyft purchases (through March 2022)
5% cash back on travel (purchased through Chase Ultimate Rewards)
3% cash back on dining
3% cash back on drugstore purchases
1.5% cash back on all purchases

Up to 2% cash back on every purchase
(1% when you buy, 1% when you pay off those purchases)

6% cash back at U.S. supermarkets (on up to $6,000 in purchases per year, then 1%)
6% cash back on select U.S. streaming services
3% cash back on transit purchases
3% cash back at U.S. gas stations
1% cash back on all other purchases

Welcome Bonus
$200
(after you spend $500 on your card within three months of account opening)
None
$150
(statement credit after you spend $3,000 in purchases on your new card within the first six months)
Best cards to pair with the Chase Freedom Unlimited
While you can pair the Chase Freedom Unlimited with any number of rewards credit cards that offer different perks or rewards categories, it's wise to pair this card with another premier Chase credit card if you want to travel—particularly the Sapphire Reserve.
You can pool all your points in one Chase Ultimate Rewards account for maximum redemption value and can even pool points with a spouse or partner who lives at the same address, as well as with any Chase business credit card accounts you might have.
Pairing with the Reserve also gives you the option of transferring points to popular Chase airline and hotel partners like Southwest Rapid Rewards, United MileagePlus, British Airways, Marriott Bonvoy and IHG Rewards.
As a reminder, if you have both the Freedom Unlimited and Reserve, you can enjoy extra value when you redeem points for travel through the Chase portal (with the Reserve offering a 50 percent higher point value when you redeem this way).
Bankrate's Take: Is the Chase Freedom Unlimited worth it?
The Freedom Unlimited should be an exceptional deal for anyone who wants to earn flexible rewards without an annual fee. It's hard to beat the card's generous welcome bonus and ongoing rewards, particularly given that most cards that offer bonus cash back in specific spending categories offer just 1 percent back on general purchases.
Plus, the benefits are excellent for what you typically find among no-annual-fee cards. The trip cancellation/interruption insurance is a staple among premium travel cards, which gives the Freedom Unlimited card great ongoing value beyond its stellar first-year potential.
You also have myriad options for redeeming your rewards, whether you prefer cash back or travel. If you also have (or would consider getting) the Chase Sapphire Reserve and might want to pool points for future travel, that's even better, as you'll enjoy a 50 percent boost in point value when you redeem through Chase's travel portal.
Frequently Asked Questions
Yes, you can earn a $200 cash bonus after spending a combined $500 on purchases within your first three months.
Besides the flat-rate 1.5 percent cash back on all purchases, you can earn 5 percent on Chase Ultimate Rewards travel and Lyft rides (Lyft offer through March 2022), plus 3 percent on dining and drugstore purchases.
The Chase Freedom Unlimited card does not charge an annual fee.
Cardholders who don't want to worry about maximizing categories but do want a rewards card with a bit more rewards power and richer perks than the run-of-the-mill 1.5 percent flat-rate cash back card should consider the Chase Freedom Unlimited. It carries additional unlimited cash back categories and a roster of valuable travel protections and partner benefits (including Lyft and DoorDash). Plus, the Freedom Unlimited is a no-brainer if you already have a Chase Ultimate Rewards credit card since you can pool your rewards for a higher redemption value toward Chase travel.
A good to excellent credit score (a 670–850 FICO score or a 661–850 VantageScore) is recommended to successfully apply for the Chase Freedom Unlimited card.