Capital One Quicksilver Cash Rewards Credit Card review
At Bankrate we strive to help you make smarter financial decisions. While we adhere to strict editorial integrity, this post may contain references to products from our partners. Here's an explanation for how we make money.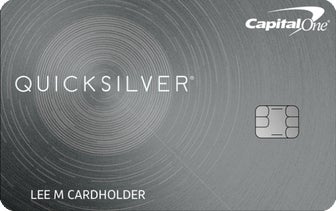 Recommended Credit Score
Good to Excellent (670 - 850)

A FICO score/credit score is used to represent the creditworthiness of a person and may be one indicator to the credit type you are eligible for. However, credit score alone does not guarantee or imply approval for any financial product.
Annual Fee:

$0

Purchase Intro APR:

0% intro on purchases for 15 months

Balance Transfer Intro APR:

N/A

Regular APR:

14.99% - 24.99% (Variable)
Terms and Restrictions Apply
Bankrate Rating
Our writers, editors and industry experts score credit cards based on a variety of factors including card features, bonus offers and independent research. Credit card issuers have no say or influence on how we rate cards.
Capital One Quicksilver Cash Rewards Credit Card Overview
The Capital One Quicksilver Cash Rewards Credit Card is a mainstay in the world of flat-rate rewards cards. It earns cash back on all purchases with no annual fee or foreign transaction fees, which makes it a great all-rounder for any budget.
You might be a great fit for this Capital One credit card if your spending doesn't fit bonus categories' terms neatly. However, cash back cards with bonus categories could be much more rewarding if you maximize your spending.
Continue reading our Capital One Quicksilver review to see whether this flat-rate card deserves a spot in your wallet.
Want more details? Jump to the following sections:
What are the advantages and disadvantages?
Advantages
No annual fee and no foreign transaction fees
15-month, 0 percent introductory purchase APR
Solid travel and shopping protections through Capital One and Visa
Disadvantages
Ongoing 14.99 percent to 24.99 percent variable APR could be higher than competing cards' interest rates
No 0 percent introductory balance transfer APR (Balance transfer fee: $0 at the transfer APR)
A deeper look into the current card offer
Quick highlights
Rewards rate: Unlimited 1.5 percent cash back on all purchases
Welcome offer: $200 cash bonus after spending $500 on purchases within the first three months
Annual fee: $0
Purchase intro APR: 0 percent for the first 15 months
Balance transfer intro APR: N/A
Regular APR: 14.99 percent to 24.99 percent variable
Current welcome bonus
As a new cardholder, you can earn $200 in cash rewards after spending only $500 on purchases within your first three months.
A $200 value is on par with other average no annual fee cash back cards' sign-up bonuses. Granted, this isn't a cash back jackpot, but it's an easy-to-reach payday considering a $500 spending requirement is typically one of the lowest you'll find.
Cash rewards rate
The Capital One Quicksilver is a prime example of a flat-rate cash back card, which—compared to bonus category cards—are the most simple and accessible type of rewards credit card.
A card like Quicksilver could be a perfect fit if you prefer a streamlined rewards experience over higher maintenance credit cards.
But be careful—although it looks like a starter credit card, you actually need good to excellent credit to qualify. Capital One has plenty of other solid options if you're building credit or have at least fair credit, including the Capital One QuicksilverOne Cash Rewards Credit Card, which offers the same rewards rate as the Quicksilver, but for a $39 annual fee.
Earning cash back
The Quicksilver is a great rewards card if many of your expenses fall outside the usual bonus categories, such as superstore purchases, a range of online shopping retailers and bill payments.
Its unlimited 1.5 percent cash back on all purchases can make this card a valuable partner—especially if you regularly spend beyond bonus categories' reward spending caps.
Redeeming cash back
You can redeem your cash back rewards for hard cash in the form of a check, or you can receive it as a statement credit. Cash back can also be used to cover recent card purchases, online purchases at checkout on Amazon.com and PayPal or equivalent gift cards.
In the spirit of making things a little easier, you can also choose to receive your cash back automatically at a set time each year or at a certain cash value. That way, you don't have to track your rewards balance.
How much are the rewards worth?
The 1.5 percent cash back rate means that every dollar you spend will net you 1.5 cents.
Capital One cash back is also one of the few reward currencies to maintain a consistent value across all redemption options. Even when used to "shop with points" on Amazon or PayPal, your cash back keeps its full value.
By comparison, Chase Ultimate Rewards points drop to 0.8 cents each and Amex Membership Rewards points are worth only 0.7 cents apiece in this manner.
Other cardholder perks
Despite appearing as a no-frills, no annual fee card, the Quicksilver carries a host of standard Capital One travel and shopping perks, plus other Visa benefits.
Card Protections
The Quicksilver card comes with a healthy spread of travel and shopping protections for a no annual fee card.
Virtual credit card numbers through the Eno assistant app can guard your real card data while you shop online, and extended warranty protection, travel accident insurance and auto rental collision damage insurance can keep you covered when you pay with your card.
Travel services
You'll be able to snag exclusive travel and entertainment opportunities like pre-sale tickets through Capital One Access. Plus, you can access a variety of 24/7 services like travel and roadside assistance and complimentary concierge assistance.
Visa card perks
Depending on your credit limit, your Quicksilver can either be a standard Visa Platinum or Visa Signature card, which both provide an array of benefits. Just check with your guide to benefits when you receive your card so you know your specific list of features.
On top of the aforementioned auto rental and extended warranty coverage with Visa Platinum cards, additional Visa Signature credit card perks include price protection, trip cancellation/trip interruption insurance and baggage delay and loss reimbursement.
Rates and Fees
If you want a low-maintenance credit card, the Capital One Quicksilver doesn't have many ongoing fees to keep track of. There is no annual fee and there are no foreign transaction fees in case you plan to travel.
The 15-month zero-interest intro APR on purchases can make it even easier to curb extra costs. But there is currently no intro APR offer for balance transfers if you need to whittle down your current balance (14.99 percent to 24.99 percent variable APR ongoing for purchases). The balance transfer fee: $0 at the transfer APR
First-year card value vs. ongoing value
Besides the benefits previously mentioned, any ongoing value after your first year will be solely rooted in your rewards and any personal value from the simplified spending and rewards style.
There are no card costs to recoup since there's no annual fee. This is helpful considering that flat-rate cards with lower cash back rates typically require you to spend more than cards with boosted category rewards in order to pocket rewards beyond the yearly price tag.
Unless your spending regularly exceeds typical bonus categories' spending limits, your favorite merchants and biggest expenses aren't covered by standard bonus categories or you only plan to use one rewards card for everything, you might want to consider a card with more valuable reward rates and perks.
Benefits and costs
First-year value
Ongoing value (no welcome offers)
Yearly rewards*
+$441
+$441
Welcome offers
+$200 (after spending $500 on purchases within the first three months)
—
Perks (of monetary value)
N/A
N/A
Annual fee
$0
$0
Total value
$641
$441
Total value of intro purchase APR**

Intro APR: 0% for 15 months on purchases
Interest savings: $118
Months of payment saved: 2 months

Ongoing APR: 14.99% to 24.99% (variable)
Minimum rate approximately 6.8% below average APR
Maximum rate approximately 55.3% higher than average APR
*Based on the following estimates for annual expenditures by category: groceries ($4,600); dining ($3,500); household utilities, fuels and public services ($4,000); household supplies, furnishings and home improvement ($2,800); apparel and services and department stores ($1,800); gas and gas stations ($2,000); transit and rideshares ($800); entertainment ($3,000); personal care products and services, household operations and other miscellaneous spending ($3,300); travel ($2,000); pharmacies and drugstores ($1,300); online shopping ($1,800).
**Intro APR card data based on a $1,000 unexpected expense, average credit card interest rate (at time of writing), minimum ongoing variable APR and the minimum monthly payment to pay off the balance within the card's intro APR period factored into Bankrate's credit card payoff calculator for comparison.
Bankrate staff experience
In case you're wondering what day-to-day personal value the Capital One Quicksilver card can bring to the table, here's a firsthand account from one of our resident credit card and personal finance experts, Ana Staples:
I think everyone should have a card like the Capital One Quicksilver. I have a travel rewards card and a cash back card with rotating categories but it's the Quicksilver that helps me make sure I get more than 1 percent back on all of my purchases. This card really completes my credit card strategy. Plus, I love how easy it is to redeem cash back for Amazon.com purchases right at the checkout screen.

— Ana Staples, reporter for Bankrate
How the Capital One Quicksilver compares to other cash back cards
Quicksilver's 1.5 percent flat-rate cash back rate is standard, but the interest rate of 14.99 percent to 24.99 percent variable is close to the current average APR (16.09 percent as of May 26, 2021). Its intro purchase APR offer is a good selling point as well, but some competing cards offer a 0 percent intro for balance transfers on top of the purchase intro APR.
If you need to transfer your balance and you always pay your card off on-time, the Citi® Double Cash Card may be a better choice. It provides a stellar 18-month, zero-interest intro balance transfer APR (13.99 percent to 23.99 percent variable ongoing). Plus, it's one of the few flat-rate cash back cards that tops the average 1.5 percent rate. You can earn up to 2 percent cash back on all purchases—1 percent back at purchase and 1 percent upon payment. (Note the intro APR on the Double Cash does not apply to new purchases.)
The Chase Freedom Unlimited® is also a stiff Quicksilver competitor with its additional bonus cash back categories. If a good chunk of your spending goes to dining and drugstores, it might be a better choice for you.
Though if you're a big digital wallet user and you prefer everyday benefits over travel perks, the Wells Fargo Cash Wise Visa® card might be the better option.
Card Name
Rewards rate
Annual fee
Welcome bonus
Other details
Citi Double Cash Card

Up to 2% unlimited cash back on all purchases (1% back at purchase and 1% upon payment)

$0
N/A

18-month 0% intro balance transfer APR (13.99% to 23.99% variable ongoing, $5 or 3% balance transfer fee (whichever is greater)

Chase Freedom Unlimited

5% cash back on grocery store purchases (not including Target® or Walmart® purchases) on up to $12,000 spent in the first year
Unlimited 5% cash back on travel via Chase Ultimate Rewards
5% cash back on Lyft rides (through March 2022)
Unlimited 3% cash back on dining and drugstore purchases
Unlimited 1.5% cash back on all other purchases

$0

$200 cash bonus after spending $500 on purchases within the first 3 months

15-month 0% intro purchase APR (14.99% to 23.74% variable APR after)
Complimentary 3 months of DoorDash Dash Pass. After that, 50% off for the next 9 months (must activate by Dec. 31, 2021)

Wells Fargo Cash Wise Visa card

Unlimited 1.8% cash back on purchases with eligible digital wallets (like Google Pay™ or Apple Pay®) for the first 12 months from account opening
Unlimited 1.5% cash back on other purchases

$0

$150 cash bonus after spending $500 on purchases within the first 3 months

15-month 0% intro APR on purchases from account opening and qualifying balance transfers (14.49% to 24.99% variable ongoing)
Cellphone protection reimbursement for eligible damage or theft when the cellphone bill is paid with this card (up to $600 per claim, $1,200 per 12-month period, with a $25 deductible)
Best cards to pair with the Capital One Quicksilver
Since flat-rate cards reward purchases that don't usually fall within standard bonus categories, you could benefit by pairing your Quicksilver with a bonus category card for your specialized spending.
The Blue Cash Preferred® Card from American Express would make an excellent partner for 6 percent cash back on U.S. supermarket purchases (up to $6,000 per year, then 1 percent); 6 percent back on select U.S. streaming services; 3 percent cash back on transit; 3 percent back on U.S. gas station purchases; and 1 percent back on all other purchases—if you don't mind a $95 annual fee ($0 introductory annual fee for the first year).
If you prefer dining or delivery to cooking, the no annual fee Capital One SavorOne Cash Rewards Credit Card earns unlimited 3% cash back on dining, entertainment, popular streaming services and at grocery stores (excluding superstores like Walmart and Target), plus 1% on all other purchases.
Bankrate's take—Is the Capital One Quicksilver worth it?
The Capital One Quicksilver Cash Rewards Credit Card is a popular choice among cardholders who want a straightforward cash back card that earns rewards on all purchases. Other than the possible interest, there are no ongoing fees or bonus categories to worry about. Capital One can even automate the redemption process.
But if you don't mind a bonus category or two, you might be able to rack up more cash back and receive specialized benefits on a different card.
Learn More: Is Capital One Quicksilver worth it?
The information about the Wells Fargo Cash Wise Visa® card has been collected independently by Bankrate.com. The card details have not been reviewed or approved by the card issuer.
Frequently Asked Questions
No, there are no annual fees that come with a Capital One Quicksilver card.
Unlike the Venture cards that mainly differ because of their annual fee, both the Capital One Quicksilver does not carry an annual fee. In fact, both cards have the same 1.5 percent flat-rate cash back and may share most of the same benefits (if you qualify for the same Visa benefits with both cards). The main differences are that you can qualify for the QuicksilverOne with fair credit (580-740 FICO Score) instead of the good-to-excellent credit (670-850 FICO Score) needed for the Quicksilver. The QuicksilverOne also has a higher ongoing APR (26.99 percent variable) and the Quicksilver offers a $200 sign-up bonus (must spend $500 in purchases within the first three months to qualify) and a 15-month intro purchase 0% APR (then 15.49 percent to 25.49 percent variable).
The Capital One Quicksilver card requires good to excellent credit (a 670-850 FICO score, or a 661-850 VantageScore).
The Capital One Quicksilver earns unlimited 1.5 percent cash back on all purchases.
Yes, you could earn a $200 cash bonus by spending a combined $500 on purchases within your first three months.