Everyone and your grandma have given a gift card — literally. Two-thirds of seniors and 76% of Americans overall report having given someone a gift card, according to the results of a new Bankrate survey.
But it's not just the thought that counts. When buying a gift card, you should pay attention to whom you're buying for. When it comes to receiving gift cards, preferences can vary quite a bit, and sometimes in unexpected ways. For instance, while Gen Xers and baby boomers prefer gift cards for specific retailers or restaurants, millennials prefer general-purpose cards that can be used anywhere.
Here's a look at some of the biggest insights from Bankrate's survey of 1,000 adults, conducted Oct. 1-4.
Related story
Compare gift cards
Bankrate looked at the terms and features of 60 gift cards. Find the right card for you.
Age matters
If you're shopping for someone ages 18 to 29, don't bother trying to pick out a gift card for a specific store — just get a Visa or MasterCard gift card and move on. Nearly 6 in 10 millennials say they'd rather have a general-purpose card than a card from a particular store, restaurant or movie theater.
Despite millennials' love of technology, they aren't warm to receiving cards from online retailers, either. Only 5% say they'd want a gift card for an online retailer such as iTunes.
A preference for more specific (some would say, more personal) gift cards for particular types of stores seemed to increase with age. Only 30% of those 65 and older say they want a general-purpose gift card, and the vast majority of them prefer cards from brick-and-mortar businesses like retail stores and restaurants.
Mobile gift cards have yet to catch on
Eager to get ahead of the curve on technology, many businesses now offer gift cards primarily intended to be purchased and used on mobile devices.
But mobile gift cards don't seem to have caught on with consumers. Only 8% of Americans report ever having used or received a card that can be redeemed using a smartphone, with millennials (9%) lagging Gen Xers (14%) in adoption. Just 2% of seniors report having received this type of gift card.
Those numbers are mostly unchanged from our 2014 survey.
Overall, though, giving gift cards electronically has been on the rise in recent years, and this holiday season should be no exception, says Ben Jackson, director of the prepaid advisory service at Mercator Advisory Group, a payments industry consulting firm near Boston.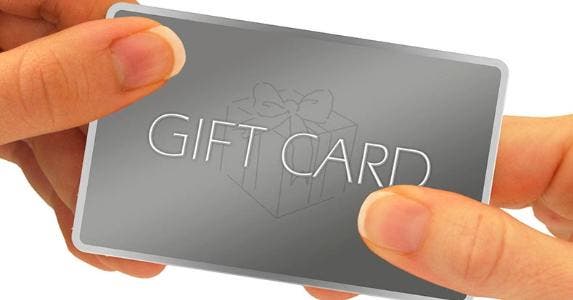 "We're probably going to see more of those gifts being delivered either via email or via mobile," Jackson says. "The people who are more likely to use a digital card are younger people, the technology adopters."
Givers should keep in mind, however, that recipients who try to use digital cards in brick-and-mortar locations may face challenges.
"We'll probably also see, into the next year, more of that digital redemption of people trying to redeem in stores through their phones, and that's going to be one of those things that will work better at some stores than others," Jackson says.
Richer people don't necessarily give more
If the CEO drew you in the office holiday gift pool, don't expect to get a gift card fit to fuel a shopping spree. The majority of people earning more than $75,000 a year say the amount they give on a gift card is typically less than $50, same as all other income brackets.
However, high earners were somewhat more likely than those in lower income brackets to say they typically give $50 to $75, so maybe you'll get lucky.
Perks worth watching for
There are some recent industry trends that may benefit gift card buyers and the people they're buying for, says Brian Riley, a principal executive adviser at CEB Global, a business consulting and research firm:
Customization of digital gift cards.

Retailers like Home Depot and Target are differentiating their digital gift cards from others' by offering extensive customization options, such as the ability to record a video or give a digital game to accompany the card.

You can now give fractional shares of stock via gift card.

The program is offered through an online brokerage called Stockpile, which sells stock in hundreds of companies, including Apple, Google and Berkshire Hathaway. Keep in mind that while the recipient gets the full value of the card in stock, the gift card buyer pays an upfront fee of $2.99 plus 3% of the gift card amount.

Bonuses for buying gift cards.

Many merchants will now kick in a bonus gift card when you buy a certain amount in total gift cards at a time during the holidays. For instance, a retailer may offer a customer who buys $100 in gift cards an extra $20 gift card as a bonus, Riley says.
"Many times gift cards are wrapped to incentives like that," Riley says. "It's easy for retailers to do it and it's really in their benefit, because they get to hold the money until the goods and services are exchanged, and that's a good thing."
Methodology: Bankrate's survey was conducted Oct. 1-4, 2015, by Princeton Survey Research Associates International with a nationally representative sample of 1,000 adults living in the continental U.S. Telephone interviews were conducted in English and Spanish by landline (500) and cellphone (500, including 305 without a landline phone).
Statistical results are weighted to correct known demographic discrepancies. The margin of sampling error is plus or minus 3.8 percentage points for the complete set of data.