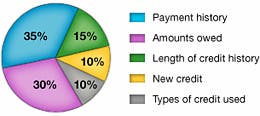 Well, FICO has gone ahead and made it official.
The popular credit scoring model announced on Thursday that a new version of its score — FICO 9 — will treat medical debts less severely. The new score will also bypass paid collections accounts entirely.
The changes were introduced after research conducted at the behest of regulators and FICO clients revealed each item was not the negative indicator that it had been previously been believed to be, says Anthony Sprauve, senior consumer credit specialist at FICO.
FICO had teased the changes back in May after the Consumer Financial Protection Bureau released a study that found unpaid medical bills could be disproportionately affecting consumers' credit scores.
FICO expects its median score for consumers whose only major derogatory references are unpaid medical debts will increase by 25 points as a result of the changes.
Of course, a bump in creditworthiness will only occur if and when the FICO 9 model is in use. Remember, lenders use more than one credit score and/or credit scoring model to determine whether a consumer is likely to repay a loan.
Plus, FICO's latest model hasn't been released yet.
Sprauve says FICO 9 will roll out to the major credit bureaus for validation in the fall. He expects it will be available to lenders in late 2014/early 2015.
After that, "you can tack on several years before it achieves critical mass," says John Ulzheimer, president of consumer education at CreditSesame, says. However, "it'll help some consumers some day down the road."
Follow me on Twitter: @JeanineSko.