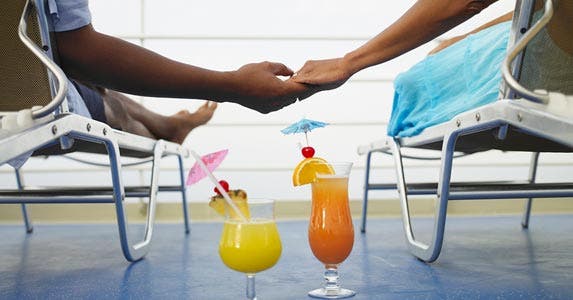 A romantic 3-day getaway cruise
With Valentine's Day falling within a 3-day holiday weekend, a cruise may be the perfect way to blend romance and value.
"This is a perfect year for a Valentine's Day cruise," said Steve Faber, a CruiseOne franchise owner in San Rafael, California. "This year Valentine's Day falls on a Sunday, making a weekend Valentine's Day cruise a possibility, a getaway that requires missing only hours, not days of work."
Many cruise lines offer short cruises — 3- or 4-day voyages — as compared to a more traditional 7-day itinerary.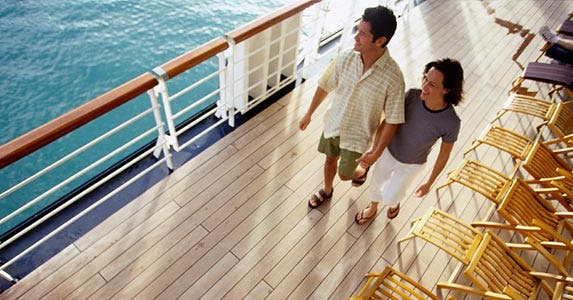 One size fits most
Steve Mason/Photodisc/Getty Images
No need to wonder whether something is going to be the right size or color, cruises will be a choice of convenience compared with other gifts, says Elfie Couey, certified travel counselor with Global Connections Travel in Overland Park, Kansas.
There are plenty of opportunities onboard to share experiences and time with a partner or companion.
"You're saying to your loved one that you want to spend time to reconnect," Couey says. "With a cruise, you're really together, sailing out in the open seas, sharing experiences that will help you get to know each other all over again."
Even better, a Valentine's Day cruise is an easy vacation to organize. "Since the vacation is all inclusive, everything is taken care of onboard. You'll find romantic things to do at every turn, such as elegant dining, Broadway shows, and lavish pools and spas to enjoy together," Couey says.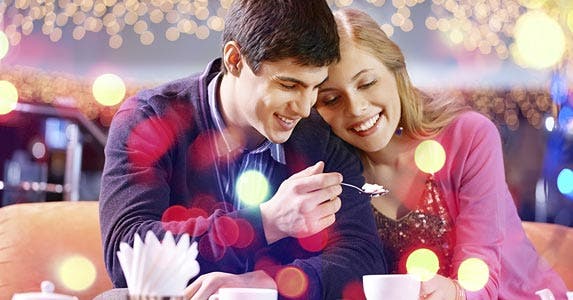 Sweet surprises are included
mediaphotos/E+/Getty Images
Special moments onboard will foster a romantic connection for couples. There are sweet opportunities for love and romance, Faber says. "A daily chocolate fix: Princess Cruises offers a different chocolate indulgence from chocolatier Norman Love, and many Norwegian Cruise Line ships feature treats from Carlo's Bake Shop, made famous in the reality show, 'Cake Boss.'"
Faber suggests a date of dinner and dancing, a day of lounging on a tropical beach or enjoying a veranda as experiences that will enhance a couple's time together.
"Try dinner and dancing in a nostalgic supper club — a throwback to the '40s and '50s. Throw a day away lounging on a tropical beach or toast the sunset on your own private balcony," Faber says.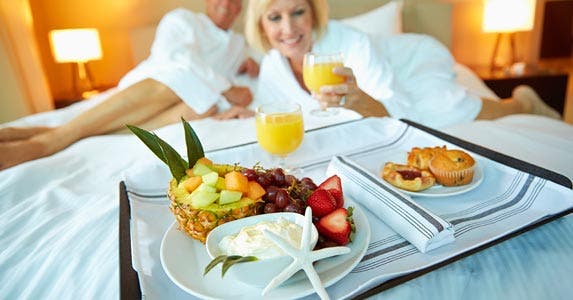 Time for couples to reconnect
Colin Anderson/Blend Images/Getty Images
Take a midnight stroll on deck, relax in an adults-only area of the ship, enjoy a couple's massage or have breakfast in bed, says Vance Gulliksen, spokesman for Carnival Cruise Line in Miami.
Also, a romantic dinner onboard is ideal for Valentine's Day. For example, you can reserve a table for 2 at a steakhouse on Carnival Cruise Line ships.
"It's a great opportunity for couples to relax and reconnect as they enjoy a vast array of on-board facilities and features," Gulliksen says.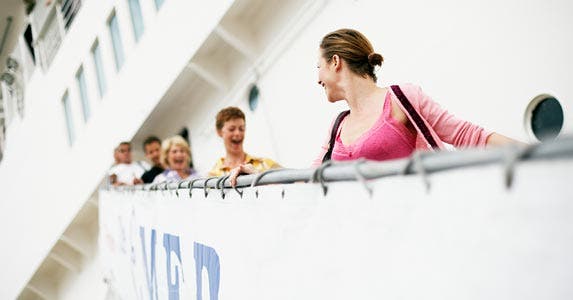 Leave kids with onboard baby sitter
Fuse/Getty Images
During the holiday break, having kids in tow doesn't have to spoil adult time. With safe children's programming on board cruise lines, parents can plan for a romantic Valentine's date without worry.
"Parents are often surprised by how much quality time they're able to spend together onboard a Disney cruise," says Jennifer Haile Tinn, manager of marketing strategy at Disney Cruise Line in Orlando, Florida.
"While kids are having the time of their lives in the youth areas, parents can steal away for a romantic date night at our upscale restaurants, relax at the spa, soak up the sun at the adults-only pool and escape to the exclusive adult beach on our private island," Haile Tinn says. "Knowing their kids are happy and cared for makes a Disney cruise an equally fun and romantic getaway for parents."