Reviews of Credit Cards for Good Credit
At Bankrate we strive to help you make smarter financial decisions. While we adhere to strict , this post may contain references to products from our partners. Here's an explanation for . The content on this page is accurate as of the posting date; however, some of the offers mentioned may have expired. Terms apply to the offers listed on this page. Any opinions, analyses, reviews or recommendations expressed in this article are those of the author's alone, and have not been reviewed, approved or otherwise endorsed by any card issuer.
A good credit score — typically 670 or higher — gives you access to many value-packed credit cards for good credit. Travel rewards, generous cash back programs, low APRs, introductory zero-interest offers and no annual fees are just a few perks that these cards deliver. The only challenge is finding one that helps you make the most of your spending habits and financial goals.
To find the best credit card for good credit, first consider which features are most important to you. Do travel rewards top your list, or is a generous cash back program on everyday purchases more beneficial? Do you want a lower regular APR or a 0% intro APR offer on purchases or balance transfers? Knowing these answers will narrow your search.
Our Bankrate experts rated the best credit cards for good credit for 2021 based on several factors. APRs, introductory low-interest offers, travel miles and cash back programs led the criteria, while annual fees and credit-building features that can help you take your score from good to excellent were also considered. In our reviews of credit cards for good credit, you can compare all the details, plus find expert recommendations for specific spending and rewards needs.
Featured Card
WELCOME OFFER: Earn a one-time $200 cash bonus after you spend $500 on purchases within 3 months from account opening
Capital One Quicksilver Cash Rewards Credit Card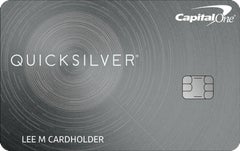 Capital One Quicksilver Cash Rewards Credit Card
Featured card comparisons