Reviews of Credit Cards for Bad Credit
At Bankrate we strive to help you make smarter financial decisions. While we adhere to strict , this post may contain references to products from our partners. Here's an explanation for . The content on this page is accurate as of the posting date; however, some of the offers mentioned may have expired. Terms apply to the offers listed on this page. Any opinions, analyses, reviews or recommendations expressed in this article are those of the author's alone, and have not been reviewed, approved or otherwise endorsed by any card issuer.
Rebuilding bad credit is a journey and getting a credit card for bad credit is an important step in improving your credit score. Credit cards for people with bad credit can help you manage your finances and increase your credit score — but that's not all. The best credit cards for bad credit also deliver value-added perks like cash back and rewards programs, access to educational materials, budgeting tools and incentives for responsible credit behavior.
There are plenty of credit cards for people with bad credit on the market today. However, if you're not careful, you can wind up with a card that charges steep fees and high penalty APRs, or one that doesn't deliver key benefits that can help you improve your credit score.
Our Bankrate experts rated the best credit cards for bad credit based on several factors. Credit score requirements, annual fees, APRs and credit-building features top the criteria, and benefits like cash back and rewards round out the list. In the credit card reviews below, you can easily compare the costs, terms and perks of each, plus find expert recommendations for specific needs.
Featured Card
Capital One Platinum Secured Credit Card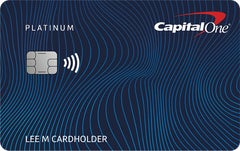 Capital One Platinum Secured Credit Card
Featured card comparisons