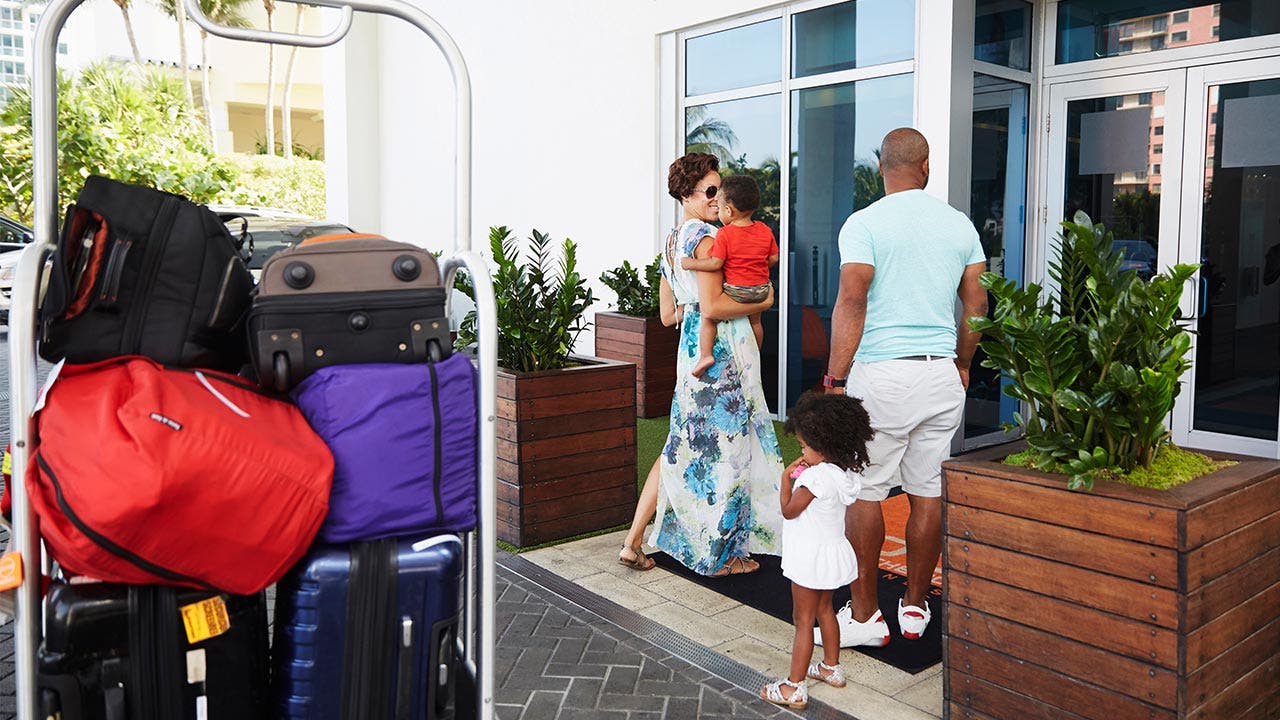 Editor's note: Some offers on this page are no longer available through our site.
Everyone enjoys getting away sometimes, but the cost of overnight stays in even modestly priced hotels can be a deterrent. If you're a frequent traveler with good credit, however, cashing in on a hotel credit card could earn you points toward free stays and other benefits.
Like airline cards, hotel cards can be a great resource for credit-savvy consumers who know how to game the system, but getting the most of these products starts with choosing the one that's best for you.
"Everyone travels differently, and each individual doesn't travel the same way all the time. It's important to find a hotel rewards card that gives you a breadth of options that serve all of your travel needs," says Vibhat Nair, general manager of Chase Card Services.
These tips will help you do just that — evaluate hotel cards based on your travel and spending style to decide which one is worth taking along on your next trip.
1. Think about which hotel chain you like most.
You might be tempted to stray from your hotel of choice if you see a fantastic offer from another hotel-branded card, says Zach Honig, editor-in-chief of ThePointsGuy.com, but your No. 1 consideration should be to stick with the chain that has already earned your loyalty.
"Even if Hilton is offering more bonus points than Marriott, if you never stay at Hilton, it doesn't make sense for you to get their card," says Honig.
The other question to ask yourself is whether flexibility or loyalty perks are more important to you, says Matthew Kepnes, founder of NomadicMatt.com and author of "How to Travel the World on $50 a Day."
"Some cards will give you perks and upgrades just for being a cardholder, while others offer more versatility by allowing you to transfer points to other programs, including airlines," he explains.
For example, the Marriott Rewards Premier credit card gives you Silver Elite Status just for having the card, which can give you an elevated guest experience (such as priority late checkout). The Starwood Preferred Guest card, on the other hand, allows you to transfer points to more than 30 airline frequent flyer programs, so you have more leeway if you're not staying at one of their properties in the near future.
The bottom line: If you love one particular hotel chain, choose from among its credit product offers; otherwise, opt for a more flexible program.
2. Evaluate the sign-up bonus.
After considering your own travel habits, the next thing to compare is introductory offers. Typically, hotel cards offer either a ton of bonus points or a free room stay if you spend a significant amount of money in a short period of time after signing up.
But here's the catch: You shouldn't be overspending just to earn points. If it's not reasonable for you to spend $4,000 in three months, as the Ritz-Carlton Rewards credit card is currently enticing new card members to do, you should look for a card that is more in line with your spending volume.
Plus, it's easy to lose track of spending requirements, and if you don't make the minimum spend, you don't get the bonus, says Honig. He offers this tip: "I keep the activate sticker on the front of my cards and write down the date and minimum spending requirement," he says.
Finally, unless you're someone who is comfortable juggling multiple cards like Honig and Kepnes, think about the long-term. "The upfront premium that is offered is great, but also consider the enduring value of the card — travel perks that will help you enjoy the card for years to come," says Nair.
3. Understand points value.
Here's where things get tricky. "The value of each point differs from one program to the next," says Honig.
For example, at publication time, Hilton points were worth 0.6 cents each, while Starwood Preferred points were worth 2.7 cents each, according to ThePointsGuy. So even though you might be able to get 100,000 sign-up bonus points for Hilton and 25,000 sign-on points for Starwood, because of the valuation, you might still come out ahead with the latter.
What's more is that you have to think about points value in context. "Consumers may get caught up on valuing points over other benefits, such as free night stays and status, when these rewards should all be placed on a more equal playing field," says Nair.
For Kepnes, since luxury hotel stays aren't his top priority, his goal is to use the least amount of points possible when booking. Therefore, he not only looks at point value, but also how many points are needed to earn the sort of free night that aligns with his travel style.
"Some properties might require as much as 70,000 points to get a free night (such as a top-tier Ritz-Carlton property), but other ones might have a much lower rate," he says.
Finally, you should consider how each card lets you earn points going forward. Do you get double or triple points in certain spending categories? Are those the kinds of purchases you make regularly? If not, it might take you longer to earn enough points to make it worthwhile.
4. Do some redemption research.
If you thought airline miles programs were confusing, there's even less consistency when it comes to hotel cards, says Honig. Policies vary from one chain to the next, and even by location.
"You may see in the same city tons of availability in one hotel, but none in another. That's because individual hotels make the decision about opening up reward inventory," he explains.
As such, it's quite possible that a base room might be available to book with cash, but you won't be able to use your points. "That can add frustration to the equation," says Honig.
To get the hotel and reservation date you want, Nair recommends booking early and being flexible.
Honig says you can also improve your odds by calling the hotel directly, especially if you're staying (and paying for) additional nights. "It never hurts to ask if they're willing to make an exception."
5. Weigh the cost.
As with all credit cards, there are interest rates and fees to consider. Travel cards generally have higher APRs (think variable rates of 16.99 to 20-plus percent), so the rewards are never going to be worth it for you if you carry a balance. "Interest rates far exceed the value of points," says Honig.
And don't be fooled by limited-time offer rates when you first sign up — they will usually jump tremendously after the promotional period expires.
As for annual fees, it's a question of your intended use. "Sign-up bonuses and earning potential are typically higher on cards with annual fees," says Honig.
For instance, the Hyatt credit card carries an annual fee of $75, but since it gives customers an annual free night, the benefit outweighs the yearly cost.
However, there are many solid, no-fee options that still offer less frequent jet setters perks and savings worth exploring.
Other options
If all this seems too complex or you don't think you get away often enough to maximize a hotel card rewards program, there are still ways to save on hotel bookings by choosing from among a more flexible category of travel rewards cards.
These products are not co-branded, so you're not tied to a particular hotel chain. Some examples include: Chase Sapphire Preferred card, Visa Signature card, Capital One Venture Rewards credit card, Barclaycard Arrival Plus World Elite Mastercard and Bank of America Travel Rewards credit card.
If you don't have a strong credit score or ample credit history (which typically are required to be approved for the more elite card programs), opt for a basic cash back card to get a feel for how rewards work as you build and improve your credit.
Hotel cards, like all credit products, work best when you choose the ones that align with your goals. As Nair says, "The value of hotel rewards points depends on what you, as the traveler, values."
Now that you have a better sense of what hotel cards are all about, here's a snapshot of some of the major ones available:
Comparing Popular cards
Starwood Preferred Guest
Hotel chain: Starwood's 11 brands, including St. Regis, W Hotels, Westin, Sheraton and others
Sign-up bonus: 25,000 Starpoints after making $3,000 in purchases within the first three months
Cool perk: Free in-room, premium internet access at participating SPG hotels
Annual fee: $95 (after the first year)
Marriott Rewards Premier
Hotel chain: Marriott
Sign-up bonus: Earn 80,000 bonus points after spending $5,000 on purchases in the first three months
Cool perk: One free night stay at a category 1-5 hotel every year after your account anniversary
Annual fee: $85 (after the first year)
Ritz-Carlton Rewards
Hotel chain: Ritz-Carlton
Sign-up bonus: Two complimentary nights at any participating tier 1-4 Ritz-Carlton hotel after you spend $4,000 in the first three months
Cool perk: An annual $300 travel credit
Annual fee: $450
The Hyatt Credit Card from Chase
Hotel chain: Hyatt
Sign-up bonus: Two free nights at any Hyatt hotel or resort worldwide after $2,000 of purchases in the first three months
Cool perk: One free night every year
Annual fee: $75
Hilton Honors Surpass credit card
Hotel chain: Hilton
Sign-up bonus: 100,000 Hilton Honors bonus points after you spend $3,000 in purchases within the first three months
Cool perk: Free weekend night award every year
Annual fee: $75
Terms apply
Club Carlson Rewards Visa Signature card
Hotel chain: Radisson
Sign-up bonus: 50,000 points with first purchase; 10,000 more points after you spent $1,500 in the first 90 days
Cool perk: Automatic upgrade to Silver Elite status
Annual fee: $50
Wyndham Rewards Visa Signature
Hotel chain: Wyndham
Sign-up bonus: Earn 30,000 bonus points after your first purchase. Plus, earn an additional 9,000 bonus points every anniversary
Cool perk: Late checkout; early check-in
Annual fee: $75
Wyndham Rewards Credit Card Review
Best Western Rewards Premium Mastercard
Hotel chain: Best Western
Sign-up bonus: 50,000 bonus points after you spend $1,000 in first three billing cycles. 20,000 bonus points when you spend at least $5,000 during each 12 billing cycle period. That's up to four free nights
Cool perk: Automatic Platinum Rewards status
Annual fee: $59 (after first year)
The content on this page is accurate as of the posting date. Please see the bank's website for the most current version of the offer.
See related: Best hotel cards: Fall 2016, How to get free stays and perks faster with hotel rewards
Editor's note: This story, "5 tips for choosing the right hotel credit card" originally was posted on CreditCards.com.