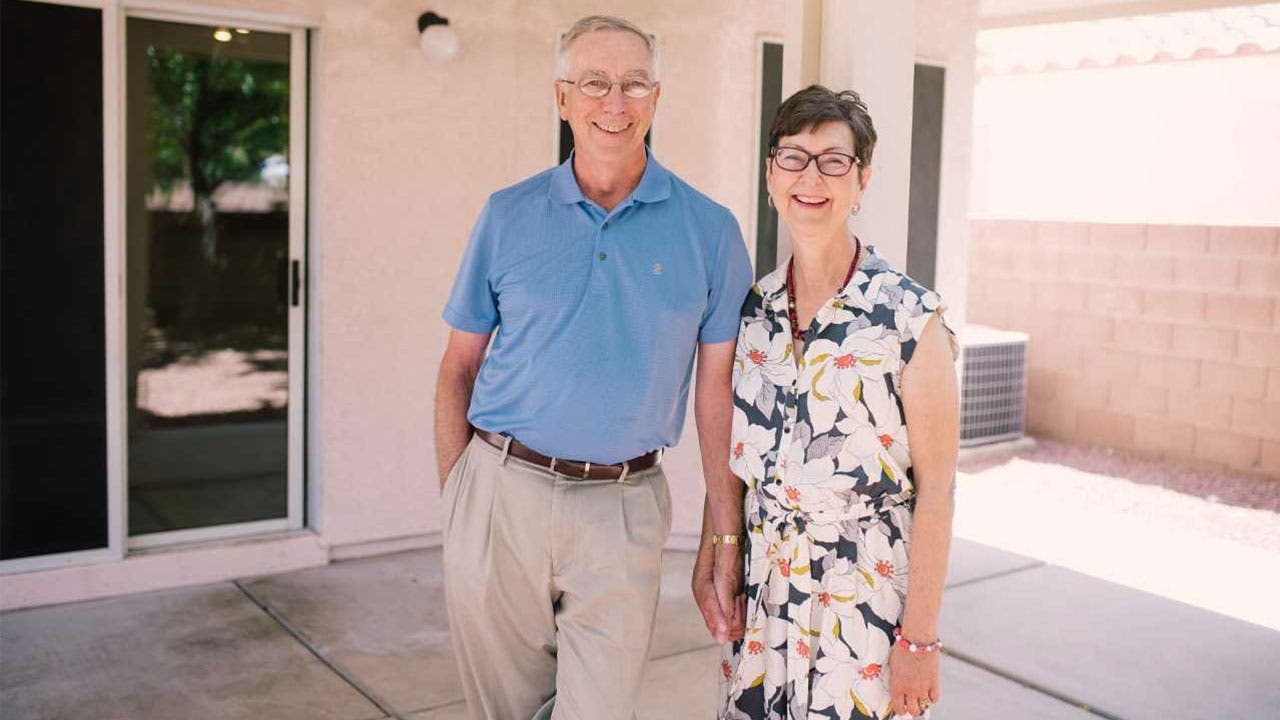 When John and Becky Schlatter needed to sell their Las Vegas home earlier this year, they dreaded the idea of listing it on the market. The hassle of negotiations, showings and coordinating their sale with the purchase of their next home seemed too daunting for the retired couple.
Enter Offerpad, a real estate sales platform that makes online cash offers on homes. John Schlatter was pleasantly surprised when he received a $295,000 offer (before fees) for their home.
"If I had sold with an agent, I might have netted a bit more but you're locked into a set closing date," Schlatter says. "We had to find our next home, and Offerpad allowed us to move our closing date a few times. They also provided a free moving truck. It was really convenient."
Venture-backed firms Offerpad and Opendoor, along with Zillow Offers, appeal to sellers like the Schlatters who want a simplified process that provides more convenience and control. And as these so-called "iBuying" platforms win over new fans, real estate agents may need to double down on their value to stave off the new competition.
How online sales platforms work
When a listing agent sells your home, it could take a few months to get to the closing table. You might have to pay for or make repairs to list it. Then there's marketing, staging, showings, fielding offers, inspections, concessions and the closing to navigate.
In comparison, here's how selling to an iBuying platform works.
Learn more about today's mortgage rates.
The offer — To get an offer, a seller answers online questions about the home. An algorithm evaluates local and national housing data to assess the home's value, which is fine-tuned based on your responses. You'll receive an offer within 24 to 48 hours. If you accept it, you'll sign a purchase agreement. There's no obligation or cost to request an offer.
Closing date — You'll choose a closing date that meets your timeline. You can always add a contract addendum later to move it as needed. Closings can be scheduled in as few as seven days or up to 90 days out, depending on the platform.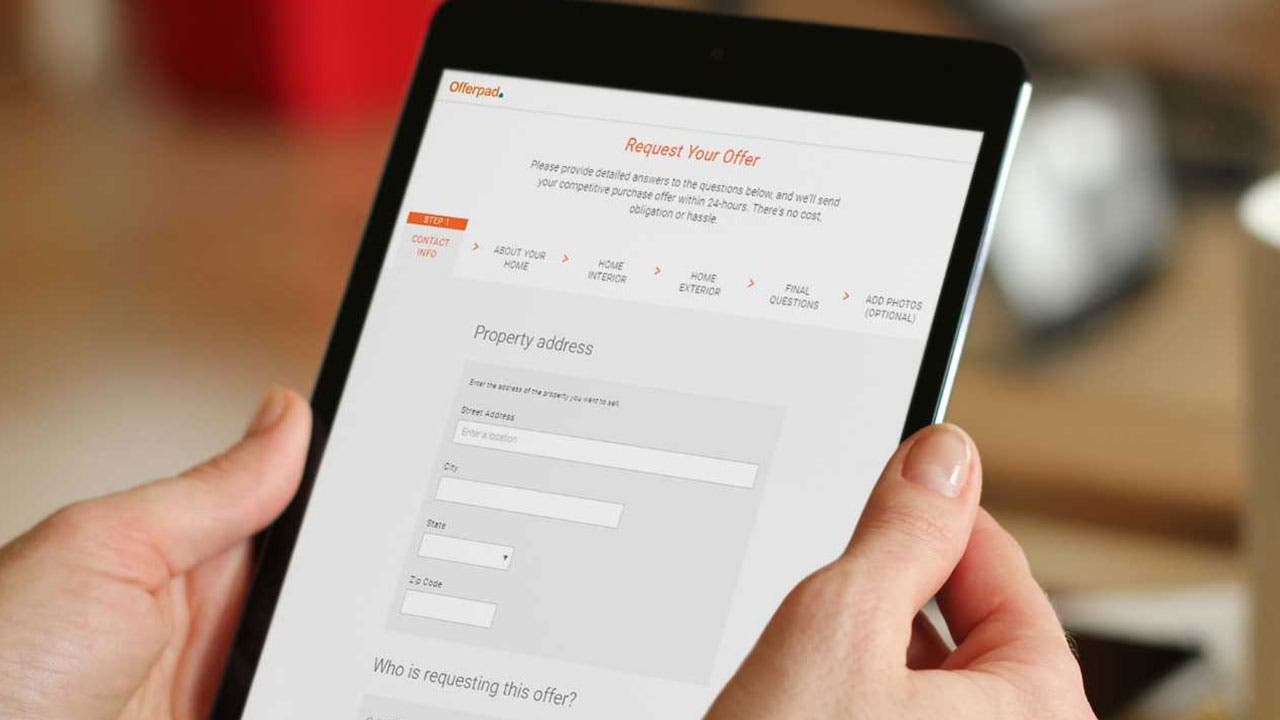 Free home assessment — The company pays for and arranges an in-person assessment of your home's condition. If repairs are needed or major issues are discovered that weren't disclosed, the offer is adjusted accordingly to account for those costs.
Fees — In addition to standard closing costs, you'll pay a flat service fee. The fee covers the company's expenses for maintenance, taxes, utilities, insurance and other items until the home is sold. (Offerpad's average service fee is 7 percent; Opendoor's fee averages 6 percent to 7 percent.)
Home types — Offerpad and Opendoor are selective about the homes they buy. Generally, homes have to be built after 1960, and cannot be valued at more than $500,000 to $600,000 (depending on the market). The companies do not buy distressed properties or manufactured homes, among other conditions.
Closing — After closing day, you won't have to deal with repairs, maintenance or finding a new buyer. The company pays for and handles all those details.
On the buy side, Offerpad and Opendoor sell the homes they purchase on their own platforms. Using an app, interested buyers can gain access to the homes during extended open house times — all without an appointment or coordination by a real estate agent. The properties are move-in ready, and buyers can submit offers on their own or through an agent.
Platforms cater to 'on-demand' consumers
Some compare iBuying to house flipping but that's not the case, says Julia DeWahl, general manager of trade-ins at Opendoor. House flippers tend to buy distressed homes in as-is shape to fix and flip them quickly to make a large profit.
"We'll do basic repairs when needed then list at market value on our own marketplace," DeWahl says. She adds that offers are aligned with market values to in order to attract sellers.
"We share the comps we use to come up with our offers so you see the method behind it," says DeWahl, adding that Opendoor also lays out its fees up-front. "Consumers aren't getting that type of transparency."
Real estate commissions have averaged just over 5 percent of the home's sale price in recent years. Although Opendoor's and Offerpad's average service fees are slightly steeper, a seller won't pay out of pocket for repairs or seller concessions they might incur in a normal sale. Plus, choosing your own closing date eliminates overlapping expenses of two mortgages or temporary housing. All in all, you could save some money.
Brian Bair, CEO and founder of Offerpad, doesn't view his platform as a way to make real estate agents obsolete. Offerpad, like its rivals, works with agents who request offers for their seller clients, and those representing buyers who are interested in Offerpad homes.
Creating a positive consumer experience is key, Bair says.
"I saw firsthand the many pain points and uncertainty my clients faced navigating the process," says Bair, who was a top-selling agent for 10 years. "I knew there had to be a better way, one that would align with the on-demand customer."
Real estate agents still own the sales process
Some real estate agents see these platforms as a threat, but the numbers tell a clear story: Consumers overwhelmingly use real estate agents to buy or sell a home.
Eighty-nine percent of home sellers worked with an agent to sell their home; 8 percent of homes were sold as "For Sale By Owner" listings, according to the National Association of Realtors' 2017 Profile of Home Buyers and Sellers. NAR is the nation's largest trade association, representing 1.3 million members.
Large real estate brokerages know they can't rest on their laurels. They have to listen to — and deliver — what consumers want in order to stay relevant, says Nick Bailey, president and CEO of Century 21.
"Consumers are demanding better experiences with lower levels of anxiety, and we have the opportunity, as an organization and as a brand, to help make that process better," Bailey says.
Some real estate companies are already embracing iBuying and creating their own solutions. NRT's Coldwell Banker branded offices rolled out cataLIST, a quick-cash sale program available in select markets. The program provides sellers with access to a trained, licensed real estate agent throughout the process.
Next steps
Selling or buying a home online isn't for everyone, and these platforms aren't available in all markets just yet.
Compare offers from iBuying platforms, and consult with a real estate agent to get an estimate of how much your home is worth and how long it might take to sell. To accurately compare pricing, factor in closing costs, the commission or service fee, repair costs, and potential overlapping housing expenses. It doesn't hurt to explore all of your options and get free offers or pricing opinions.
Learn more: