A good credit score is usually nothing more than a financial necessity for most people. For David Howe, good wasn't good enough. He wanted a perfect credit score and obsessed over it for years.
"In the last six or seven years my score was into the 800s and I knew I was getting close," he says.
Howe says that a few weeks ago, his dream came true: an 850 FICO score. FICO scores range from 300 to 850 and achieving the highest score is extremely rare. Many people in the financial industry say they have never seen one.
"For me this is an absolutely stunning accomplishment," Howe says. "I worked on it for so long. I will continue to make sure my credit is very strong but will not obsess over it anymore. I have had a few sleepless nights because of this. It's a sense of relief for me."
Why the obsession?
Howe says the pursuit of the perfect credit score was a personal and professional goal. He is a credit manager at a company based in Massillon, Ohio, and founder of a consumer credit reporting agency that serves cable and telephone companies. But on a personal level, he has always been fascinated by the credit scoring system.
"FICO doesn't discriminate," he says, adding that income and age aren't part of the calculations that determine your score. "You can be a janitor at Walmart and have exceptional credit or a CEO with bad credit."
How did he do it?
Howe warns that he is not a FICO expert, but for those who want to improve their credit scores, here are his tips, based on his journey to achieving the perfect credit.
Watch your score like a hawk: Howe spent thousands of dollars over the years buying credit reports and monitoring his score. "I have my scores going back at least seven years," he says. "In the most recent three of four years I have watched every single detail."
Manipulate the balance and payment date on credit cards: "I know exactly when my statement is going to cross," he says. Credit card companies usually report your balance to the credit bureaus on the day of or a few days after the statement date, which is different than your due date. So even if you are paying off your credit card every month on the due date, but maintaining a high balance through the month, this can impact your score negatively, he says.
Avoid unnecessary inquiries: Hard inquiries can make small dents on your credit score and they appear to affect your score for up to a year, Howe says. While it's impossible to avoid inquiries when you have to apply for an auto loan, a mortgage or even a new cellphone account, don't go wild opening new credit cards, because doing so may affect your score. "I have not opened a revolving credit card account in almost a decade," he says.
Have a decent amount of credit: Avoiding too many credit inquiries doesn't mean don't ever open a credit card account. You've got to start somewhere but you have to know when to stop. Howe says he has 11 credit cards but uses only about four of them. On a day-to-day basis, he uses one.
Keep a small balance but not a zero balance: Paying off all of your credit cards won't get you a perfect credit score, Howe warns. But an extremely low balance will help. Howe says he made sure to keep a small balance on one of his credit cards. How small? He says he kept it under 7 percent of the available credit. "I always pay before my due date but I would leave, say, $30 on there," he says.
Pay down the mortgage: Howe says paying down his mortgage was a key factor to achieving a perfect credit score. He has paid down more than half of his 1-year-old mortgage.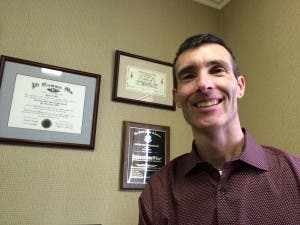 "Just a month ago I was getting 845," he says. "I paid down another $6,000 on the mortgage and that additional $6,000 was the magic threshold."
You don't need a perfect score to get the best rates as a consumer. To lenders, as far as rates, there's really no difference between a 780 score and an 850. But if you are pursuing an excellent score, Howe's tips might help you.
His score wasn't always great
About 10 or 15 years ago, Howe says, his credit score was as low as 630.
"I've had some missteps," he says.
He says even if your credit history is tainted by collections, foreclosure or bankruptcy there's still ways to fix your credit if you are patient and persistent.
"If you have a bankruptcy or a foreclosure let time heal that," he says. "I've had some serious issues in the past and here I am."