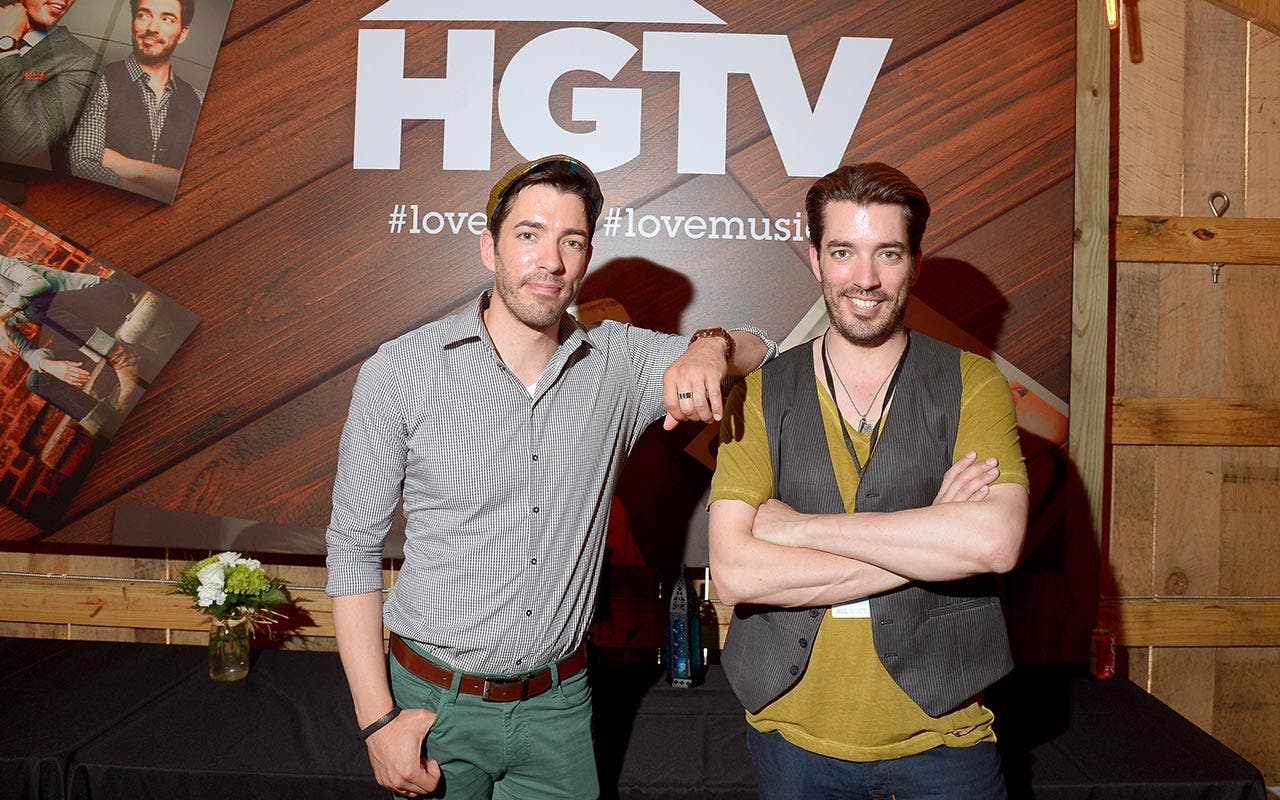 7 signs of failure in a flip home
We can thank wildly popular TV shows like "Flip or Flop," "Property Brothers" and "Love It or List It" for making us well-versed in the process of flipping a substandard home for a quick sale.
Sellers get a fast profit, but what about the buyers? What should they be aware of before buying a possible flop?
To find out, we spoke to Reuben Saltzman, a second-generation home inspector with Structure Tech near Minneapolis; Tyler Karu, an interior designer/flipper and founder of Landing/design in Portland, Maine; and Justin Pierce, an ex-Marine turned flipper and president of Snow Goose Homes in Woodbridge, Virginia.
The sooner you can determine whether that fixed-up home is the rare treasure it seems to be or a well-disguised dustheap, the better your chances of backing out or having the flipper pick up the tab to make things right, saving you a ton. After all, flippers are highly motivated sellers.
Let's run down the seven warning signs of a failed flip with our real estate experts.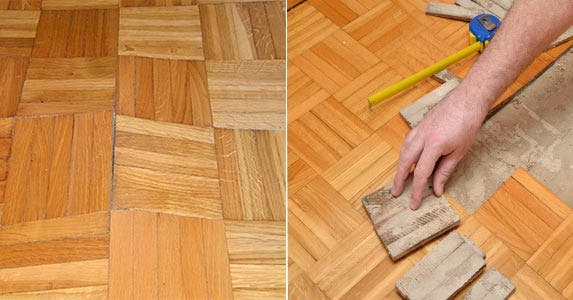 Flooring may mask bigger flaws
Want an immediate impression of the overall quality of a flip? Saltzman says look down — to spot poor workmanship on new flooring.
"If they've got flooring butted up to base molding and butted up to doorjambs," he says, "that's a big red flag, or at least a big yellow one."
The proper way would be to remove the molding, cut the bottoms of the floor jambs out and lay the flooring beneath them.
Pierce uses the same test to assess the work of his contractors.
"If it just doesn't look right, particularly at the trim, that's going to be the most obvious to a potential buyer," he says. "Carpet is going to be hard to tell, but hardwood? It's kind of hard to screw up hardwood, but it would be obvious if they did."
Saltzman says poor flooring is often a preview of more serious flaws with technical changes involving plumbing and electrical work.
Ready to make an offer on a house? Compare mortgages rates first.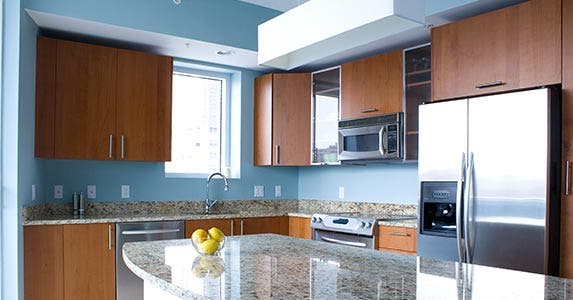 Kitchen: Pretty — or pretty messed up?
Reality and reality TV agree: Kitchens sell homes. But Karu insists even those shiny new stainless steel appliances and granite countertops can't hide a dysfunctional layout.
"There is this kitchen triangle design that traditionally works for cooking," she says. "When appliances aren't laid out correctly, that's the first thing I notice that may have been done to stick to a budget. They're using an existing layout just to save money."
Gaps between backsplash and countertops and new doors poorly installed on old cabinets also drive this interior designer crazy.
"If things aren't put together well, they're going to fall apart quicker," she says.
But Saltzman is more concerned by what he can't see in a kitchen. He opens the cabinet beneath the kitchen sink.
"You have your garbage disposal, dishwasher connection, sink drains, water lines and the electrical for the disposal and dishwasher — a lot of basement-y kinds of things right underneath the kitchen sink." The same holds true under bathroom sinks, he adds.
Pierce's advice to potential buyers? "Don't be distracted by the kitchen bling."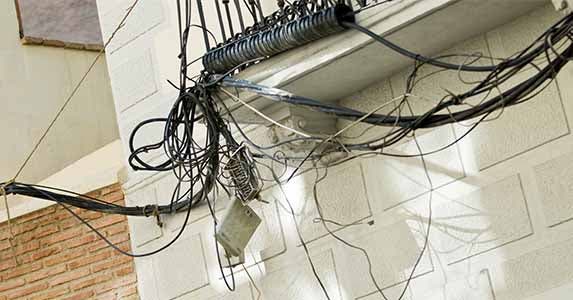 Shocking electrical work
Given our modern safety codes, would house flippers dare chintz out on the electrical system?
"They definitely do," Saltzman says. "People do their own wiring, they don't know how to do it to code, and they often have too many lights or outlets on a single circuit."
He recalls a house-flipping scenario where the garage and kitchen lighting had been wired on the same circuit. "We had the lights on and when we hit the garage door opener, that was enough to overload the circuit and trip the breaker without even having anything plugged in," he says.
Karu loathes the laziness that results in poorly placed light switches and cramped, inaccessible outlets.
"A lot of that has to do with framing and decisions that were made after the framing went up," she says.
When in doubt, she replaces the whole works.
"We have codes to prevent potential hazards to the house and inhabitants. Although it can run over $10,000 to rewire a home, that's one area where corners should never be cut," she says.
Have expensive electrical issues? Compare home improvement loan offers now.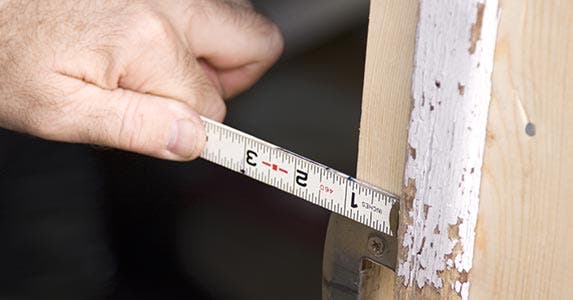 Jammed doorjambs
A casual stroll through a flip may not reveal a common makeover misfire with interior or exterior doors that:
Don't close smoothly.
Fail to latch securely.
Tend to open or close by themselves.
The same malady can misalign windows, as well.
"Whether it's through weather or the house settling itself after you've completed a lot of work, things can shift by millimeters and cause the house to not function as well," Karu says.
The problem could also be caused by a common contractor shortcut: replacing a door but keeping the existing jamb.
"That shortcut is actually a lot more complicated," Karu says. "A lot of times, it's actually easier to replace the entire door and jamb so that everything lines up."
But Pierce says sloppy or rushed workmanship can even mess that up.
What's a potential flip buyer to do?
"If someone is really serious about this, take a level along with you and put it on the doors and door frames to see if they square up," he says.
If you're ready to buy a home, compare mortgage rates to find the best loan for you.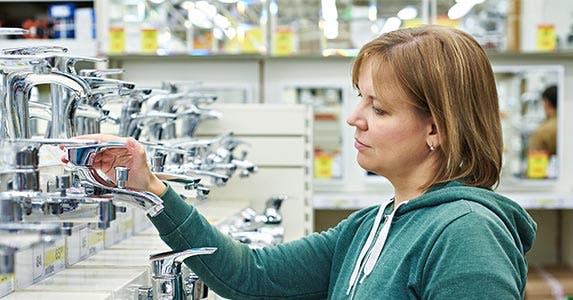 Mismatched metals
As a trained interior designer, Karu knows how to mix metallic finishes on faucets, lighting, doorknobs and cabinet pulls for optimal pizazz.
"It's all done very thoughtfully with a design plan in mind. You would certainly notice that the metals are not the same, but it would look right and appropriate, and the finishes are not cheap," she says. "It's not like they've mixed an inexpensive lacquered brass from the '90s with a brushed nickel door handle."
Unfortunately, house flippers are notorious for choosing price over appearance.
"A lot of times, what you see in a flip is, people were able to get hardware on sale and lighting on sale and plumbing fixtures on sale, and none of it matches," she says. "But they don't care because it was all purchased on sale."
But Pierce says tricking out the bling has its downside, as well.
"When people just throw expensive fixtures in there that aren't installed right … then it looks like you're covering something up," he says.
Get your fixtures and the rest of your home looking great with a home improvement loan.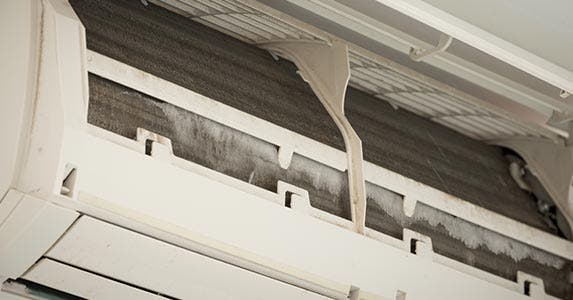 HVAC horror stories
A properly functioning heating, ventilating and air conditioning, or HVAC, system is the heart of a comfortable home.
Unfortunately, when a house-flipping team turns a residence into a construction zone for weeks or months on end, the collateral damage it can inflict on the home's HVAC system with drywall sawdust and other airborne debris would break your heart, Saltzman says.
"We go to the furnace blower fan and run our finger along one of the blower fan blades to see if it's caked in drywall dust. If it is, it means that the evaporator core for the air conditioner is also going to be caked in drywall dust, and you'll want to have all of this professionally cleaned," he says.
Unless they inspect beneath the surface, prospective buyers may mistakenly believe that everything has been redone. "It hasn't been completely redone; they redid the cosmetics," Saltzman says.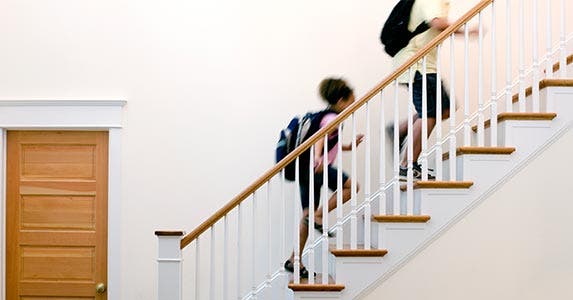 Safety features that aren't
Flippers can be flippant when it comes to safety rails and other safety features that were installed in the home they've acquired.
"Safety features are definitely regulated by code, but code goes to the initial installation of something," Saltzman says. "If something met code at the time it was done, it still meets code today, even though it wouldn't meet the code of a new install."
The results can definitely be hazardous to your well-being. Inspector Saltzman has seen flippers reattach safety handrails into nothing but drywall, for example.
Karu says house flippers have a moral and financial obligation to make their flip safe.
"You are responsible for maintaining the safety of a home; that's what codes are for," she says. "It's got to be safe, because you're liable for at least a year for the safety of the people living in the home after you finish it."
Consider getting a personal loan to finance a home improvement project.