Chase Freedom®
Sarah Priestley
in
Cash Back
Advertiser Disclosure
Bankrate.com is an independent, advertising-supported comparison service. The offers that appear on this site are from companies from which Bankrate.com receives compensation. This compensation may impact how and where products appear on this site, including, for example, the order in which they may appear within listing categories. Other factors, such as our own proprietary website rules and the likelihood of applicants' credit approval also impact how and where products appear on this site. Bankrate.com does not include the entire universe of available financial or credit offers.
Editorial disclosure: All reviews are prepared by Bankrate.com staff. Opinions expressed therein are solely those of the reviewer and have not been reviewed or approved by any advertiser. The information, including card rates and fees, presented in the review is accurate as of the date of the review. Check the data at the top of this page and the bank's website for the most current information.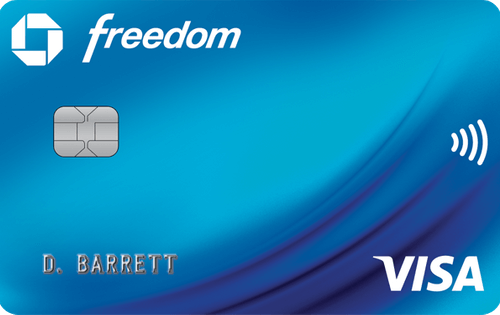 Recommended Credit Score
Good to Excellent (670 - 850)

A FICO score/credit score is used to represent the creditworthiness of a person and may be one indicator to the credit type you are eligible for. However, credit score alone does not guarantee or imply approval for any financial product.
Best for rotating cash back categories
Annual Fee:

$0

Purchase Intro APR:

0% Intro APR on Purchases for 15 months

Balance Transfer Intro APR:

0% Intro APR on Balance Transfers for 15 months

Regular APR:

17.24% - 25.99% Variable
Terms and Restrictions Apply
Commonly used for: 0% Introductory APR, Auto Rental Insurance, Balance Transfer, Cash Back, Concierge Service, Editor's Pick, EMV, Extended Warranty Program, Gas, Good Credit, Grocery, Lost Luggage Reimbursement, Mobile Pay Ready, No Annual Fee, Popular, Purchase Protection, Rewards, Roadside Assistance, Rotating Cash Back Categories, Travel Accident Insurance, Travel Assistance, Trip Cancellation Insurance, Unsecured credit card, Visa Signature®, Zero Fraud Liability.
Score Breakdown
The information about the Chase Sapphire Reserve card and the Ink Business Preferred Credit Card has been collected independently by Bankrate.com. The card details have not been reviewed or approved by the card issuer.
For no annual fee, the cash back returns for this card are excellent if — and here's the important question — you're willing to put in some time and effort to track and maximize the card's rotating categories. The Chase Freedom allows you to earn 5% back on up to $1,500 a quarter on rotating categories. You must enroll to earn the higher cash back amount (all other spending earns 1% unlimited) and Chase announces the upcoming categories one at a time at the end of the previous quarter.
This card just got edged out of the top spot for cash back credit cards without an annual fee. That's because, for most card users, we prefer a simple rewards program that pays a flat rate for all spending. Still, that doesn't mean this card isn't a worthwhile choice for savvy cash-back maximizers who enjoy working to get that extra return.
A worthy addition to your wallet?
The simple answer is: It depends what you're looking for.
If you're looking for a single go-to credit card that you can use for every purchase without thinking too much about it, then there are better deals available to you.
The Chase Freedom is best when paired with other cards, like a 2% flat-rate cash back card or a Chase card included in the Ultimate Rewards program, so you can transfer points you earn on the Freedom and increase redemption value through the Chase portal.
The Freedom does have a bit of an edge over its competitor, the Discover it® Cash Back, in that the rotating bonus categories for the Freedom are often a bit more varied than the Discover categories. Chase recently released its Q3 bonus categories for 2019, including gas stations and qualifying streaming services. Here's a list of the streaming services that qualify:
Netflix

Hulu

Sling

Vudu

FuboTV

Apple Music

SiriusXM

Pandora

Spotify
Consider your annual spending to determine if these types of spend groups match your spending habits. One other thing to keep in mind: Spending more than you normally would because it will earn you extra cash back is self-defeating. So, don't be tempted to overspend if you choose this card, especially if you're not big music and entertainment subscription services.
If your credit score is less than "excellent" but still in the "good" range — between 670-739 — you may still be able to qualify for this card. Using it responsibly could also help to push your score up.
Advantages
Earn 5% cash back on up to $1,500 in combined purchases in bonus categories each quarter you activate (1% thereafter).
There's a sign-up bonus worth $150 in cash back if you spend at least $500 within the first three months of card ownership.
You can redeem your points as a cash-back deposit to your bank account, a statement credit, or transfer them as Chase Ultimate Rewards points to an eligible Chase card that has Chase Ultimate Rewards.
Disadvantages
Online sign-up required each quarter to earn the 5% in the bonus categories might be too much for some.
There's a 3% foreign transaction fee, so you may want to consider using a different card for international travel.
For balance transfers you'll be subject to a Intro fee of either $5 or 3% of the amount of each transfer, on transfers made within 60 days of account opening. After that: Either $5 or 5% of the amount of each transfer, whichever is greater, which is high compared to other cards that offer balance transfers at no cost.
There are other flat rate cards that offer 2% cash back, so depending on how you spend, you might earn more back over time with one of those options.
How much are your rewards worth?
The sign-up bonus of $150 after you spend $500 in your first three months is easily attainable and a nice start to your cash back earnings with this card.
The real benefit of the card is its 5% cash back rotating categories. However, the cap on earnings at $1,500 limits your 5% benefit to $75 per quarter. After that, a standard 1% back unlimited applies.
Assuming average monthly spending of around $1,600 on your credit card – and if you maximize your $1,500 limit on your 5% bonus category – that's $3,300 a quarter to earn the remaining 1% rewards rate ($1,600 average monthly spending x3 for quarterly total, minus $1,500 for 5% rewards limit). On these assumptions, you would receive an additional $33 a quarter from your 1% rewards rate for $132 a year.
Including the sign-up bonus and assuming you max out the benefits of your quarterly bonus rewards, that's a combined $450 cash back in your first year. Add that to the remaining 1% rate of $132 and you have a total first-year benefit of $582, with an ongoing annual reward rate (excluding sign-up bonus) of $432 a year. Not bad for a no annual fee card.
The Chase Freedom is really best when paired with other Chase cards in the Ultimate Rewards program: Chase Sapphire Preferred Card, Chase Sapphire Reserve and the Ink Business Preferred Credit Card. Each of these cards charges an annual fee — which can be substantial depending on which card you get — but can boost your redemption 25%-50% through the Ultimate Rewards program when you redeem through the Chase portal.
For instance, when you transfer your points to the Chase Sapphire Preferred Card, those same points increase in value by 25%. So, 100 Ultimate Rewards points become worth 125 Ultimate Rewards points when redeemed for hotels, airlines tickets or anything else that Chase categorizes as travel.
Alternatively, if you transfer the same 100 points to the Chase Sapphire Reserve card, they increase 50% in value, so that 100 points is now worth 150 Ultimate Rewards points when redeemed for travel through the Chase portal. Yes, the math can be confusing, but for some, the payoff of increased value is worth the legwork.
The Chase Freedom also offers 0% APR for 15 months on balance transfers (17.24-25.99% variable APR after that) and an intro balance transfer fee of 3% when you transfer during the first 60 days of account opening, with a ($5 minimum). Considering the average American credit card debt balance is $6,375, and the average interest is at 17.14% (as of Nov. 28, 2018), if you're making a $200 payment each month, transferring the balance to a Chase Freedom card could save you $1,491 in interest expenses, after paying $191.25 in fees. If you used this introductory period to pay down the total amount owed — which would mean paying $437.75 per month — you would save yourself $2,000 in interest.
Note: This benefit isn't unique to the Chase Freedom. The Bank of America® Cash Rewards credit card also provides value for redeeming through rewards programs. When redeeming through Bank of America Preferred Rewards, members can also get a 25-75% rewards bonus on every purchase.
The new offer from BoA allows cardholders to earn 3 percent cash back on one of six categories for up to $2,500 in combined spending per quarter. All other purchases receive cash back rewards at the rate of 1 percent per dollar.
Fees and APR
This card charges no annual fee.
You'll be charged a 3% foreign transaction fee on every purchase made outside of the United States.
Chase Freedom comes with an introductory offer of 0% APR for the first 15 months on purchases and balance transfers. Regular APR is a variable 17.24-25.99%.
There's a 3% intro balance transfer fee when you transfer a balance during the first 60 days your account is open, with a minimum of $5.
How this card compares
Chase Freedom vs. Chase Freedom Unlimited®
Chase Freedom Unlimited is a solid, straightforward cash-back rewards card that's ideal for cardholders who just don't have the time or energy to track categories. A lot of the benefits mirror its sister Chase Freedom card with the major difference being the 1.5% back, unlimited, on all spending.
The bottom line: If the thought of tracking rotating rewards is making you tired, you'll get comparable returns for less maneuvering with the Freedom Unlimited.
Read Bankrate's Chase Freedom Unlimited Review.
Chase Freedom vs. Discover it® Cash Back
The Discover it® Cash Back card is the most directly comparable to the Chase Freedom as it also offers 5% cash-back on up to $1,500 in purchases quarterly, 1% on everything else (activation required). Discover it Cash Back cardholders have access to quarterly category bonuses by enrolling each quarter. They also help you plan your spending to align with the bonus categories by publishing the calendar of benefits for the entire year. (Jan-Mar 2019 – Grocery Stores, Apr-Jun 2019 – Gas stations, Uber & Lyft, Jul-Sep 2019 – Restaurants & PayPal, Oct-Dec 2019 – Amazon.com, Target & Walmart.com.
The balance transfer offer for the Discover it Cash Back card is slightly lacking compared with the Chase Freedom. If that's a big part of your decision, then you might want to stick with the Chase Freedom.
The major side benefit of the Discover it Cash Back card is the generous first-year bonus: With the Discover Cashback Match, Discover will match all of the cash back you've earned for your first year. That makes the first-year returns for this card extremely preferable to the Chase Freedom.
Read Bankrate's Discover it Cash Back Review.
How to get the most value from this card
To get the most value from this card, you must remember to activate the quarterly bonus categories. There are five ways to do this:
Sign into your Chase account and look for the "Activate Now" button.
Call the number on the back of your card and activate over the phone.
If you have a checking account with Chase, you can activate your bonus categories at an ATM while making a withdrawal.
You can ask Chase to email you when it's time to activate, and the emails include a link to activate.
You can go to a Chase bank location and ask a Chase representative to assist you.
Maximizing rewards with these rotating categories involves planning your spending accordingly. As soon as you know the next quarter's bonus categories, think about how you can shift your spending to best match the high-value rewards.
Takeaway
This card has a lot to offer cash back maximizers willing to put in a bit of effort to make the rotating categories work for them. For any Chase Sapphire Reserve or Preferred members, this card makes a lot of sense to add to your arsenal.