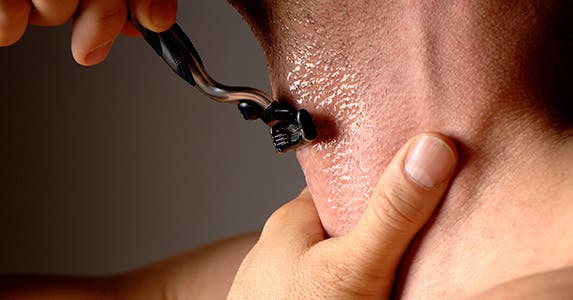 52 weeks of saving: Trim shaving budget
Editor's note: Each week, one of Bankrate's personal finance reporters is reporting on a new way to save and chronicling the savings journey. This week, I made my own shaving oil to see how much I could save and to share my experience with you. See what happened.
This will be a rare tip aimed at men, so apologies to the ladies. I'm sharing my DIY recipe for a product that can transform something typically thought of as drudgery (and sometimes painful) into a more pleasurable experience. We're talking about shaving our faces.
What we're discussing isn't exactly a household name. But it should be. Shaving oil is sold in high-end shaving shops and some drugstores. What some also call "pre-shave oil" is applied to the face before shaving cream, substantially reducing friction and irritation. It makes for a closer shave, an added bonus. These products can sell for $10 or more per ounce.
So, while you might want to reduce the post-shave burn, you can also avoid the burn at the checkout counter. You can easily make this stuff at home in minutes for a fraction of the retail price.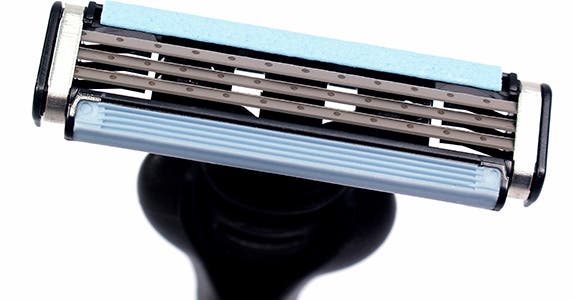 How I learned about shaving oil
A number of years ago, I was doing a television feature about unusual franchises vying for investments at a convention. There was a guy hawking a barber shop franchise that offered shaves, which were much more popular a century or more ago, particularly when straightedge razors were used.
Once less costly safety razors with disposable blades started being sold, there was less need to go to the barber shop for a shave. I later learned that one of these franchise shops was just a couple of miles from my house. I checked it out, and between the hot, steamed towel and shaving oil used there, I was hooked.
The barbers there told me they were making their own shaving oil, which they were hoping to sell. They were mixing oils used in cooking with some fragrances. Since I do most of the cooking for our family, I figured I'd give it a try by raiding our pantry.
Here's how I did it.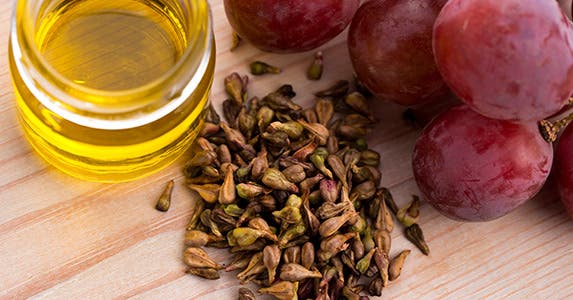 Here's what to buy
First, you'll need to buy the fairly inexpensive ingredients.
My basic recipe for shaving oil involves a minimum of two ingredients that can typically be purchased at a grocery store. For storing and dispensing it, I bought a 2-ounce plastic travel bottle with a pump-spray top for a dollar. Two ounces will last me about two weeks.
The main ingredient is grape seed oil, which has very little smell and isn't too greasy. You should be able to find a 17-ounce bottle at your grocery store for around $8. A similar amount of shaving oil would cost $150 or more. So we're talking about substantial savings.
The second ingredient, castor oil, sold in drugstores, thickens the final product. The price of castor oil varies quite a bit, but you can get a large bottle for 50 cents per ounce. Online retailers sell it, too.
If you want to get fancy, I really like adding a few drops of eucalyptus oil, which has a unique, pleasant scent. It is the priciest ingredient at about $2 an ounce. I buy it online. But you'll need only a small amount each time you make it. Another nice scent you could try is lavender oil, which is used in some of the comparable high-end retail products.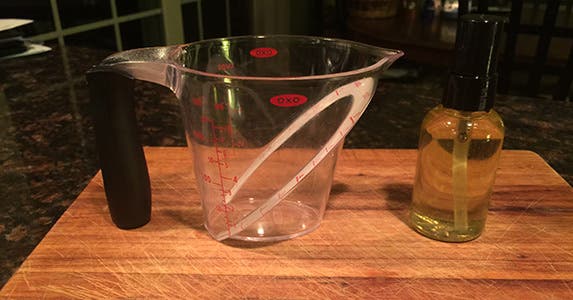 The 'secret recipe'
To begin, use a measuring cup to pour about 1 1/2 ounces of grape seed oil. You don't have to be exact because we're not baking a cake.
Next, add about a 1/2 teaspoon or so of the castor oil and mix with a spoon. Later, you might want to add more depending on how thick you want to make it. If you want to add the scent, such as eucalyptus or lavender, only a few drops are needed for your 2-ounce bottle.
With all of those combined, carefully pour your shaving oil into the plastic travel bottle.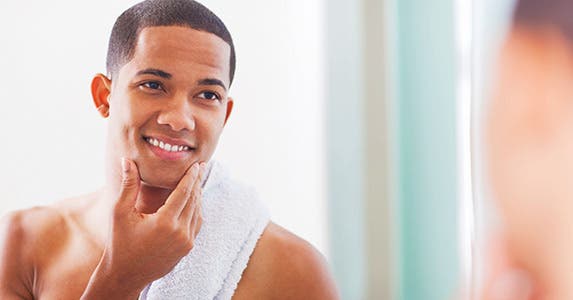 Finally, use your shaving oil!
When you get ready to shave and use the product for the first time, be sparing with your oil at first. I don't use the spray anymore, putting about a 1/2 teaspoon or so into the palm of one hand. I then rub my hands together and apply it on my face and neck where I shave. Apply shave cream and use your razor as you normally would.
I think you'll find less discomfort and a better shave overall, saving quite a bit of money compared with what you might have spent on commercial products.
I've been making and using my own shaving oil for years. The result: I'm saving the $25 or so that they charge at retail for a supply that would probably last only a month or two. Over the course of a year, that's a savings of $200 or more.
Once you've tried it, let me know how you like your shaving oil. Oh, by the way, that franchise didn't seem to take off. But I'm still using my shaving oil all these years later.