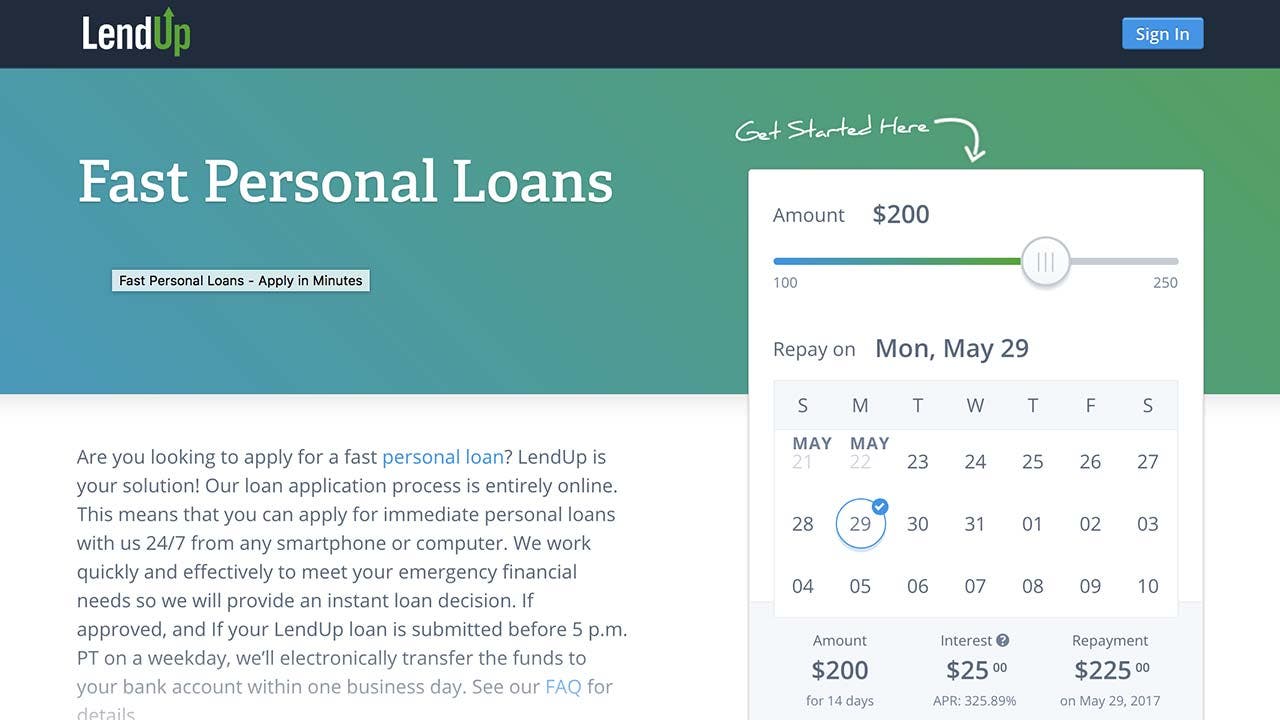 LendUp bills itself as an alternative to payday loans, but it uses a similar model. It gives cash-strapped borrowers funds in exchange for full repayment plus interest with the borrower's next paycheck.
These short-term loans can lead to big-time charges.
For example, a 30-day, $100 loan in the state of California can accrue a fee of $17.30, which is an annual percentage rate of just over 210%.
Who is this loan good for?
Lending terms
Minimum borrower requirements
Fees and penalties
How to apply
What to do if you're turned down
The company uses its LendUp Ladder system to determine lending rates. The ladder starts at Silver and progresses to Gold, Platinum and then Prime. Repeat borrowers who pay on time earn points to "climb" the ladder, each ascending rung allowing you to apply for a loan at better rates.
You can also earn additional points through customer referrals and by taking the site's free online education courses. The lower you are on the ladder, the higher your interest rates will be.
Those at the Platinum and Prime levels in some states have their payments reported to the three major credit bureaus, so you might be able to improve your credit score. This is a subtle, but potentially significant difference from a traditional payday lender where the loans and repayments don't appear on your credit report.
Because LendUp's interest can be significantly higher than other lenders, if you have good credit, you should comparison-shop for your personal loan before making a choice.
Who is a LendUp personal loan good for?
Those with poor credit. Someone with a thin credit file or damaged credit might qualify for a loan from LendUp. Customers new to LendUp have a median VantageScore (that's a type of credit score) of 550. The average VantageScore is 673. This might be a slightly less costly alternative to storefront payday loan stores.
Anyone who needs a short-term loan quickly. LendUp loans are intended for customers who need quick cash before their next paycheck.
Repeat borrowers looking to improve their credit score. LendUp reports to the three major credit bureaus for those at the highest levels of its lending Ladder.
Anyone looking to improve their knowledge about building credit and getting out of debt. LendUp offers free online courses that teach consumers how to understand and manage their debt. Those who take one of the video courses and pass the quiz at the end can earn points to help them move up LendUp's credit ladder.
Who should not accept a loan
Anyone with decent credit. If your credit history is good enough to qualify for a traditional personal loan, you should shop for a better choice as you'll encounter double-digit annual percentage rates that are likely to beat whatever LendUp can offer. Those who need a short-term loan should consider other options first like a secured credit card or a credit-builder loan with a community bank as both can help rebuild your credit and will charge far less in interest fees.
Lending terms
LendUp offers short-term fixed-rate loans that range roughly from $100 to $250, payable in seven to 31 days, depending on the laws of the state in which you reside. In many states, LendUp also offers credit-reporting installment loans from about $500 to $1,000 and payable in nine to 12 months where available. LendUp operates in 24 states: Alabama, California, Florida, Hawaii, Idaho, Illinois, Indiana, Kansas, Louisiana, Maine, Minnesota, Mississippi, Missouri, New Mexico, Ohio, Oklahoma, Oregon, South Carolina, Tennessee, Texas, Utah, Washington, Wisconsin and Wyoming.
You'll repay your loan in the form of a fee, but if that fee were applied as an annual percentage rate, the cost of your loan is quite high.
For example, the APR on a 14-day, $100 loan ranges from 235.42% to 625.71% depending on the state in which you reside. The company's ladder structure allows you to work your way down to a 29% APY loan over time.
LendUp borrower snapshot

| | Borrower average |
| --- | --- |
| Loan size | $100 to $1,000 |
| Credit score | 550 |
| Origination fee | Varies |
| Income | No minimum |
| Time to funding | 15 minutes |
LendUp charges an origination fee, which is added onto the total amount you will owe. For example, if you are approved to borrow $100 with an origination fee of 17.25%, that's an extra $17.25 you'll pay on top of the $100 you're borrowing, plus the interest rate charges. (All of this is wrapped into the APR.)
You should factor the origination charge when determining your total cost to borrow. Think of it like an application fee or a processing fee — a sunk cost that may or may not seem reasonable, but it's non-negotiable. Some, but not all lenders, charge this fee.
Once approved, qualified borrowers can receive the funds in as little as the next business day. Those in qualifying states can pay an additional fee for a 15-minute transfer of loan funds.
Minimum requirements
A bank account that accepts ACH transfers and proof of employment are the bare minimum requirements, according to the LendUp website.
"While we don't impose a minimum threshold on yearly income or FICO score for our short-term loans, some states may impose certain restrictions beyond our control," according to a spokesman. "With that said, we have worked with customers with income from Social Security, disability, retirement and more."
Fees and penalties
LendUp charges an origination fee that varies by state, plus a verification fee of up to $5.
You'll be charged a non-sufficient funds fee of $15 if you're set up for automatic loan repayment and you don't have enough funds to cover the transaction.
If you sign up for 15-minute deposit service instead of using the standard next-business-day service, an extra charge will apply.
If you repay your loan early with a debit card or if you repay your loan with a MoneyGram, an extra charge will apply.
You can extend your loan for up to 30 days without penalty if you cannot repay your loan on time.
How to apply
The application process is simple. Just fill out the online form with your name, address, Social Security number and bank account routing number for direct deposit. In several states, you'll also have to upload a copy of your most recent pay stub to verify your income. LendUp, like most payday lenders, doesn't perform a credit check, so it won't adversely affect your score to apply.
You're also getting the money directly from LendUp without any middleman involved or other financial institutions having your information.
You'll get a decision almost instantly, and, in most cases, LendUp offers rapid delivery of funds into your account.
You can set up an automatic repayment from your checking account, pay by MoneyGram or personal check or with a debit card.
But if your credit is strong enough, you should consider other alternatives, particularly if a short-term cash infusion isn't necessary. If your credit is strong enough you can apply for a loan with Avant or OneMain Financial. If your credit is damaged, a secured credit card is another option, which can help you rebuild your credit without the huge interest charges.
LendUp charges an origination fee that varies by state, plus a verification fee of up to $5. You'll be charged a non-sufficient funds fee of $15 if you're set up for automatic loan repayment and you don't have enough funds to cover the transaction.
Editorial disclosure: All reviews are prepared by Bankrate.com staff. Opinions expressed therein are solely those of the reviewer and have not been reviewed or approved by any advertiser. The information, including rates and fees, presented in the review is accurate as of the date of the review. Check the data at the top of this page and the lender's website for the most current information.