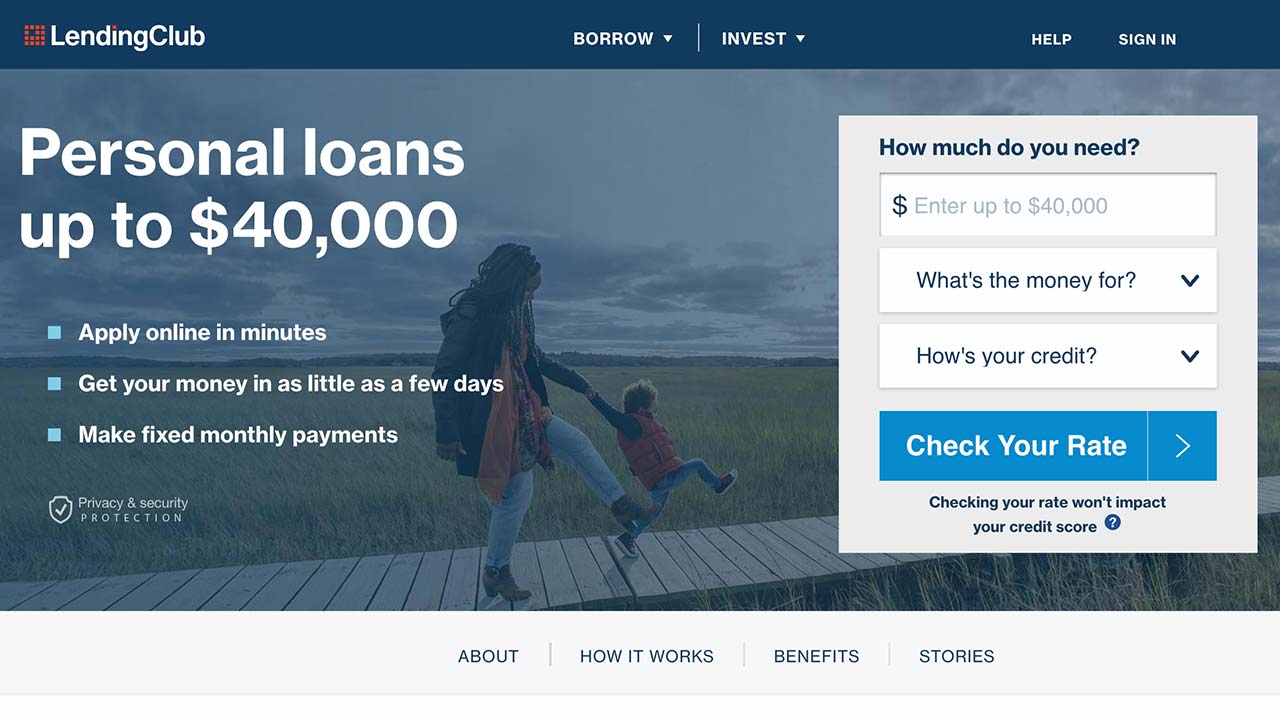 LendingClub is the ideal choice for higher-credit borrowers looking to refinance or consolidate debt. Although borrowers must have a minimum credit score of 640 to qualify, the typical LendingClub borrower has a score of nearly 700.
Get pre-qualified
Answer a few questions to see which personal loans you pre-qualify for. The process is quick and easy, and it will not impact your credit score.
Who is a Lending Club personal loan good for?
Anyone with good to excellent credit. Lending Club borrowers have an average credit score of 700. The minimum credit score required is 600, according to the company. Check your credit score for free before you apply.
High-income earners. Lending Club borrowers have an average annual income of $78,764. Real median household income in the U.S. is about $59,039.
Consumers with a low debt-to-income ratio. That's the amount of debt you have compared to your gross monthly income. The average Lending Club borrower has an 12% DTI, although the maximum allowable is 30%. Calculate your debt-to-income ratio before applying.
Borrowers who want to file a joint application. Lending Club is one of a few lenders that allows multiple borrowers on a single loan. By considering multiple incomes, Lending Club may approve a larger loan line. Maximum DTI on a joint application is 35%.
Who should not accept a loan
Anyone with bad credit. If Lending Club quotes a high interest rate along with a steep origination fee, you may be better off with a different type of loan.
Borrowers looking to rebuild credit. LendingClub maintains high lending standards, and rejects over 80% of loan applications. However, they do offer tools and tips to help borrowers rebuild credit.
Consider applying for a balance transfer credit card or a home equity loan if either of those offer more favorable terms.
Lending terms
Lending Club offers loans that range from $1,000 to $40,000. Its personal loans carry a fixed annual percentage rate of between 5.98% to 35.89%. The quote you receive is based on multiple factors, including credit history, the amount you're asking for, and if you want 36 or 60 months to pay it off.
The quote you receive is based on multiple factors, including:
Credit history
Debt-to-income ratio
Loan amount
Repayment term (36 vs. 60 months)
Any amount owed to other creditors
Lending Club borrower snapshot

| | Borrower average |
| --- | --- |
| Loan size | $15,317 |
| Annual percentage rate | 12.88% |
| Income | $78,764 |
| Credit score | 700 |
| Debt-to-income ratio | 12% |
Source: LendingClub Statistics, 2017 Q4
When you get a loan from LendingClub, you're not actually getting the money from LendingClub. Instead the company acts as a broker, matching investors with would-be borrowers and charging an origination fee for their matchmaking services. Think of it like an application fee or a processing fee — a sunk cost that may or may not seem reasonable, but it's non-negotiable. Some, but not all lenders, charge this fee.
Lending Club charges an origination fee in the form of an upfront cost taken off the top of the loan. For example, if you're approved to borrow $10,000 and you're charged a 3.5% origination fee, you'll only receive $9,650. Keep in mind, though, that you'll be making payments on the entire $10,000. You should factor the origination charge when calculating the total amount you're looking to borrow.
Once approved for a loan it takes about 7 days to receive the funds in your bank account.
Minimum borrower requirements
The minimum credit score to borrow is 600, but that's not the only factor Lending Club considers in evaluating an application. LendingClub will also examine a borrower's debt-to-income ratio (DTI). The maximum DTI to borrow is 30%.
The company also will examine "information a customer provides on their loan application, information provided by credit bureaus and other information that predicts the likelihood that you'll make on-time payments until your loan is fully repaid," a spokesman said.
Fees and penalties
Lending Club charges an origination fee of 1% to 6% depending on creditworthiness.
You'll be charged $7 if you pay by check. There is no fee if you set up an ACH debit through your bank account.
You'll be charged $15 if you don't have enough money in your bank account to cover your monthly installment.
Late payment fee is either 5% of the unpaid installment amount or $15, whichever is greater. A 15-day grace period is included.
You won't be penalized for paying off your loan early.
How to apply
The application process is straightforward and fast.
Here's what you'll need to apply for a loan with LendingClub:
Loan Amount
Reason for borrowing
Personal info of co-applicants
Personal information (includes address, phone number, email)
Verifiable individual / joint income
Lending Club then will conduct a "soft" credit check, which won't impact your credit rating.
If you're approved, the online calculator displays a chart with individualized options, including the fixed monthly payment due on a 36-month loan, a 60-month loan and the interest rates for each.
The chart also shows loan offers above and below what you're asking for. For example, if you apply for a $10,000 loan, you'll also get rates and monthly payment breakdowns for $6,000, $8,000, $12,000 and $14,000.
Behind the scenes, Lending Club assigns you and your loan request a letter grade ranging from A to G, where A ratings receive the most favorable terms — lower interest rates from 5.31% for the "A" rated investors to as high as 26.77% for those considered high-risk borrowers.
Origination fees, which are included in the annual percentage rate, typically skew lower for those with a better rating, too.
How Lending Club compares

| | Lending Club | Prosper |
| --- | --- | --- |
| Loan amounts | $1,000 to $40,000 | $2,000 to $35,000 |
| APR range | 5.98% to 35.89% | 5.99% to 35.99% |
| Origination fee | 1% to 6% | 1% to 5% |
| Minimum credit score | 600 | 640 |
| Time to funding | 7 days | 3 to 5 days |
| Soft credit check with application? | Yes | Yes |
Investors decide if they want to back your loan by reviewing your information anonymously and choosing to fund all, or more often, a portion of your loan. In return, they receive a percentage back above their investment amount once you're fully paid up.
The whole process takes on average five to seven business days.
Before finalizing your loan, Lending Club, like all lenders, will do a "hard" credit check, which can adversely impact your credit score.
What to do if you're turned down
If you're unable to qualify, or if you only qualify for one of Best egg's highest-rate loans, (which could be close to 30%), consider the following:
If Lending Club rejects your application and you believe your financial standing is strong enough, consider asking for clarification. The explanation could be as simple as a processing error. Or there may be a negative mark on your credit report that you need to investigate.
Get pre-qualified
Answer a few questions to see which personal loans you pre-qualify for. The process is quick and easy, and it will not impact your credit score.
A brief history of LendingClub
LendingClub has funded over $3 million in loans to over 2 million customers since 2007. A peer-to-peer lending company, LendingClub connects borrowers directly with lenders. Lenders can include individuals, as well as organizations.
LendingClub enjoys an A+ rating from the Better Business Bureau. LendingClub's loans are issued in partnership with WebBank, a Utah-based bank that's a member of the FDIC.
How Bankrate Rates Lending Club
| Overall Score | 3.3 |
| --- | --- |
| Availability | 3.4 |
| Affordability | 3.5 |
| Customer Experience | 2.7 |
Editorial disclosure: All reviews are prepared by Bankrate.com staff. Opinions expressed therein are solely those of the reviewer and have not been reviewed or approved by any advertiser. The information, including rates and fees, presented in the review is accurate as of the date of the review. Check the data at the top of this page and the lender's website for the most current information.