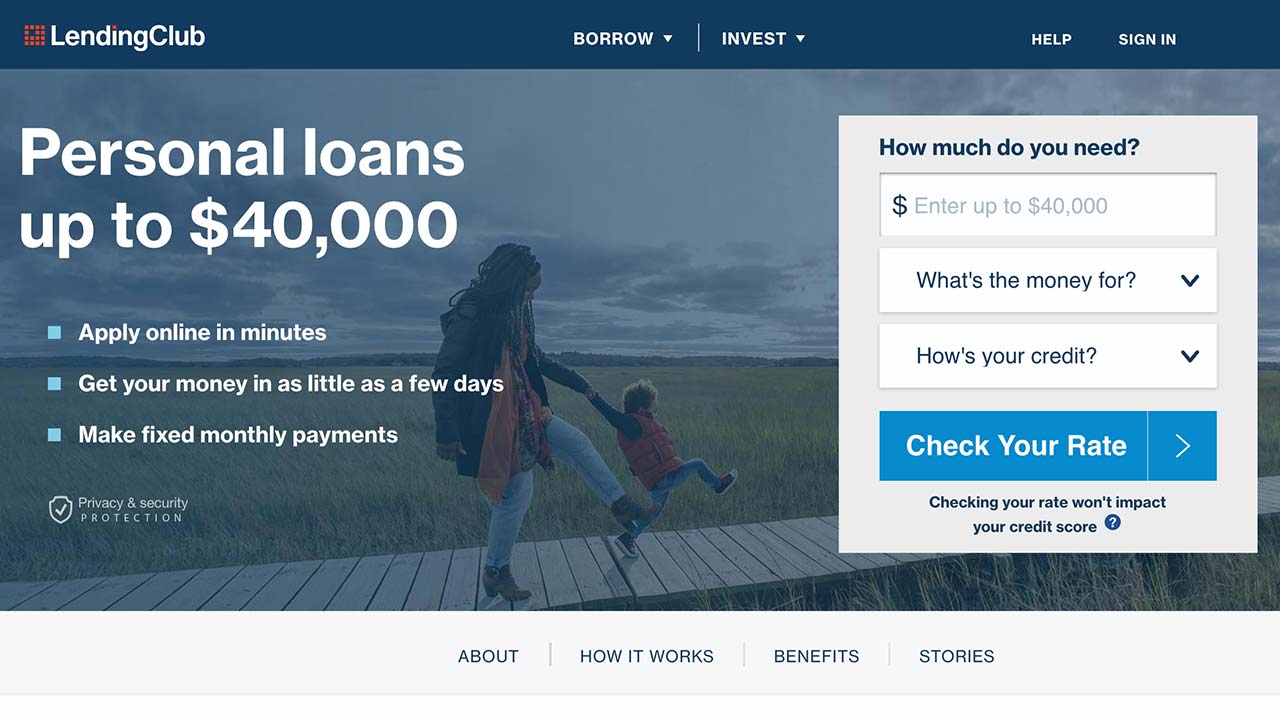 Based in San Francisco, LendingClub is a peer-to-peer company, which acts as a broker to match investors with would-be borrowers. You can take out personal loans, business loans and lines of credit, auto refinancing, and medical financing.
LendingClub's unsecured personal loans range from $1,000 to $40,000 with relatively affordable annual percentage rates (APRs). However, these loans aren't for everyone. The marketplace charges origination fees and requires good to excellent credit to qualify.
Get pre-qualified
Answer a few questions to see which personal loans you pre-qualify for. The process is quick and easy, and it will not impact your credit score.
Who is a LendingClub personal loan good for?
Borrowers can use LendingClub personal loans for many purposes, such as debt consolidation, home improvements, a car refinance or even to pay for a vacation. It's a good option for those with a solid credit history, but you should still shop around to make sure you're getting the best terms. Consider one of these loans if:
You have good to excellent credit. Borrowers need a credit score of at least 600 to qualify, according to the company. You can check your credit score for free with Bankrate before applying.
Your income is high. LendingClub borrowers have an average annual income of $85,053, which is higher than the U.S. median household income of $61,372.
You have a low debt-to-income (DTI) ratio. Lenders use this number to compare how much debt you owe versus how much you earn each month. The average LendingClub borrower has a 20 percent DTI, although the maximum allowed is 40 percent. You can calculate your debt-to-income ratio before applying.
You want to file a joint application. If you won't qualify for a loan on your own, you may be able to apply with a co-borrower. Your combined DTI may be 35 percent.
Who should consider other options?
LendingClub isn't the best option for everyone. Consider other loan alternatives if:
You have bad credit. If you're approved for a loan but it has a high interest rate along with a steep origination fee, you may be better off with a different type of loan.
You are looking to rebuild credit. LendingClub maintains high lending standards, meaning it rejects more than 80 percent of loan applications. However, the company does offer tools and tips to help borrowers rebuild credit.
You need your loan quickly. Once approved for a loan, it takes an average of four days to receive the funds, though it could take up to seven days.
You live in Iowa. LendingClub doesn't operate in this state or in U.S. territories such as Puerto Rico and Guam.
Lending terms
LendingClub offers personal loans of $1,000 to $40,000, with fixed annual percentage rates ranging from 6.95 percent to 35.89 percent. The company, which partners with banks on lending decisions, considers multiple factors:
Credit history.
Debt-to-income ratio.
Loan amount.
Repayment term (36 or 60 months).
Any amount owed to other creditors.
LendingClub borrower snapshot for all loan types
| | Borrower average |
| --- | --- |
| Loan size | $16,671 |
| Annual percentage rate | 12.72% |
| Income | $85,053 |
| Credit score | 600 |
| Debt-to-income ratio | 20.44% |
LendingClub connects investors with potential borrowers and charges an origination fee of 1 percent to 6 percent for the service. The fee is taken out of the loan proceeds upfront. For example, if you borrow $10,000 with a 3.5 percent origination fee, you'll only receive $9,650. Keep in mind, though, that you'll be making payments on the entire $10,000. You should factor in the origination fee when calculating the total amount you're looking to borrow.
Once approved for a loan, it usually takes on average four days to receive the funds in your bank account.
Minimum borrower requirements
LendingClub requires 36 months of credit history for consumers to be eligible for a loan. But generally, having a high credit score, low debt-to-income ratio and a long history of managing debt will mean getting the lowest interest rates.
Your DTI must be 40 percent or lower, which means your total monthly debt obligations add up to no more than 40 percent of your monthly gross income. LendingClub has a few other basic requirements. To qualify, you must:
Be at least 18 years old
Be a U.S. citizen, permanent resident or long-term visa holder
Have a bank account
Live where LendingClub operates (LendingClub doesn't accept applications from Iowa or the U.S. territories)
Fees and penalties
LendingClub doesn't charge a prepayment penalty, but it does charge a handful of other fees:
An origination fee of 1 percent to 6 percent , depending on your creditworthiness.
A fee of $15 if you don't have enough money in your bank account to cover your monthly installment.
A late-payment fee of either 5 percent of the unpaid installment amount or $15, whichever is greater.
How to apply
Because LendingClub is a peer-to-peer lender, the application and funding process differs from other lenders.
To apply for a loan, click "Check my rate" on LendingClub's personal loan page. The lender won't check your credit at this point but will ask for some information to see if you qualify:
The purpose of the loan
Loan amount
Whether you're applying with someone else
Information about your co-borrower, if you have one
Your birthdate
Total annual income
Name, home address and email address
Based on these details, LendingClub will provide a breakdown of the amount you can borrow, the APR, monthly payment, origination fee and loan term. Compare this offer to other lenders. You may be able to avoid the origination fee or get a much lower interest rate elsewhere.
If you decide to continue with the LendingClub offer, you'll need to provide a few more details for an official application:
Whether you rent or own your home
Phone number
Employment situation
Employer name and address
Social Security number
LendingClub will then perform a soft credit check, which is only visible to you and won't impact your credit. A pool of investors will review your loan and decide whether they want to fund it. Before finalizing your loan, LendingClub, like all lenders, will do a "hard" credit check, which can adversely impact your credit score.
It takes an average of four days to receive the funds. Once your loan is approved by investors, LendingClub will deposit the funds into your account, and interest will start accruing.
How LendingClub compares
| | LendingClub | Upstart |
| --- | --- | --- |
| Loan amounts | $1,000–$40,000 | $1,000–$50,000 |
| APR range | 6.95%–35.89% | 4.73%–35.99% |
| Origination fee | 1%-6% | 0%–8% |
| Minimum credit score | 600 | 620 |
| Time to funding | Average of 4 days* | 1-3 days |
| Soft credit check with application? | Yes | Yes |
*Based on a majority of borrowers who were issued loans between Jan. 1 and Dec. 31, 2018. The time it takes for your loan to be funded may vary.
After you apply
If you've had a change of heart, you can back out of your loan within five days after accepting the loan funds. You'll need to contact the lender as soon as possible to cancel the loan application or disbursement. LendingClub will withdraw the funds from your account, although it won't be able to recover money that's already been paid to another source. You'll be on the hook for repaying that portion of the loan. If you've missed the five-day window to return the loan, call the lender. Ask whether you can simply log in to your account and use the loan funds to pay off the loan balance.
But if you keep the loan and make consistent payments, you may be able to borrow again from LendingClub down the road. Eligible borrowers can have up to two loans outstanding from the lender for up to $50,000 total.
What to do if you're turned down
If LendingClub rejects your application, but you believe your financial standing is strong enough, first call and ask for clarification. The lender may have made a processing mistake, or there could be an error on your credit report that you can dispute and remove.
If you still don't qualify for a LendingClub personal loan, consider these options:
If you're new to personal finance or you're looking to improve your credit, LendingClub's Resource Center can help demystify these concepts. You'll find articles on money and credit, advice on protecting yourself from scams and identity theft, and personalized guidance on choosing the right loan for your situation.
A brief history of LendingClub
Since its launch in 2007, LendingClub has served more than 2.5 million customers and helped them borrow over $42 billion for small-business loans, personal loans, auto refinancing and medical financing.
However, the lender is currently dealing with two major legal issues. The Federal Trade Commission filed a complaint alleging LendingClub misled consumers about its fee structure and made false promises to borrowers who wouldn't qualify for loans. The lender also recently agreed to pay a $2 million civil penalty after the federal government accused LendingClub of misrepresenting borrowers' credit profiles to investors.
The Better Business Bureau doesn't provide a rating for LendingClub at the moment, but you can check reviews using other sources such as Consumer Affairs. It's always best to research a lender and understand any pending matters before applying for a loan.
Get pre-qualified
Answer a few questions to see which personal loans you pre-qualify for. The process is quick and easy, and it will not impact your credit score.
How Bankrate Rates LendingClub
| Overall Score | 3.3 |
| --- | --- |
| Availability | 3.4 |
| Affordability | 3.5 |
| Customer experience | 2.7 |
Editorial disclosure: All reviews are prepared by Bankrate.com staff. Opinions expressed therein are solely those of the reviewer and have not been reviewed or approved by any advertiser. The information, including rates and fees, presented in the review is accurate as of the date of the review. Check the data at the top of this page and the lender's website for the most current information.