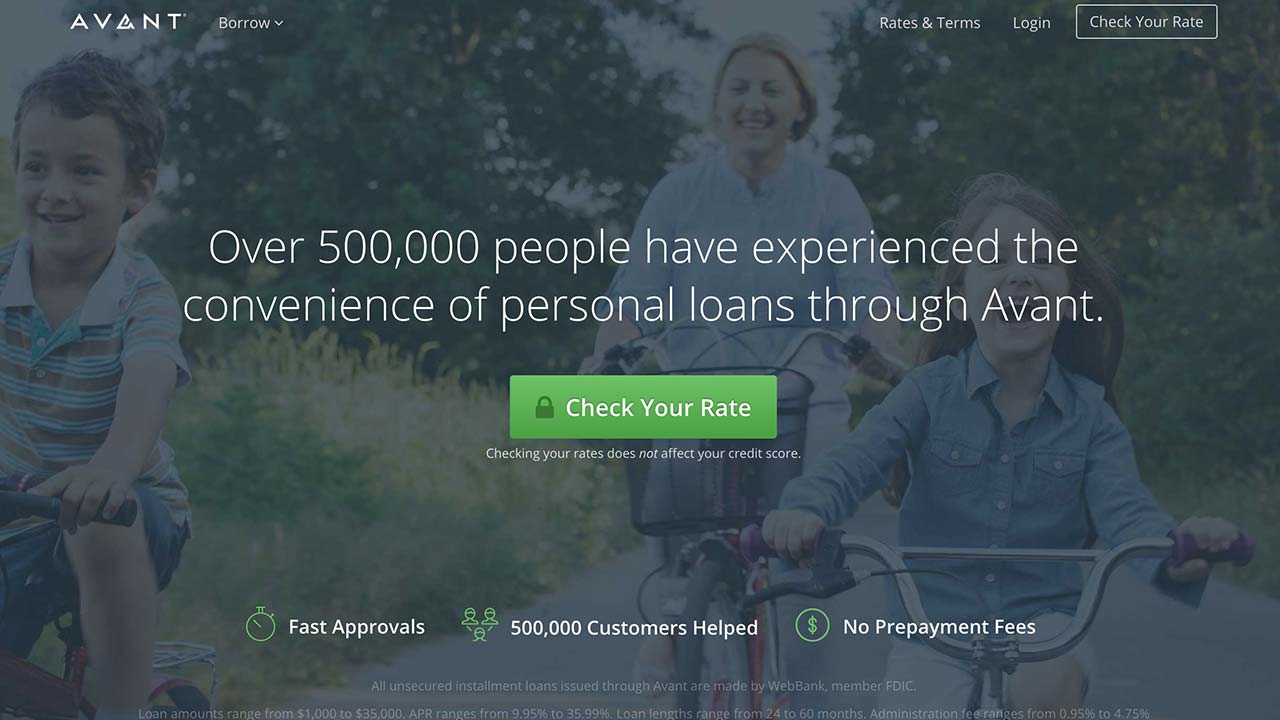 Avant offers unsecured personal loans for borrowers with less-than-perfect credit scores. If you qualify, you'll receive quick funding, often by the next business day.
Avant's borrowers have an average credit score between 600 and 700. (That's slightly below the national average.) Avant is competitive with other low-credit lenders, like OneMain Financial. But if you have damaged credit, you're unlikely to qualify for the lowest rates.
Avant's loans are ideal for consolidating debt, emergency expenses, home improvements or repairing your credit.
Reasons to consider Avant loans
Loans range from $2,000 to $35,000
APR ranges from 9.95% to 35.99%
Loan lengths range from 24 to 60 months
Administration fees range from 0.95% to 4.75%
Simple online loan application process
Checking loan options won't affect your credit score
No prepayment fees
Avant charges an origination fee, which it calls an administration fee, a surprising move given that Avant originally distinguished itself from competitors by offering fee-free loans.
Who is an Avant loan good for?
Someone with slightly below-average credit: The average Avant customer has a FICO score between 600 and 700. The average FICO score is 695. As long as the loan terms are better than the interest rate on your credit card, Avant loans could be a good option to consolidate and pay off credit card debt.
Someone with a modest income: The typical Avant borrower has an average annual income of at least $50,000. The median household income in the U.S. is $63,688.
Those who need flexibility with payments: Avant will forgive a late payment after you have three consecutive on-time payments.
Someone who needs debt consolidation: If you want to consolidate your debt into one monthly payment or if you suddenly need money for emergency expenses, then Avant is a good option for you. It provides flexibility in your loan payments, and the credit requirements make it perfect for debt consolidation. Even better, there's no prepayment penalty for paying back the loan amount early.
Who should not accept a loan?
Anyone with good or better credit: If you have a credit score above 700, you may qualify for better rates elsewhere.
Anyone who needs a co-borrower: Avant, like many online lending platforms, does not allow joint borrowers on a single loan. If your credit or income isn't good enough to qualify on your own, you may want to consider using a different company.
Anyone looking for a face-to-face experience: Avant's loan process is entirely online. If you want to speak with a representative, you'll have to do so over the phone.
Anyone with bad credit: If your credit is exceptionally weak, you may be quoted double-digit interest rates on your Avant personal loan. Those interest rates may not be any better than what you're paying on your credit card today. Learn more about bad credit loans.
Anyone who doesn't want to link a bank account to the loan. Although many people choose to link their bank accounts to pay their bills, you may not want to do this or to set up automatic payments.
Lending terms
Avant charges an administration fee that comes out of your loan amount. For example, if you are approved to borrow $6,500 and you're charged a 4.75 percent administration fee, you'll receive only $6,191.25. Keep in mind that you'll still be making payments on a $6,500 loan. You should factor in the origination charge when calculating the total amount you're looking to borrow.
If the loan is approved, funds can typically be accessed within the next business day or two.
Minimum borrower requirements
Borrowers must be over 18 years of age, have valid identification and access to a bank account that accepts ACH (or electronic) transfers.
Fees and penalties
Avant charges an origination fee that ranges from 0.95 to 4.75 percent, depending on whether you're refinancing a loan or are a new Avant customer.
You'll be charged on average a $25 late fee, although the amount varies by state. Avant has a late-fee forgiveness program that will refund the late payment fee after three consecutive on-time payments.
You'll be charged $15 if you don't have enough money in your bank account to cover your monthly installment.
You won't be penalized for paying off your loan early.
How to apply for Avant loans
The online application is simple to follow. Here's what you'll need to apply for a loan with Avant:
Personal information (includes address, phone number, email and Social Security number)
Monthly net income
Monthly housing payments
Loan amount
Credit score
Loan reason
If you're approved, the online calculator displays a chart with individualized options, including the fixed monthly payment for different loan lengths and the interest rates for each.
How Avant compares
How Avant compares

| | Avant | OneMain | Marcus | Earnest |
| --- | --- | --- | --- | --- |
| Loan amounts | $2,000 to $35,000 | $1,500 to $20,000 | Up to $40,000 | Up to $75,000 |
| APR range | 9.95% to 35.99% | 18% to 35.99% | 5.99% to 28.99% | 6.99% to 18.24% |
| Origination fee | 4.75% | Varies by state | None | None |
| Minimum credit score | 580 | No minimum | 660 FICO Score 9, 580 VantageScore 4.0 | 650 |
| Time to funding | 1-2 business days | Same day | Varies | Varies |
| Soft credit check with application? | Yes | Yes | Yes | Yes |
After you choose a repayment option, you'll be shown the details, including the total amount of the loan, what Avant is subtracting as an origination fee and how much will be deposited into your account.
The last steps are to electronically sign for your loan and provide your bank information for the deposit. You can opt for automatic monthly debits or remotely created checks.
Before finalizing your loan, Avant will do a hard credit check, which can lower your credit score.
What to do if you're turned down
If you're unable to qualify, or if you only qualify for one of Avant's highest-rate loans, which is almost 36 percent, consider requesting the reason for decline. Avant will follow up with an email. The explanation could be as simple as a processing error. Or there may be a negative mark on your credit report that you need to investigate.
How Bankrate Rates Avant
| Overall Score | 4.0 |
| --- | --- |
| Availability | 4.1 |
| Affordability | 3.3 |
| Customer Experience | 4.7 |
Editorial disclosure: All reviews are prepared by Bankrate.com staff. Opinions expressed therein are solely those of the reviewer and have not been reviewed or approved by any advertiser. The information, including rates and fees, presented in the review is accurate as of the date of the review. Check the data at the top of this page and the lender's website for the most current information.