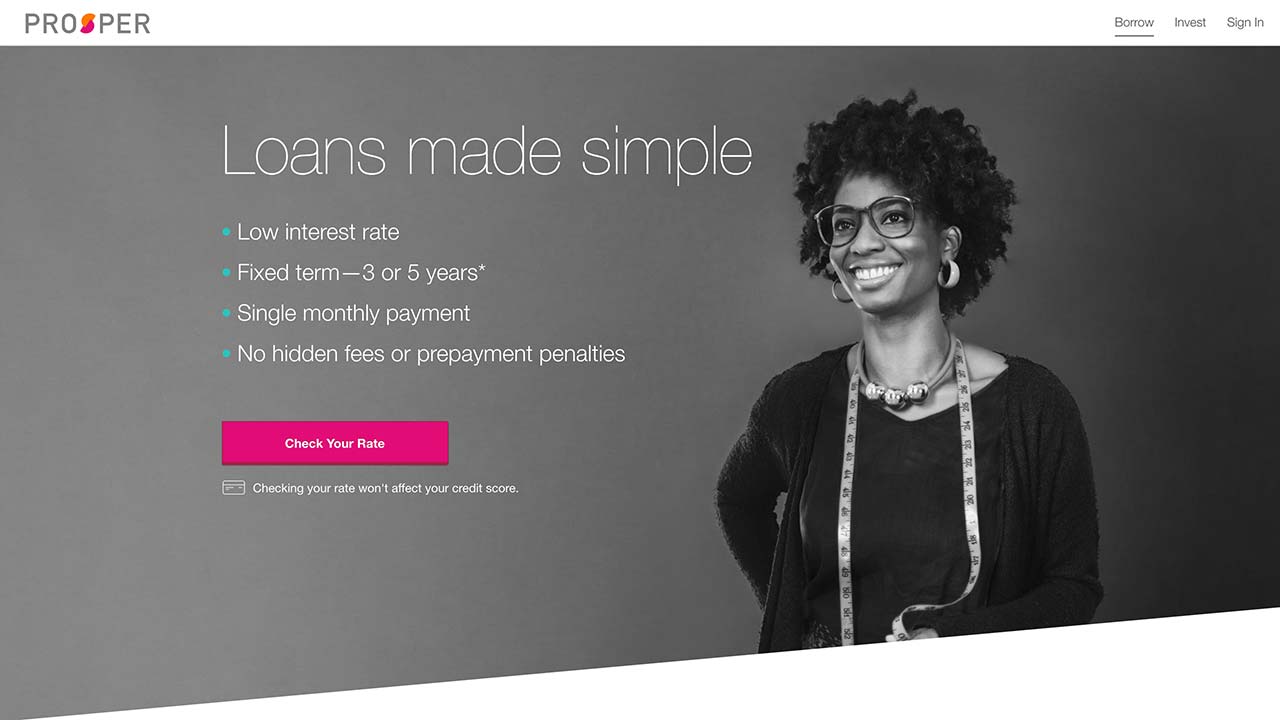 Prosper is a personal loan pioneer. The company, which became the first firm to enter the peer-to-peer lending arena when it launched in 2006, offers unsecured loans to customers with fair to excellent credit. Although borrowers must have a minimum credit score of 640 to qualify, the average credit score among Prosper borrowers is 710.
Prosper has originated more than $8 billion in personal loans by matching would-be borrowers to potential investors through its online platform.
Because the screening process for its unsecured personal loans is entirely virtual, there are fewer loan underwriting costs, which means Prosper may be able to offer better interest rates and quicker turnaround times than brick-and-mortar lenders.
What is a Prosper personal loan?
A Prosper personal loan is one that is not based on collateral. Unlike a car loan or a mortgage that is based on the value of the car or house being purchased, a Prosper personal loan is based on other factors, such as an individual's credit history as reflected in their credit score. A Prosper personal loan is made for a fixed time period.
Who is a Prosper personal loan good for?
Anyone with good credit. If you have a credit score of 660 or higher, you may qualify for better rates elsewhere.
Anyone with good to excellent credit. Prosper borrowers have an average credit score of 710. The minimum credit score required is 640, according to the company. Check your credit score for free before you apply.
High-income earners. Prosper borrowers have an average annual income of $108,514. Real median household income in the U.S. is about $72,641.
Consumers with a low debt-to-income ratio. That's the amount of debt you have compared to your gross monthly income. The average Prosper borrower has a 17.5 percent DTI, although the maximum allowable is 50 percent. Calculate your debt-to-income ratio before applying.
Someone who doesn't need a co-borrower. Prosper, like many other online lenders, does not allow joint borrowers on a single loan. If your credit or income are not good enough to qualify on your own, you may want to consider using a different lender.
Someone who doesn't mind an entirely online experience. The entire loan process takes place virtually — from applying for a loan to receiving approval to having the money deposited in your bank account if you are funded.
Someone who doesn't need money immediately. You won't receive anything unless at least 70 percent of your loan is funded, and even then you'll only receive the portion that's funded. So, if only 75 percent of the $10,000 you're looking to borrow is funded, you'll only receive $7,500.
Borrowers with significant credit card balances on one or more cards who want to consolidate all of their charges into one monthly payment.
Borrowers who want to take on a remodeling project but don't want to put all the charges on their credit card because they will be unable to pay off the balance in the following month.
Borrowers who need to finance a purchase. Some people may get a better deal through a personal loan rather than financing through a brick-and-mortar bank that might have a higher interest rate.
Who should not accept a loan
Anyone with bad credit. If you have less-than-stellar credit and you're quoted a double-digit annual percentage rate along with a steep origination fee, you may be better off with a different type of loan.
Consider applying for a balance transfer credit card or a home equity loan if either of those offer more favorable terms.
Lending terms
When you get a loan from Prosper, you're not actually getting the money from Prosper. Instead the company acts as a broker, matching investors with would-be borrowers and charging an origination fee for their matchmaking services. Think of it like an application fee or a processing fee — a sunk cost that may or may not seem reasonable, but it's non-negotiable. Some, but not all, lenders charge this fee.
Prosper offers loans that range from $2,000 to $40,000. Its personal loans carry a fixed annual percentage rate between 6.95 percent and 35.99 percent for first time borrowers. The quote you receive is based on multiple factors, including credit history, the amount you're asking for and if you want 36 or 60 months to pay it off.
Prosper borrower snapshot
| | Borrower average |
| --- | --- |
| Loan size | $12,774 |
| Annual percentage rate | 16.99 percent |
| Income | $108,514 |
| Credit score | 707 |
| Debt-to-income ratio | 17.50 percent |
Prosper's origination fee, which it calls a closing fee, is an upfront cost taken off the top of the loan. The fee varies depending on the terms of your agreement. For example, if you are approved to borrow $10,000 and you're charged a 3.5 percent origination fee, you'll only receive $9,650. Keep in mind, though, that you'll be making payments on the entire $10,000. You should factor in the origination charge when calculating the total amount you're looking to borrow.
The amount of time it takes to receive your loan depends on how quickly investors decide to fund your loan. Your listing will stay on Prosper's marketplace for a maximum of 14 days. If you get 70 percent or more of your loan funded, you can borrow the funded amount. If you don't get enough investors, you can try relisting your loan request.
Minimum borrower requirements
The minimum credit score to borrow is 640, but that's not the only factor Prosper considers in evaluating an application. Would-be borrowers must also have:
A debt-to-income ratio of less than 50 percent
Minimum two years of credit history
No bankruptcies within the last 12 months
You also may be turned down if you have seven or more credit inquiries within the last six months or fewer than three open credit cards or loans.
Fees and penalties
Prosper charges an origination fee of 2.4 percent – 5 percent depending on creditworthiness.
You'll be charged $15 if you don't have enough money in your bank account to cover your monthly installment.
A late payment fee is either 5 percent of the unpaid installment amount or $15, whichever is greater.
You won't be penalized for paying off your loan early.
How to apply
Like its online brethren, Prosper aims to give prospective borrowers loan information in just a few clicks. Fill out some basic identifying information like how much you're looking to borrow and what the money will be used for (debt consolidation is the most common use) and get an answer within a minute or two.
Prosper then will conduct a soft credit check, which won't impact your credit rating.
If you're approved, Prosper, like all lenders, will perform a hard inquiry, which will be noted on your credit report and can impact your credit score.
Behind the scenes, Prosper gives your loan a letter grade, AA, A, B, C, D, E, or HR for high risk. The higher the letter, the higher the corresponding risk and interest rate on the loan.
Origination fees typically skew lower for those with a better rating, too.
How Prosper compares
| | Prosper | LendingClub |
| --- | --- | --- |
| Loan amounts | $2,000 to $40,000 | $1,000 to $40,000 |
| APR range | 6.95 percent to 35.99 percent | 6.95 percent to 35.89 percent |
| Origination fee | 2.41 percent to 5 percent | 1 percent to 6 percent |
| Minimum credit score | 640 | 600 |
| Time to funding | 1 to 3 days | 3 days |
| Soft credit check with application? | Yes | Yes |
Investors decide if they want to back your loan by reviewing your information anonymously and choosing to fund all, or more often, a portion of your loan. In return, they receive a percentage back above their investment amount once you're fully paid up.
In some cases, Prosper may call your bank or your employer to verify your information. The company may also ask for supporting documentation to be uploaded to your account. The screening process typically takes about seven business days.
Lenders have to be willing to fund your request, so even if you're granted favorable terms, there is a chance you won't get any money. If that happens, you can reapply by repeating the process. Keep in mind that if you've been late on a previous or current Prosper loan, you may not get approved for another one.
What to do if you're turned down
If Prosper rejects your application and you believe your financial standing is strong enough, consider asking for clarification. The explanation could be as simple as a processing error, or there may be a negative mark on your credit report that you need to investigate.
If your credit is weak, consider applying for a personal loan from OneMain Financial. A secured credit card is another option, which can help you rebuild your credit.
History of Prosper
Prosper started in 2006 as the first peer-to-peer lending platform. Unlike traditional banks, Prosper is an online financial service that matches investors willing to lend money to borrowers looking to find a loan. Prosper began as an online marketplace that can offer more favorable loan terms in many cases due to the lower cost of doing business.
How Bankrate Rates Prosper
| Overall Score | 3.5 |
| --- | --- |
| Availability | 3.7 |
| Affordability | 3.5 |
| Customer Experience | 2.7 |
Editorial disclosure: All reviews are prepared by Bankrate.com staff. Opinions expressed therein are solely those of the reviewer and have not been reviewed or approved by any advertiser. The information, including rates and fees, presented in the review is accurate as of the date of the review. Check the data at the top of this page and the lender's website for the most current information.