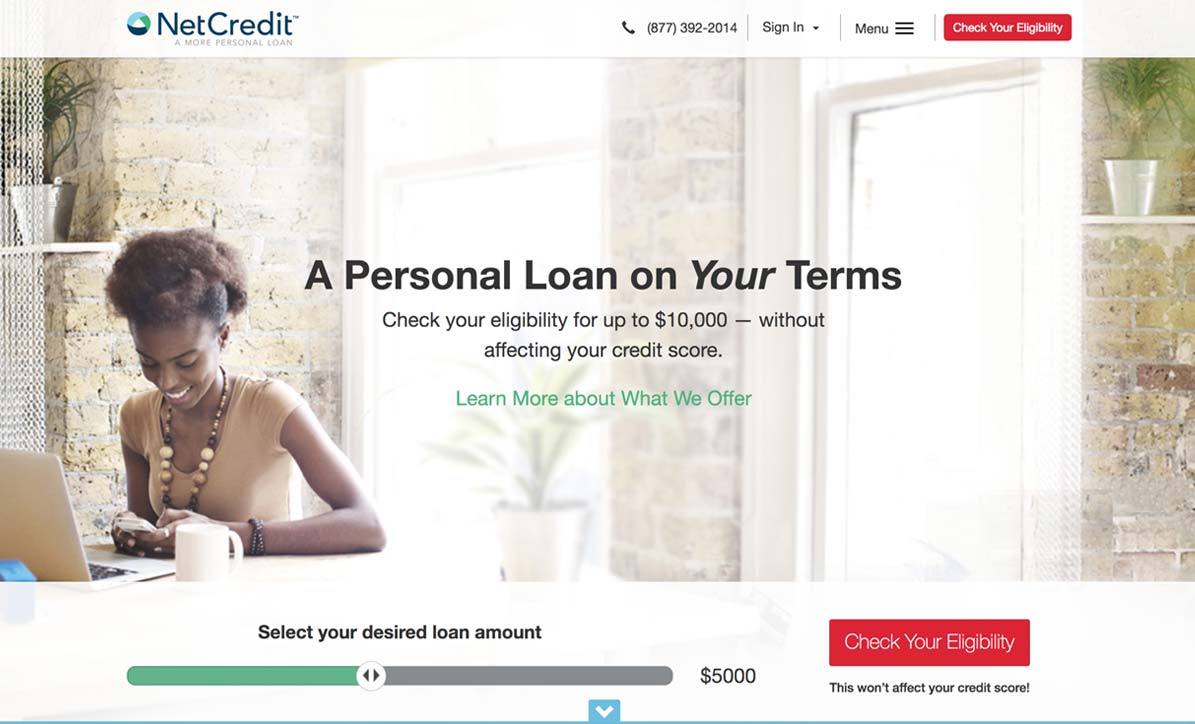 NetCredit, a subsidiary of Enova International, offers unsecured personal loans ranging from $1,000 to $10,000. Because the Chicago-based online lender focuses on people who are "underserved" by traditional lenders, you may qualify with less-than-stellar credit, and you won't have to put up collateral to take out a loan.
However, because the lender is taking on more risk, annual percentage rates (APRs) tend to be higher than average. That can make NetCredit loans ultra-pricey, but on the upside, NetCredit doesn't restrict how you can use the loan funds, doesn't charge certain fees, and reports payment history to two of the major credit bureaus. That can help you gradually improve your credit if you consistently make on-time payments. Here's how to know whether these loans are a good fit for you.
Who is this loan good for?
Generally, NetCredit loans are a good fit if you:
Live in one of the 15 states within NetCredit's footprint
Need flexibility in how you can use the loan funds
Don't need a cosigner
Can't qualify for a personal loan with a different lender
Have poor credit but need an alternative to a payday loan
NetCredit follows state-specific lending laws, which limit interest rates and control origination fees, so its terms and offerings will vary in each state. Borrowers can get a loan in these states:
Alabama
Arizona
California
Delaware
Georgia
Idaho
Illinois
Missouri
New Mexico
North Dakota
South Carolina
South Dakota
Utah
Virginia
Wisconsin
Who should not accept a loan
People with decent credit
Borrowers who want to use a cosigner
Because the interest rates are pretty high, ranging from 34 percent to 155 percent, you may want to look to another lender with lower interest rates if you have good to excellent credit. Other lenders, such as LightStream, can offer lower interest rates for people with good credit. NetCredit also doesn't allow cosigners on its personal loans, which may be a deal-breaker for some borrowers.
If you want to borrow money for shorter term needs, you can consider other options, such as a secured credit card or a credit-builder loan with a community bank. Both can help you rebuild credit and typically charge lower interest rates.
Lending terms
NetCredit offers loans that range from $1,000 to $10,000 (Arizona residents can only borrow $10,500) with loan terms from six to 60 months. Depending on a few factors, borrowers may qualify for fixed APRs between34 percent to 155 percent. Loan terms are based on your state, income, credit history, the loan amount, your requested monthly payment amount and the loan term.
Applicants typically find out whether they're approved within the same business day, though it could take up to three business days if the lender needs more information. Once approved, you may receive the funds in your bank the next business day.
How NetCredit compares
| | NetCredit | OneMain Financial |
| --- | --- | --- |
| Loan size | $1,000 to $10,000 ($10,500 in Arizona) | $1,500 to $20,000 |
| APR range | 34% to 155% | 16.05% to 35.99% |
| Origination fee | In some states, 1%–5% | Varies by state |
| Minimum credit score | N/A | No minimum |
| Time to funding | One to three business days | Same day |
| Soft credit check with application? | Yes | Yes |
Minimum borrower requirements
NetCredit doesn't disclose minimum borrower requirements, but like other lenders who focus on the subprime market, NetCredit will typically make loans to those who don't qualify for one from a traditional lender.
Fees and penalties
NetCredit won't charge prepayment penalties, which is a fee for paying off your loan early. This allows you to pay off your loan as soon as possible and limits the amount of interest you'll pay. You also won't pay any application fees, which can help you save money compared to other lenders. But depending on your state, you may have to pay an origination fee of 1 percent to 5 percent of the loan amount. The money will be taken out of your loan proceeds, which reduces the amount you receive.
Depending on the state, you may also pay a late-payment fee of either $15 or $10 or 5 percent of the unpaid amount, whichever is less.
Financial tools and resources
Because NetCredit focuses mostly on borrowers with poor credit, it offers tools and resources that can help customers better understand their finances.
The Financial Education page includes a budgeting tool, educational material about credit scores and how they impact your finances, and advice on building a savings account.
The My ScoreSaver tool helps you check whether you're eligible for a NetCredit loan using a soft credit pull, which won't impact your credit.
The My RightFit Tool allows you to customize your loan amount, monthly payment and repayment term.
The ClearCost for Me Promise is NetCredit's pledge to offer loans without any hidden fees or confusing loan terms.
NetCredit reports loan payments to TransUnion and Experian, two of the nation's top three credit bureaus. If borrowers consistently make on-time payments, the positive information on their credit reports can help improve their credit standing. NetCredit calls this feature "My CreditBuilder," though it's a simple process followed by most lenders.
My Choice Guarantee™ allows you to return a loan if you've changed your mind. You'll need to complete the request by 6 p.m. Eastern time the day after your loan funds are disbursed.
How to apply
NetCredit offers a tool that lets you check your eligibility for a loan without creating a hard inquiry on your credit report. Simply click the "Check Your Eligibility" button on its website, then you'll be taken to a page where you'll share basic personal information:
Your name and birth date
The amount you'd like to borrow
The loan purpose
Whether you own or rent your home
Your home address and email address
NetCredit then will conduct a "soft" credit check, which won't impact your credit rating. If you're preapproved, then you'll fill out an online application that asks for more details:
The purpose of the loan
Employment and income details
Full address and previous addresses
Social Security number
Ideal loan amount and repayment term
If approved, you'll receive a loan offer with a monthly payment and terms. If you don't like the offer you get, you can request a higher or lower monthly payment and the amount of time you want to pay back your debt. However, keep in mind you'll accrue more in interest charges by taking lower payments over a longer term.
Before finalizing your loan, NetCredit, like all lenders, will do a "hard" credit check, which can temporarily ding your credit score by a few points.
Loan refinancing
NetCredit allows you to borrow more money or change your monthly payment by refinancing your loan. Like any loan refinance, you'll take out a brand-new loan that pays off your old one. Then, you'll repay the new loan over time with new terms. However, this could mean paying more in interest in the long run or making a higher payment, so do the math first to see if you can cover the costs and it makes sense for you.
If your credit has improved since taking out your NetCredit loan, consider refinancing it at a different lender that can offer better interest rates. Calculate any interest and fees you'll pay at the new lender before making your decision.
What to do if you're turned down
If NetCredit rejects your application and you believe your financial standing is strong enough, call its customer service line and ask for clarification. The company could have made a processing error, or there could be a mistake on your credit report (which you can dispute and remove, if it's inaccurate).
If your credit is weak, consider these alternatives:
A personal loan at a credit union, which may offer more favorable rates and fewer lending restrictions
A secured credit card, which can help you build credit (although you'll need to put up a cash deposit as collateral)
A different lender that serves people with poor credit
How Bankrate Rates NetCredit
| Overall Score | 3.4 |
| --- | --- |
| Availability | 3.9 |
| Affordability | 2.8 |
| Customer Experience | 3.0 |
Editorial disclosure: All reviews are prepared by Bankrate.com staff. Opinions expressed therein are solely those of the reviewer and have not been reviewed or approved by any advertiser. The information, including rates and fees, presented in the review is accurate as of the date of the review. Check the data at the top of this page and the lender's website for the most current information.