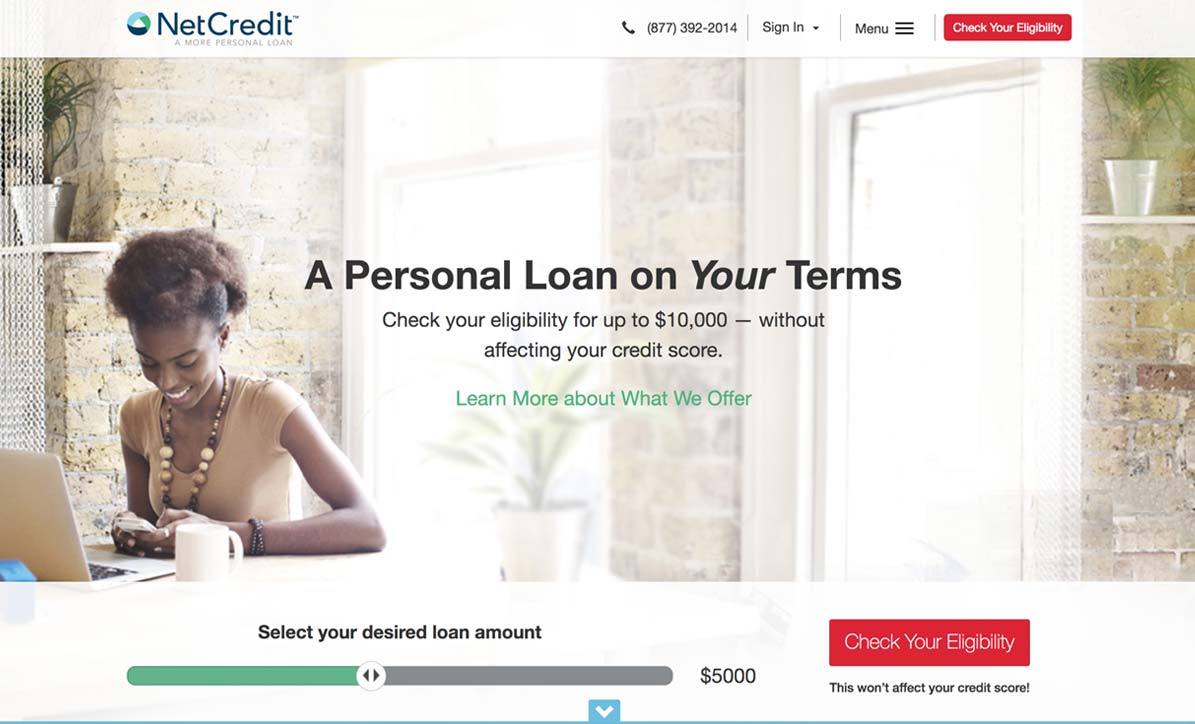 NetCredit primarily focuses on lending to those whose credit might not qualify them for a traditional loan and offers fixed-rate unsecured loans at a wide range of rates.
The lender was formed in 2014 as a subsidiary of global lending company Enova International Inc., which in turn is the online division one of the country's largest pawnshop chains, Cash America.
Who is this loan good for?
Lending terms
Minimum borrower requirements
Fees and penalties
How to apply
What to do if you're turned down
Because the lender focuses on borrowers with fair to poor credit, the annual percentage rates on a NetCredit loan tend to be higher than average, up to 155%.
Get pre-qualified
Answer a few questions to see which personal loans you pre-qualify for. The process is quick and easy, and it will not impact your credit score.
Who is a NetCredit personal loan good for?
Anyone with poor to fair credit. Experian, one of the three major credit bureaus, defines a fair credit score as between 580 and 669. If your credit score is in this range or lower, NetCredit might be a fit for you as it touts its lending services as an alternative for those who may not qualify for a loan from a traditional bank. Check your credit score for free before you apply.
Anyone looking to improve their credit score, as NetCredit reports to two of the major credit bureaus — TransUnion and Experian.
Who should not accept a loan
Anyone with decent credit. If your credit history is good enough to qualify for a traditional personal loan, you should shop for a better choice as you'll encounter double-digit annual percentage rates that are likely to beat whatever NetCredit can offer. Those who need a short-term loan should consider other options first like an secured credit card or a credit-builder loan with a community bank as both can help rebuild your credit and will charge far less in interest fees.
Lending terms
NetCredit offers loans that range from $1,000 to $10,000. Its personal loans carry a fixed annual percentage rate of 34% to 155%. The quote you receive is based on multiple factors, including credit history, the amount you're asking for, the amount you'd like your monthly payments to be and if you want from 6 to 60 months to pay it back.
Once approved for a loan you could receive the funds in your bank as soon as the next business day or up to three business days later, if additional verification information is required.
How NetCredit compares

| | NetCredit | OneMain Financial |
| --- | --- | --- |
| Loan size | $1,000 to $10,000 | $1,500 to $25,000 |
| APR range | 34% to 155% | 12.99% to 35.99% |
| Origination fee | None | Varies by state |
| Minimum credit score | N/A | No minimum |
| Time to funding | 1 to 3 business days | Same day |
| Soft credit check with application? | Yes | Yes |
Depending on the laws of your state, your loan will either be funded by NetCredit or Republic Bank & Trust Company, a member of the FDIC. NetCredit will service the loan even if Republic Bank & Trust funds it.
Minimum borrower requirements
NetCredit would not disclose minimum borrower requirements were. But, like other lenders who focus on the subprime market, NetCredit will typically make loans to those who don't qualify for one from a traditional lender.
Fees and penalties
NetCredit does not charge application, origination, prepayment, or non-sufficient funds fees.
In some states, you may be charged a fee for late or missed payments. This fee varies by state.
How to apply
The application process is straightforward and fast. Enter some basic information in the online application, including the loan amount you want, what you want to use the money for, your yearly individual income and if you own or rent your home.
NetCredit then will conduct a "soft" credit check, which won't impact your credit rating.
Borrowers are assigned one of three tiers: gold, silver and bronze, with designations mostly based on income, employment, credit history and the laws of the state in which they reside.
If you're approved, you'll be presented with your loan offer, which will include monthly payments and terms. The borrowers at the gold tier receive the most favorable interest rates, while bronze-tier applicants will receive loan offers with the highest interest rates.
If you don't like the offer you get, use the loan amount slider to choose a higher or lower monthly payment and the amount of time you want to pay back your debt.
If you want lower monthly payments and a longer time to pay off your loan, keep in mind you'll accrue more in interest charges than if you choose higher payments over a shorter duration of time.
Before finalizing your loan, NetCredit, like all lenders, will do a "hard" credit check, which can adversely impact your credit score.
Get pre-qualified
Answer a few questions to see which personal loans you pre-qualify for. The process is quick and easy, and it will not impact your credit score.
What to do if you're turned down
If NetCredit rejects your application and you believe your financial standing is strong enough, consider asking for clarification. The explanation could be as simple as a processing error. Or there may be a negative mark on your credit report that you need to investigate.
If your credit is weak, consider applying for a personal loan at a credit union. You may find more favorable rates and fewer lending restrictions. A secured credit card is another option, which can help you rebuild your credit.
How Bankrate Rates NetCredit
| Overall Score | 3.4 |
| --- | --- |
| Availability | 3.9 |
| Affordability | 2.8 |
| Customer Experience | 3.0 |
Editorial disclosure: All reviews are prepared by Bankrate.com staff. Opinions expressed therein are solely those of the reviewer and have not been reviewed or approved by any advertiser. The information, including rates and fees, presented in the review is accurate as of the date of the review. Check the data at the top of this page and the lender's website for the most current information.