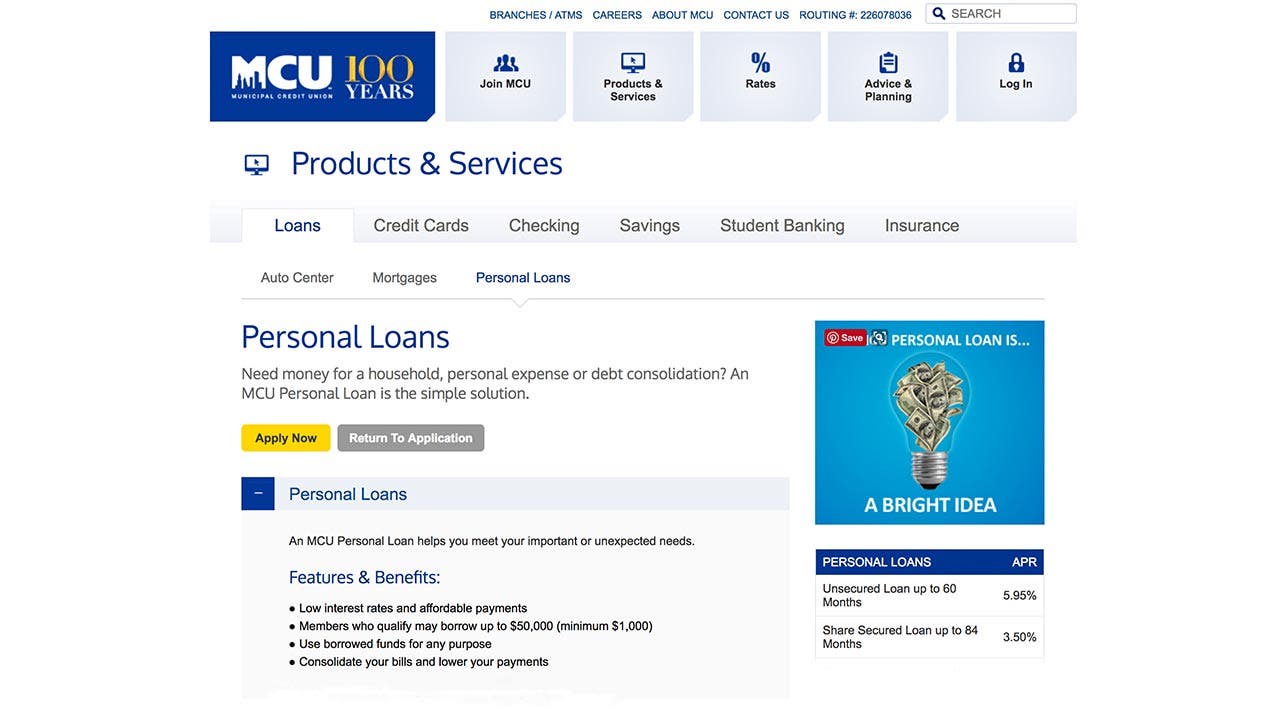 Municipal Credit Union, the largest credit union in metropolitan New York, was founded in 1916 to help city workers avoid loan sharks. It now has 18 branches, more than 425,000 members and about $2.7 billion in assets.
You must be an MCU member to qualify for a loan. Membership is restricted to employees of New York City government, a college or hospital in the five boroughs, or a New York state health insurance provider. Students at St. John's University also are eligible, as is anyone who shares a household bank account with someone who meets the criteria.
Because MCU is a not-for-profit financial institution, it's able to offer highly favorable rates on personal loan. Unlike banks and other types of lenders, credit unions may not look to maximize their profits by charging higher interest rates and other fees typical of most loans.
Who is a Municipal Credit Union personal loan good for?
Anyone who meets the minimum criteria: MCU's interest rates are lower than most traditional lenders, so it could be a good option for those who need a loan and qualify for MCU membership.
Someone who wants to consolidate credit card debt: If you qualify for membership, MCU offers personal loan rates that are lower than the annual percentage rates charged by most credit cards, which are usually in the double digits.
Pros of MCU loans
Security and privacy. All of your personal and financial information is protected, and no information is sold to other sources.
Transparency. There are no hidden fees or rollovers. All credit terms and conditions are clearly stated.
Convenience. All necessary information is readily available, including loan amounts and interest rates. Loan repayment can easily be done.
Loan application process. A loan application can be completed easily at a branch location or online with quick approval results.
Customizable. You can choose your loan amount and repayment date.
Fees. There are no loan origination fees.
Loan payoff terms. There are no penalties for early payoff of the loan.
Cons of MCU loans
Acceptance rate. Not all applications are accepted.
Terms vary. Some customers can qualify for a loan at a lower interest rate while some will incur a higher rate, depending on their credit score.
Loan amount varies. The amount of the loan you can qualify for will depend on your credit rating.
Anyone who wants to pay down their credit card debt in a year or less likely isn't a good fit for a personal loan. If you feel you can pay off your loan in a short time period, you may be better off applying for a balance transfer credit card with a 0 percent interest introductory offer.
How Municipal Credit Union compares
How Municipal Credit Union compares

| | Municipal Credit Union | First Midwest Bank | LendingClub |
| --- | --- | --- | --- |
| Loan amounts | $1,000 to $50,000 | $5,000 to $25,000 | $1,000 to $40,000 |
| APR range | 5.95% to 7.55% | 7.17% to 12.87% | 6.95% to 35.89% |
| Origination fee | None | $100 documentation fee | One-time fee of 1%-6% of total loan |
| Minimum credit score | None | 680 | 600 |
| Time to funding | 2 days | Same day | Up to 7 days |
| Soft credit check with application? | Yes | Yes | Yes |
Lending terms
Unlike many online lending platforms, MCU is a direct lender, meaning your personal loan comes from the credit union, not a partner institution. Many personal loan companies make money by tacking on an origination fee, typically based on a percentage of your loan amount. MCU doesn't charge an origination fee.
It offers loans that range from $1,000 to $50,000 for terms up to 84 months. Its personal loans carry a fixed annual percentage rate, meaning it will never adjust up or down throughout the life of the loan. The quote you receive is based on how much you want to borrow.
When you borrow from MCU, the interest rate you're charged is not based solely on your financial history. Instead, the terms are also based on the amount you borrow and how long you have to repay the loan:
Loans of $1,000 to $15,000 that are repayable in up to 60 months carry a 5.95 percent APR.
Loans of $15,001 to $50,000 that are repayable in up to 60 months carry a 6.95 percent APR.
Loans of $15,001 to $50,000 that are repayable in 72 to 84 months carry a 7.55 percent APR.
MCU rates are all based on automatic loan payments through either payroll deduction or biweekly direct deposit. If you plan on paying in person at a branch, the APRs will be 2 percent higher.
Minimum borrower requirements
To borrow from MCU you must be at least 18 years old, earn at least $15,000 annually and have an account in good standing with MCU — meaning at least $5 in your account without any unpaid charge-offs or outstanding bankruptcies.
Fees and penalties
MCU does not charge origination fees.
There is a $25 late fee if a payment is more than 30 days late.
APR will increase by 2 percent if you cancel automatic payroll deduction or direct deposit.
You won't be penalized for paying off your loan early.
How to apply
In order to apply, you must be a member of MCU and have at least $5 in a deposit account at the credit union, like a checking, CD or money market account.
Once those criteria have been met, the application process is straightforward and can be done in the branch, through the MCU online banking platform or through the credit union's mobile app.
The application will ask for the loan amount, terms you're seeking and the general purpose of the loan. You also have to provide employment and monthly income information, which MCU will verify. The site has a loan payment estimator so you can get a rough estimate of what your monthly payments will be.
If you're set up with direct deposit at MCU, you can choose the auto-pay, which gives the lowest rates and has loan payments automatically deducted from your paycheck biweekly.
Online applicants can electronically sign and finalize their documents. MCU will contact you if you need to upload any supporting documentation.
What to do if you're turned down
If you do not qualify for credit union membership, you will need to look elsewhere to get a personal loan.
If your credit is weak, consider applying for a personal loan from OneMain Financial. A secured credit card is another option, and it can help you rebuild your credit.
How Bankrate Rates Municipal Credit Union
| Overall Score | 4.3 |
| --- | --- |
| Availability | 4.1 |
| Affordability | 4.8 |
| Customer Experience | 4.0 |
Editorial disclosure: All reviews are prepared by Bankrate.com staff. Opinions expressed therein are solely those of the reviewer and have not been reviewed or approved by any advertiser. The information, including rates and fees, presented in the review is accurate as of the date of the review. Check the data at the top of this page and the lender's website for the most current information.