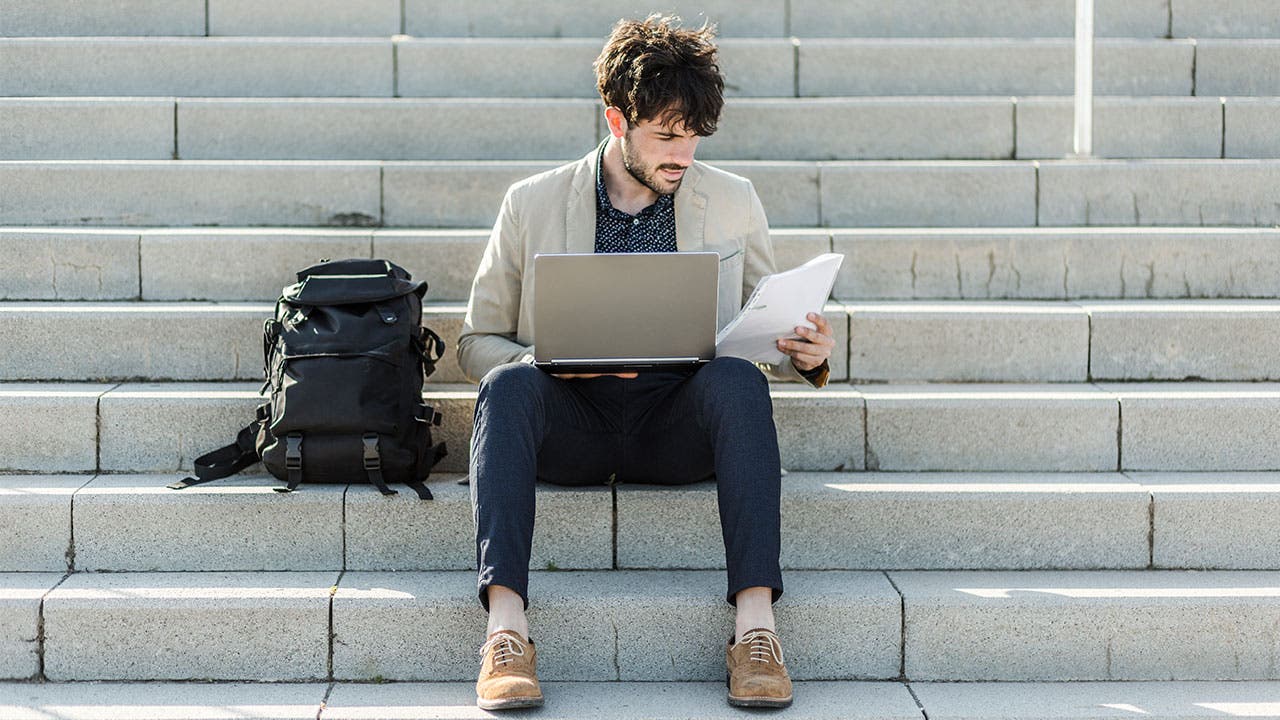 Looking to make a major purchase (think: wedding, vacation, retro-style refrigerator) or pay off a high interest credit card? If you have great credit, make a decent income and enjoy an entirely online experience, a SoFi personal loan may be right for you. There are no origination fees, no late fees and you won't be penalized for paying off your balance early. A SoFi personal loan means you can pay off your debt or purchase in a way that works for you.
In addition to the low rates and lack of fees, when you sign on for a SoFi loan, you get a whole bevy of exclusive member benefits including access to career coaches and financial advisors, as well as invitations to exclusive happy hours and other "member experiences."
Is a SoFi personal loan right for you?
Before beginning the application process, it is a good idea to determine whether debt consolidation is right for you. If it is, a SoFi personal loan may be a viable option if you are someone with:
Good to excellent credit — For a personal loan, SoFi loan borrowers must have a FICO score of at least 680.
 Short credit history — SoFi is more interested in how responsible you've been at paying bills.
Someone who doesn't mind an entirely online experience — The entire process takes place virtually, from applying for a loan to receiving approval.
Get pre-qualified
Answer a few questions to see which personal loans you pre-qualify for. The process is quick and easy, and it will not impact your credit score.
Lending terms
SoFi personal loans are both fixed- and variable-rates and amounts range from $5,000 to $100,000. Residents in Arizona, Massachusetts and New Hampshire have a minimum loan rate of $10,001; in Kentucky the minimum loan rate is $15,001. SoFi loans are not available in Mississippi.
SoFi personal loans are repayable over three to seven years.
For most borrowers, SoFi personal loans with fixed rates carry an annual percentage rate of between 5.99 percent and 16.74 percent. Loans with variable rates, based on the benchmark Libor interest rate index, range from 5.74 percent to 14.7 percent APR. Should the Libor rate increase, the top interest rate on variable-rate loans would be capped at 14.95 percent.
These interest rates are based on a 0.25 percent AutoPay reduction; this means that as a borrower, you agree to monthly payments of principal and interest to be automatically deducted from your checking or savings account.
Maximum interest rates are lower in 12 states where residents can get a SoFi loan: Alaska, Colorado, Connecticut, Hawaii, Illinois, Kansas, Maine, Oklahoma, South Carolina, Texas, Virginia and Wyoming. Variable rates are not available to residents of Alaska, Texas, Virginia, or Wyoming (or in Illinois if your loan amount is greater than $40,000).
Fees and penalties
SoFi personal loans are fee-free. They are one of the few online lenders that doesn't charge an origination fee. There are also no prepayment penalties for paying off your loan early.
SoFi also doesn't charge late fees. This is good as that money stays in your account, but SoFi cautions borrowers that by missing payments, they will accumulate more interest and that late payments may show up in your credit report.
SoFi stands out among other lenders by offering unemployment protection. If you lose your job, you can apply to have your loan payments suspended, without affecting your credit. You can pause your loan payments for up to 12 months, although you'll continue to accrue interest on the balance.
To enact this payment pause, you have to prove that you're receiving unemployment benefits and actively seeking a job, and you have to agree to work with SoFi's career strategy services to help you in your search.
How SoFi loans compare to others:
How SoFi compares

| | SoFi | LendingClub |
| --- | --- | --- |
| Loan amounts | $5,000 to $100,000 in most states | $1,000 to $40,000 |
| APR range | 5.74% to 16.74% (with AutoPay)* | 5.99% to 35.89% |
| Origination fee | None | 1% to 5% |
| Minimum credit score | Generally, good to excellent credit | 600 |
| Time to funding | Several days | A week or longer |
| Soft credit check with application? | Yes | Yes |
These figures are accurate at the time this review was written.
*APR ranges differ for fixed-rate loans and variable-rate loans. Fixed-rate loans range from 5.99 to 16.74 percent APR with AutoPay, while variable-rate loans range from 5.74 to 14.7 percent APR with AutoPay.
How to apply
SoFi makes the application experience pretty simple. Create a username and password and provide some basic information to see if you pre-qualify. The application is entirely online but SoFi does provide customer service numbers should you need support.
According to reviews, you can upload supporting documentation by taking pictures with your phone.
Although the application process itself is pretty painless, it will take several days for the funds to be transferred.
Before finalizing your loan, SoFi, like all lenders, will do a "hard" credit check, which can adversely impact your credit score.
What to do if you're turned down
If you are rejected for a SoFi personal loan and you believe your financial standing is strong enough, consider asking for clarification. The explanation could be as simple as a processing error. Or there may be a negative mark on your credit report that you need to investigate.
If your credit is lower than 700, consider applying for a personal loan at Avant, OneMain Financial or a credit union. You may find more favorable rates and fewer lending restrictions. Our reviews will help you make a decision that's right for you.
To find the personal loan that best suits your needs, you check personal loan rates and select criteria relevant to you and your income.
Get pre-qualified
Answer a few questions to see which personal loans you pre-qualify for. The process is quick and easy, and it will not impact your credit score.
A brief history of SoFi
In addition to personal loans, SoFi offers several products including student loan refinancing and mortgages.
Founded in 2011, Social Finance Inc. (SoFi) was a niche loan company. Their specialty was providing student loan refinancing to recent graduates. Eligible borrowers usually had above-average incomes and short credit histories.
They're also known for extra perks such as members-only events, career counseling and homebuying workshops.
How Bankrate Rates SoFi
| Overall Score | 4.1 |
| --- | --- |
| Availability | 3.6 |
| Affordability | 4.8 |
| Customer Experience | 4.7 |
Editorial disclosure: All reviews are prepared by Bankrate.com staff. Opinions expressed therein are solely those of the reviewer and have not been reviewed or approved by any advertiser. The information, including rates and fees, presented in the review is accurate as of the date of the review. Check the data at the top of this page and the lender's website for the most current information.