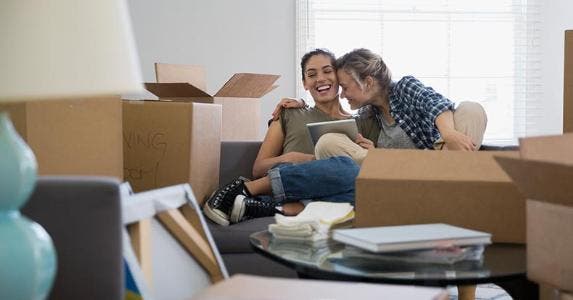 Mortgages are available from some marketplace lenders, which do the bulk of their business in unsecured personal loans. These home loans are pitched to borrowers who want a completely online experience.
Personal lenders making mortgages
As of early 2016, a limited number of online personal loan marketplaces offer mortgages.
SoFi offers purchase and refinance mortgages for owner-occupied homes in a growing number of states.
LendingHome says its "sweet spot" is offering short-term mortgages for investors who flip houses. The lender says it will offer "consumer home loans" in an expanding number of states.
loanDepot began as an online mortgage lender, offering purchase and refinance loans. In 2015, it started offering personal loans, too.
Marketplace mortgages are for technophiles of all ages who want a more streamlined process, says Tim Rood, chairman of The Collingwood Group, housing finance advisory firm. "A lot of folks would prefer not to talk to a representative," he says. "Ultimately, that's not a generational issue."
Consider the pros and cons of getting a mortgage loan through a marketplace lender.
Advantages center around process
Personal lenders have built their systems to enable an online experience that's efficient and user friendly. For instance, SoFi, a San Francisco-based lender, touts its superior process, products and community.
Customers can prequalify for a SoFi mortgage in minutes and get approved for a loan in as little as 3 days, according to Michael Tannenbaum, the company's vice president of mortgage. He says the entire process can be done online using a mobile device and an electronic signature.
A lot of folks would prefer not to talk to a representative.
Typically, traditional mortgage lenders who tout their online capabilities get as much information as they can about a potential borrower from the online process, and then tend to direct them to a call center and complete the process offline.
Unconventional underwriting
Personal lenders often underwrite in unconventional ways, which means borrowers who might be overlooked by other lenders could benefit.
At SoFi, for instance, the company places emphasis on a borrower's free cash flow. Tannenbaum pointed out that a person making $200,000 who has a 40% debt-to-income ratio has more of a cushion when it comes to an emergency situation than someone who makes $100,000. The company's pricing engine incorporates such factors.
The company recently did away with using FICO credit scores as a measure of creditworthiness. Instead, SoFi considers at how much money the borrower will have after paying all monthly debts. "The more the monthly cushion, the lower the rate," Tannenbaum says. "If there is no cushion, we don't make the loan."
Residual income
The amount of money the homeowner has after paying debts and other personal expenses. Colloquially known as "monthly cushion."
This sort of approach bodes well for prospective borrowers who might be at the early stages of their careers and don't have a lot of money saved up, but have high earning potential. If you are a younger borrower without an extensive credit history, or if your FICO score is lower but you would be deemed creditworthy from an alternative underwriting approach, you could benefit.
Personal lenders face headwinds
Personal lenders boast of their technology and personal underwriting, but that hasn't led to lower interest rates.
"Mortgages are a little bit tougher for an average lender in the marketplace to crack," says James Wu, founder and CEO at San Francisco-based MonJa, a company that advises investors on investing in marketplace loans.
Most mortgages are sold to Fannie Mae and Freddie Mac, which stick to time-test processes. That makes it hard for a personal lenders to differentiate with mortgages, "unlike a personal loan, where it is easy to compete on rates, lead generation channels, different terms and structures," Wu says.
And with the private-label securitization marketplace still not as active as it was before the Great Recession, nonconforming lenders lack buyers for their loans.
Another limiting factor for marketplace mortgage lenders: Regulators might frown on the way they assess credit risk. Basing a lending decision on, say, the borrower's use of social media, might be deemed an unfair practice.
Maybe not for newbies
That's why you are likely to face limited choices if you are looking for a marketplace home mortgage lender. If you are the sort of borrower that requires hand-holding through the mortgage process, you are likely better off going with a traditional lender.
RATE SEARCH: Let Bankrate help you choose a personal loan lender today.