Best for food delivery orders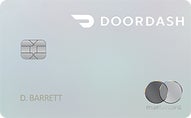 Good to Excellent (670 – 850)
A FICO score/credit score is used to represent the creditworthiness of a person and may be one indicator to the credit type you are eligible for. However, credit score alone does not guarantee or imply approval for any financial product.
Recommended Credit
1% - 4%
Rewards rate
4% cash back on DoorDash and Caviar orders. Enjoy this benefit on every type of DoorDash order, including restaurants, groceries, pet supplies, retail items, and more. No earning caps. 3% cash back on dining when purchased directly from a restaurant. No earning caps. 2% cash back on purchases from grocery stores, online or in person. No earning caps. 1% cash back on all other purchases. No earning caps.
Intro offer
With the DoorDash Rewards Mastercard get a free year of DashPass ($96 value).