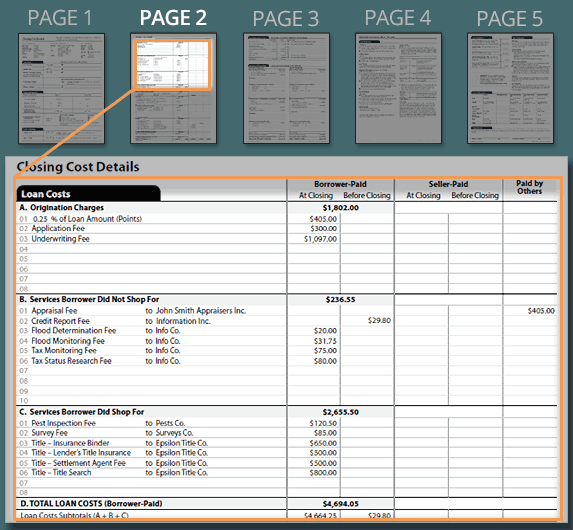 Three days before you seal the deal on the purchase of your new home, your lender is required to provide you with a Closing Disclosure. It looks similar to the Loan Estimate you were given 3 days after applying for a mortgage.
The Closing Disclosure gives you a thorough breakdown of your home loan and the terms that come with it.
There are 5 pages:
Page 1 summarizes the characteristics of your loan, including the amount, interest rate, monthly payment and how much money you'll need to complete the transaction (called the "cash to close").
Page 2 itemizes each cost related to the loan.
Page 2 of Closing Disclosure
Page 3 includes a table comparing the estimated closing costs listed on the Loan Estimate to the final costs. This gives you the opportunity to review what has changed since you applied for your loan. The page also includes a summary of the transactions that will take place to transfer ownership of the home from the seller to you.
Page 4 has more details about your loan. It indicates whether your loan may be assumed by a future buyer, if your loan has a negative amortization feature and whether your lender accepts partial payments. You'll also learn about the late payment fee and whether your loan has an escrow account.
Page 5 provides information about how much the home will cost you over the life of your loan, additional disclosures related to your contract and contact information for the parties involved in the transaction. If you agree to accept the mortgage, then you'll sign the bottom of this page.
There are restrictions on how much the closing costs included on your Closing Disclosure can deviate from what you were projected to pay on the Loan Estimate. The Consumer Financial Protection Bureau says lenders are prohibited from imposing higher fees unless there is a legitimate reason.
Use the 3 business days between the time you receive your Closing Disclosure and your scheduled closing day to scrutinize every cost and detail. Reach out to your loan officer to ask questions and clear up any concerns.