SoFi Credit Card review: A good deal for SoFi customers
At Bankrate we strive to help you make smarter financial decisions. While we adhere to strict editorial integrity, this post may contain references to products from our partners. Here's an explanation for how we make money.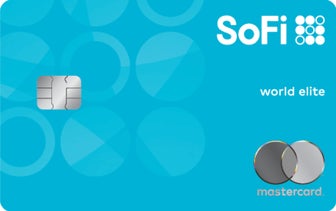 Recommended Credit Score
Good to Excellent (670 - 850)

A FICO score/credit score is used to represent the creditworthiness of a person and may be one indicator to the credit type you are eligible for. However, credit score alone does not guarantee or imply approval for any financial product.
Best credit card for APR discount
Annual Fee:

$0

Purchase Intro APR:

N/A

Regular APR:

12.99%-24.99% APR
Bankrate Rating
Our writers, editors and industry experts score credit cards based on a variety of factors including card features, bonus offers and independent research. Credit card issuers have no say or influence on how we rate cards.
SoFi Credit Card Overview
Fantastic features like unlimited 2 percent cash back and a lower APR after 12 on-time payments may make the SoFi Credit Card seem like a top flat-rate rewards credit card with generously low interest. And while this take could ring true for some cardholders, there are several caveats that chain the card's potential value.
The SoFi Credit Card (issued by The Bank of Missouri) will make the most sense for you if you're already a loyal SoFi customer. That's because the points you earn toward cash back can only be redeemed at full value for SoFi investment and money management account contributions.
This card can offer excellent rates and fees if you plan to refinance a loan or invest with SoFi, but if you want to pocket your cash back or cover purchases with statement credits then you should probably go with another cash back credit card.
Want more details? Jump to the following sections:
What are the advantages and disadvantages?
Advantages
2X points on all purchases can be worth 2 percent cash back through SoFi
No annual fee and no foreign transaction fees
Your ongoing APR could drop to 11.99 percent (variable) after 12 months of on-time payments
Carries Mastercard World Elite benefits, including cellphone protection and savings with Lyft, DoorDash and more
Disadvantages
Point value is cut in half to 0.5 cents apiece when redeemed as a statement credit
Must have a SoFi Money or Invest account to retain rewards' full value
No intro APR offers and a high balance transfer fee
$100 welcome bonus requires setting up and funding both a SoFi Money and SoFi Invest account
A deeper look into the current card offer
Quick highlights
Rewards rate: 2 percent back in SoFi Reward Points on all purchases
Welcome offer: Earn up to $100 when you open and fund a SoFi Money and a SoFi Invest account after getting approved for the SoFi Credit Card (see terms)
Annual fee: $0
Purchase intro APR: N/A
Balance transfer intro APR: N/A
Regular APR: 12.99 percent to 24.99 percent variable (drops by 1 percent after 12 months of on-time payments)
The current welcome offer
Currently, SoFi is offering up to a $100 bonus after you're approved for a SoFi Credit Card, but you have to open and fund a SoFi Money and SoFi Invest account to be eligible.
That's a bit disappointing considering many no annual fee credit cards offer at least $150 to $200 worth of bonus cash or points after a set spending requirement. Missing welcome offers shouldn't be a deal-breaker in most cases since your focus should be on long-term value, but the SoFi card doesn't provide much incentive to switch if you have a balance because there is nothing to offset the higher-end 5 percent balance transfer fee ($10 minimum).
Rewards
Rather than direct cash back, you'll earn SoFi Reward Points that are tied to your SoFi accounts. Your points don't expire for the life of your account, but unlike some other rewards programs, SoFi Rewards Points can't be transferred to loyalty programs or other members.
Strangely, any SoFi Rewards Points earned through means other than your credit card spending are taxable. This might not be a major issue for you, but it's worth remembering that taxes could eat away a bit of your rewards value.
Earning rewards
Collecting rewards is easy with the flat-rate SoFi Credit Card: You'll earn 2 SoFi Rewards Points per dollar on all purchases. Just don't miss your minimum payment due date since you won't earn any points on your purchases for that billing cycle if you miss the deadline.
If you're planning to use SoFi as your main banking partner, there are also a few other ways to earn more SoFi Rewards Points after enrolling in the Member Rewards Program (although the specific rewards rates aren't always clear). You can earn points by:
Logging into the SoFi mobile app
Linking your non-SoFi accounts to SoFi Relay and managing your transactions
Signing up for the SoFi Relay Credit Score Monitoring service
Using your SoFi Money account to activate a SoFi Money debit card, set up bill pay and use direct deposit with the account
Using your SoFi Money debit card to send money to a friend or family member for the first time
Redeeming rewards
You can redeem your credit card rewards through the "Redeem Points" page, either on a one-time basis or on a monthly auto-redemption basis. All you have to do is log into your account or open the mobile app, go to the "SoFi Points dashboard" page and click the diamond symbol on the homepage or tab. From there, you'll have the option to see your point-earning methods through the "Earn" button or view your redemption options through the "See all the ways to redeem your points" link.
Unlike several other credit card rewards programs, SoFi Rewards Points can't be transferred to third parties or other loyalty programs. Unfortunately, you also can't redeem for travel or other merchandise, so your rewards are tied up with SoFi. However, you can use your points for:
How much are points worth?
You'll enjoy a 1:1 rewards redemption value if you redeem to a SoFi Money, SoFi Invest or SoFi loan account. But if you use your rewards toward statement credits, their value will be halved, with points worth just 0.5 cents apiece.
This is a bit peculiar since statement credits are one of the more popular cash back redemption options, and cash back rewards don't usually decrease in value if used toward statement credits. Choosing to deposit your rewards as cash into a SoFi Money account is effectively the same as direct deposit cash back into a checking or savings account, but if you want cash back that doesn't go into a SoFi bank account, you'll essentially only earn 1 percent back on all purchases.
Benefits
Outside the reduced APR with 12 on-time payments, the SoFi Credit Card doesn't come with any SoFi-specific perks, though there are a few perks you get once you become a SoFi member — mainly related to financial planning. However, as a SoFi Mastercard, your credit card comes bundled with a rich portfolio of Mastercard World Elite benefits.
Cellphone protection
Paying your monthly cellphone bill with your SoFi credit card will cover your phone for up to $1,000 per 12-month period if it's damaged or stolen. Each claim is limited to $800 and you get two claims per 12 months (subject to a $50 deductible).
Mastercard World Elite perks
Since the SoFi Credit Card is branded as a World Elite Mastercard, you'll have access to a wealth of travel and partner benefits, including travel services and discounts.
These include a $5 Lyft credit after taking three rides in a month, a complimentary ShopRunner membership upon enrollment and discounts with services like DoorDash, Fandango and Hello Fresh. Travelers will also enjoy the savings and amenities available with the Mastercard Travel and Lifestyle Services, World Elite Mastercard Concierge Service and Mastercard Airport Concierge included with your card.
SoFi member benefits
Your SoFi Credit Card allows you to become a SoFi member, meaning you have access to their laundry list of member benefits, including:
Financial guidance perks and more—credentialed financial planning advisor access, friend referral bonuses, member rate discounts on eligible loans and free will drafting with Ladder estate planning
SoFi experience perks—exclusive travel and networking event access, members-only SoFi Facebook group access and SoFi Stadium entry and member lounge access
Employment guidance perks and more—interactive career advice with exclusive tools and Get That Raise® experiences, unemployment protection program for loan payments and college financial aid comparison options
These aren't necessarily the most valuable perks you can find with competing credit cards, but they're certainly unique and may help if you're a recent young adult or recent graduate focused on establishing the best financial foot forward.
Rates and fees
The SoFi credit card is quite a low-cost card compared to several competing cards. There is no annual fee and no foreign transaction fees, and the ongoing APR can be relatively low (12.99 percent to 24.99 percent variable). Plus, after 12 months of on-time payments, you can lower your interest rate by 1 percent. This brings the SoFi card's low-end APR within striking distance of the low-end APR on the famously inexpensive Discover it® Cash Back credit card.
In determining your credit limit, SoFi considers more than your credit history and scores. It also considers your debt, annual salary and other yearly wages. At a minimum, your credit limit will be $500.
On the downside, the SoFi credit card isn't the cheapest option if you need to do a balance transfer. There is no zero-interest intro APR period and the balance transfer fee is on the steep end—5 percent with a $10 minimum—so if you need to pay off existing card debt, it might be smarter to choose a dedicated balance transfer credit card.
How the SoFi Credit Card compares to other reward cards
The SoFi Credit Card is one of the best new credit cards for paying off loans, but it might not be the best starter card since it requires good to excellent credit (a credit score of 670+). If you have student loans, the SoFi card may be a more accessible option for graduates since you could already have already built a decent credit foundation.
Generally, you're going to run into a catch or two if you want unlimited 2 percent cash back on all purchases. The Citi® Double Cash Card may be the closest you'll get to flat-rate 2 percent cash back with no restrictions, as it offers unlimited 2 percent cash back in the form of 1 percent at purchase plus 1 percent when you pay your bill. The PayPal Cashback Mastercard® also offers 2 percent cash back, but your rewards are tied to your PayPal account. Meanwhile, the Alliant Cashback Visa® Signature Credit Card actually offers 2.5 percent back on all purchases but charges a hefty annual fee.
Otherwise, most flat-rate cards with unlimited cash back only offer 1.5 percent back. The Chase Freedom Unlimited®, for example, offers 1.5 percent cash back card as well as up to 5 percent back in additional bonus reward categories, giving it an edge over typical flat-rate cards.
Feature
SoFi Credit Card
Citi Double Cash Card
Chase Freedom Unlimited
Annual Fee
$0
$0
$0
Rewards Rate
2% back in SoFi Rewards Points on all purchases
2% back on all purchases (1 percent when you buy, 1 percent when you pay your bill)

5% cash back on grocery store purchases (not including Target® or Walmart® purchases) on up to $12,000 spent in the first year
5% cash back on travel via Chase Ultimate Rewards
3% cash back on dining and drugstore purchases
1.5% cash back on all other purchases

Welcome Offer
$100 bonus when you open and fund a SoFi Money and a SoFi Invest account after getting approved for the SoFi Credit Card
None
$200 cash bonus after spending $500 on purchases within the first three months.
Best cards to pair the SoFi Credit Card with
The SoFi Credit Card is the only credit card that earns SoFi Reward Points, and there aren't any card options that will earn you SoFi points outside of the debit card you can use with a SoFi Money account. If you're looking to diversify your rewards, it's worth exploring a card that rewards your specialized spending with higher-earning bonus categories, like a travel credit card. You may then be able to link it to SoFi Relay and earn extra points.
Bankrate's Take — Is the SoFi Credit Card worth it?
Unless you're planning to refinance a loan, SoFi doesn't make a compelling case to switch over.
You'll have to set up at least one SoFi cash management account to keep your rewards' value and there are no intro APR periods to justify the stiff balance transfer fee.
On the other hand, if you're already a SoFi customer paying down a loan or investing into an eligible account, then the SoFi Credit Card could be a solid option, as the 2 percent cash back on all purchases you can earn toward those accounts is a valuable opportunity. That said, you'll be better off with a more flexible cash back card if you want to use your rewards for any other purpose.