OpenSky® Secured Visa® Credit Card review
At Bankrate we strive to help you make smarter financial decisions. While we adhere to strict editorial integrity, this post may contain references to products from our partners. Here's an explanation for how we make money.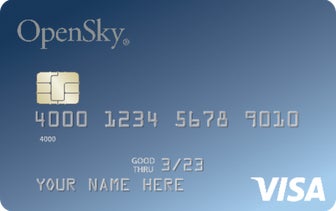 Recommended Credit Score
No Credit History

A FICO score/credit score is used to represent the creditworthiness of a person and may be one indicator to the credit type you are eligible for. However, credit score alone does not guarantee or imply approval for any financial product.
Best for no required credit check
Annual Fee:

$35

Purchase Intro APR:

N/A

Regular APR:

17.39% (variable)
Terms and Restrictions Apply
Bankrate Rating
Our writers, editors and industry experts score credit cards based on a variety of factors including card features, bonus offers and independent research. Credit card issuers have no say or influence on how we rate cards.
Best for credit building or rebuilding
Rewards rate: N/A
Welcome offer: N/A
Annual fee: $35
Purchase intro APR: N/A
Balance transfer intro APR: N/A
Regular APR: 17.39 percent (variable)
If you're looking to build your credit with a card but you have bad credit or no credit history at all, your first step might be to consider looking into secured credit cards. The OpenSky Secured Visa claims that 99 percent of its users who had no credit built up a credit score within six months of using the card, but it isn't the most competitive option out there. In fact, only its low 17.39 percent (variable) ongoing APR gives it an edge over rival cards that offer automatic credit line upgrade reviews, cash back and more.
However, its easy application with no credit check can make a world of difference if you need a credit card after bankruptcy.
Current sign-up bonus
The OpenSky Secured card doesn't have a welcome offer. Like many secured cards, it focuses more on helping you build your credit rather than delivering additional benefits. Once you get your credit built up and can qualify for a new card, you can always switch to a rewards credit card and receive a sign-up bonus.
Benefits
The OpenSky Secured Card has several valuable benefits, but they're focused on managing your account in order to help you improve your credit score to then qualify for an unsecured card. Other secured cards, even unsecured cards designed for limited credit, may offer richer perks than OpenSky's standard features like email alerts and mobile app account management.
No credit check required
When you open an OpenSky account, the company won't check your credit to determine if you qualify for the card. Instead, you'll pay a security deposit between $200 and $3,000. You can get the deposit back when you close the account after you have paid everything in full. Your deposit reduces the lender's risk, which is why it doesn't need to check your credit and ding your credit score with a hard pull.
Reports to all three major credit bureaus
OpenSky reports all of your payments to the three big credit bureaus—Experian, Equifax and TransUnion. This reporting will help you to build your credit because your on-time payments made on the card will show up on your credit report at each of the different bureaus. Just remember to avoid any late payments, since this can lower your credit score significantly.
Set your own credit limit
With the OpenSky Secured Visa, you can set how much you can spend each month, with a maximum of $3,000 (a much higher cap than many other secured cards). Your credit limit is determined based on how much you deposit into the account. If you deposit less than $3,000 to start, you can increase your limit at any time by adding more money to your OpenSky account.
Traditional Visa perks
Like all base-level cards branded with the Visa network, you'll receive a quaint list of staple Visa benefits, including $0 fraud liability, 24/7 pay-per-use roadside dispatch, and 24-hour assistance if your card is lost or stolen and you need a replacement. In case you're worried about potential identity theft, the ID Navigator tools you'll receive can monitor the dark web for your personal information and alert you about any suspicious activity.
Rates and fees
The $35 annual fee for the OpenSky secured card is higher than most since many secured cards are also no annual fee cards. However, the purchase APR is much lower than most other secured cards at 17.39 percent (variable), which is just above the current average interest rate. Even better, all cardholders are charged the same APR, while many other cards offer a wide range of possibilities based on your creditworthiness.
Other fees you should be aware of include a 3 percent foreign transaction fee, a $6 or 5 percent cash advance fee (whichever is greater), a $38 late payment fee and a $25 returned payment fee.
How the OpenSky Secured Card compares to other secured cards
Two of the main secured cards competing with the OpenSky card are the Secured Mastercard® from Capital One and the Discover it® Secured Credit Card.
Both charge no annual fee, unlike the OpenSky card. However, their purchase APRs are higher, so which is best for you depends on the possibility you'll carry a balance from time to time. If your finances aren't the most stable, OpenSky's higher $3,000 max initial credit limit offers the most breathing room of the three. If you want an even higher credit limit off the bat, the BankAmericard® Secured Credit Card* has one of the best on the market if you can afford to deposit it: $4,900. That can make a big difference when you're trying to keep your credit utilization ratio low and boost your score faster.
On the flip side, the Discover it Secured is one of the few secured cards to offer cardholders unlimited rewards, while the OpenSky and Capital One secured cards don't. You can get 2 percent cash back on restaurant and gas station purchases (up to $1,000 in combined purchases per quarter, then 1 percent) and an unlimited 1 percent cash back on everything else. Plus, Discover's card reviews your account for positive credit activity at eight months to possibly upgrade you to an unsecured line. Even better, the Capital One secured card automatically reviews your account earlier at six months.
Card
Rewards
Annual fee and security deposit/credit limit
Other details
Discover it® Secured Credit Card

2% cash back at gas stations and restaurants (on up to $1,000 in purchases each quarter, then 1%)
1% cash back on all other purchases

$0 annual fee
$200 to $2,500 security deposit
Initial credit line matches deposit

All cash back earned in the first 12 months is matched
Six-month 10.99% intro APR for balance transfers posted to your account by stated date in terms (3% intro balance transfer fee during intro APR period, 5% after)
22.99% variable APR
No penalty APR

Secured Mastercard® from Capital One
N/A

$0 annual fee
$49, $99 or $200 minimum security deposit (depending on creditworthiness)
$200 to $1,000 initial credit line (depending on creditworthiness)

26.99% variable APR
Automatic credit line reviews starting at six months for a possible credit line upgrade
No penalty APR

BankAmericard® Secured Credit Card
N/A

$0 annual fee
$300 to $4,900 security deposit
Initial credit line matches deposit

22.99% variable APR
Up to $40 late payment fee
No penalty APR
Bankrate's Take—Is the OpenSky Secured Card worth it?
The OpenSky Credit Card works well for a cardholder who needs to build up credit or fix bad or damaged credit and wants a reasonable APR or an above-average initial credit limit. If you're worried you'll need to revolve a balance occasionally on your secured card, getting the lowest APR possible is a good idea. Plus, you'll get a higher initial credit limit than several other secured cards, (provided you can put down a high deposit) and there's no credit check required.
Otherwise, this card isn't the best choice on the market since you'll owe a $35 annual fee and you can't offset it by earning rewards or boosting your credit limit beyond the $3,000 secured max.
Pros
17.39 percent variable APR is lower than the competition
High initial credit limit up to $3,000 (by matching with a deposit)
No credit check required
Cons
$35 annual fee
No rewards or welcome bonus
Can't request a higher credit limit beyond $3,000
3 percent foreign transaction fee
All information about the BankAmericard® Secured Credit Card has been collected independently by Bankrate and has not been reviewed or approved by the issuer.