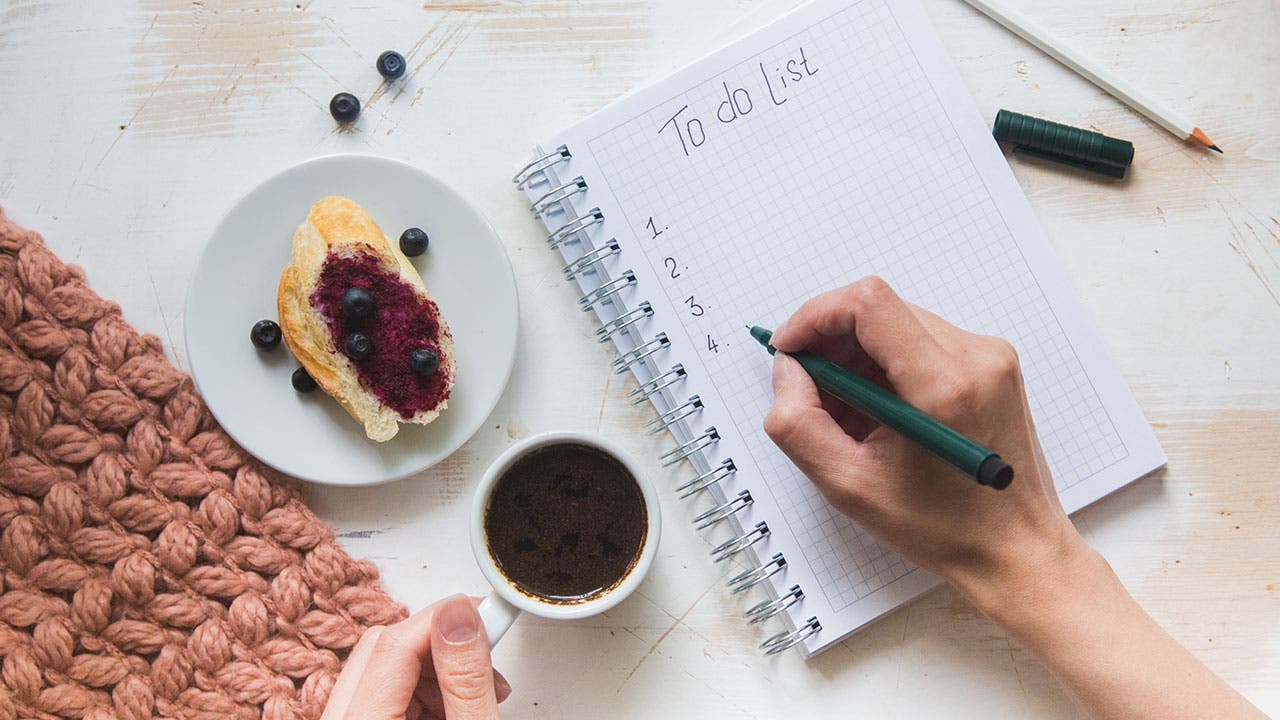 We know. It's the holiday season and it can be dizzying. You're busy buying presents, booking travel tickets, whipping up dishes and readying your place for your guests who expect clean towels.
It likely sounds like a horrible time to take on more to-dos. Yet, if you start checking in with your financial situation now-ish, you could make progress on your goals before next year starts.
"There is absolutely no reason why on December 6 you can't say 'ok, I'm starting right now. I'm going to save more money. I'm going to aggressively pay down debt. I'm going to try to boost my credit score,'" says Lynnette Khalfani-Cox, a chief executive and co-founder of TheMoneyCoach.net and Money Coach University. "And then if you kind of get into that mindset, it can help you apply the brakes and [help] make sure you are not overspending in a way that will put your financial goals further out of reach."
Everyone's situation is different and complexities are inevitable. But here's a few tasks you might want to consider squeezing in before 2018 comes to an end, per the experts.
1. Make sure your holiday spending estimates are brutally honest
Soon enough, if not already, you might declare this and that financial resolution. But in December, there is the added risk of digging yourself into a deeper financial hole from all of that holiday spending. So, try to get ahead of that particular red flag by doing the math of what will cost you what — and be brutally honest.
For example, it's all too easy to think 'I'll spend $400 on gifts' and assume that's all the extra spending you'll do. Reality check? It's probably not.
"They haven't accounted for, you know, the new towels they are going to buy for the house because guests are coming or the extra food that they are going to spend [money on] to have a big family dinner or the travel costs they are going to incur to go visit somebody and on and on and on," Khalfani-Cox says.
So, factor in all of the costs. And if you want to save more in 2019, or hit some other milestone, you may want to find ways to reign in those expenses before it's too late.
2. Take stock of your finances
Take stock of your finances, including debt and savings. We know: it can feel painful and emotional to do so. But, it will give you a baseline to help you decide what to do next.
"Just make sure you look at these numbers," says Ethan Bloch, founder and chief executive of Digit, an automated savings app.
Ash Exantus,  director of financial education at BankMobile and author known as "Ash Cash," also recommends taking stock of whether you achieved your 2018 financial goals — if you set them.
If you didn't hit them, don't dwell on defeat. Instead, learn from what happened or didn't happen. And regardless of where you are at, it's better to check in than not over the long haul.
"Your money telling you what to do instead of you telling it what to do is really not going to allow you to live the life that you want to live," Exantus says.
3. Start dreaming about your next financial goal
Now for the fun part: Get dreaming and set your financial goal or goals for next year.
Need a starting place? Deb Kriebel, partner and a wealth manager at Pinnacle Advisory Group, encourages you to try save more than the year before.
"At the end of the year, maybe you look and maybe say 'oh, I wasn't able to max out my 401(k) this year. I'm going to max out next year,'" Kriebel says. "Or 'I wasn't able to get to a Roth. I'm going to try to do that next year.' Or, you set up an investment account and you are saving and then say maybe 'I'm going to increase that by 10 percent.' And you kind of set a target for yourself for the next year to save more, invest more."
Whatever your goal is — to increase savings or not —write it down somewhere and choose a starting point to try to attain it. Spoiler alert: even this part is hard. So, don't go wild here with goals. Digit's Bloch recommends focusing on one goal and figuring out how much you need by when.
Get specific with the costs, too. 'I want to get a car this year' isn't enough, Exantus says.  You'll want to consider what kind of car, how much it will cost, including insurance and gas expenses.
4. Consider your employment situation
Carve out the time to think about where you're going career wise or life wise and where you want to go as it will inevitably tie to one side of your balance sheet: your income and earning potential.
"I think it's one of the biggest things most people could do that is really underrated right now in our society," Bloch says.
Part of this soul searching should include assessing how much your employer pays you — and deciding whether you need to do something differently.
"Really focus on what are those goals you want to accomplish, how do you want to accomplish them and what are the tools you need in order to accomplish them — whether it's a new job or a side hustle," Exantus says.
5.  Use fintech or digital banking apps to help you automate and understand your cash flow
Evaluating your cash flow doesn't have to be a laborious experience. Apps like Mint can comb through your financial data to help you get a handle on your spending and savings across all of your accounts. Your bank may also offer similar functionality. Large banks, like Citi, and small banks, like Mercantile Bank of Michigan, offer digital budgeting tools, for example. Depending on how many accounts you have, it might just mean you logging in to a couple of mobile apps to see where you stand.
Then, consider what financial areas you might want to automate, so that the task gets done without requiring regular work from you. This won't be everything.
"The reality is most people can't fully automate their financial life because they don't have enough cash for buffers," Digit's Bloch says. "To really automate everything, you need a pool of cash in your checking account. In reality, most people just don't have that."
So, consider settling on the areas of your finances that you can safely automate. This approach could help you avoid the inertia that comes with taking on a manual banking task that could feel daunting, like paying down college debt.
"Most people do not want to manage their money every day or every week and they shouldn't. It's ridiculous," Bloch says.  "I don't know how to grow my food. I eat food every day. It works great. I don't know how to repair my car. I drove it to work today. It works great. … I think [finance] is going to become like this."
6. Max out your 401(k) and find other ways to save
Now is the time to contribute the maximum amount to your 401(k), if you have one and have the funds to do so.
If you are under 50, you can contribute up to $18,500 in 2019. If you are 50 or older, you can contribute another $6,000. The perks of pre-tax contributions coming from your paycheck are reducing your taxable income, and at the same time, forcing you to save, Pinnacle Advisory Group's Kriebel says.
To save more, consider opening up a Roth IRA, which allows you to put after-tax money aside that grows tax-free at a time of year where you have a good idea of your annual income.
This year, the maximum amount workers can contribute to a Roth IRA is $5,500 — if you're younger than 50. That goes up to $6,000 in 2019. Pro tip: the amount you can contribute changes based on your income. If you're single, contributions start to phase out at $120,000.
"I think it's a fabulous way for anyone to save if you are under the income thresholds," she says.
Unlike a retirement account, a Roth IRA lets you take the principal out — what you contributed to it —with no tax. "It's a great way to have a kind of emergency fund," Kriebel says. "But in the same regard, invest it, let it grow and hopefully you won't need it [and] it will just keep growing."
7. Take advantage of tax breaks
Don't overlook potential tax breaks. Yes, they're considerably different than last year's because multiple changes to tax rules have gone into effect.
But there are breaks to consider, such as if you're a small-business owner. Case in point: In the Tax Cuts and Jobs Act provision, a qualified business income (QBI) deduction lets small-business owners deduct as much as 20 percent of their qualified business income.
"It is a nice way to not get taxed on all your income while you're trying to build," Kriebel says.
It may also be a good time to check in with your accountant before year's end, especially if you have a big milestone ahead.
"I know that nobody everybody likes to think about the tax man," The Money Coach's Khalfani-Cox says. "But it's often the case that you can save yourself a lot of money in the following year or better plan how to get ahead by being strategic during the last quarter and certainly the last month of the year. So, anything that you can do before the end of 2018, by December 31, that can lower your tax bite with Uncle Sam is definitely time and effort and money well spent."
8. Whatever your decisions are, be intentional about them
At this time of year, you'll be getting a lot of opinions on what you ought to do with your money — including pressure from family members.
But only you know what you want. So, while spending pressure may be overflowing this holiday season, consider what you really want to achieve. Perhaps that means making gifts, instead of buying them, to avoid overspending. But prepare to be courageous — your verdict may very well go against the social norms of your circle at an emotionally charged time of year.
"Everyone has different ideas of what the holidays should be," Amy Jo Lauber, CFP and president of Lauber Financial Planning. "Love and family and friendship and relationships and money, everything gets all tangled up at this time of this year. So, it's hard to kind of keep your footing. … Come January, you don't want to be completely blindsided and you don't want to be full of regret. Regret is a very expensive emotion. I would want everyone to do things intentionally whatever they decide to do."