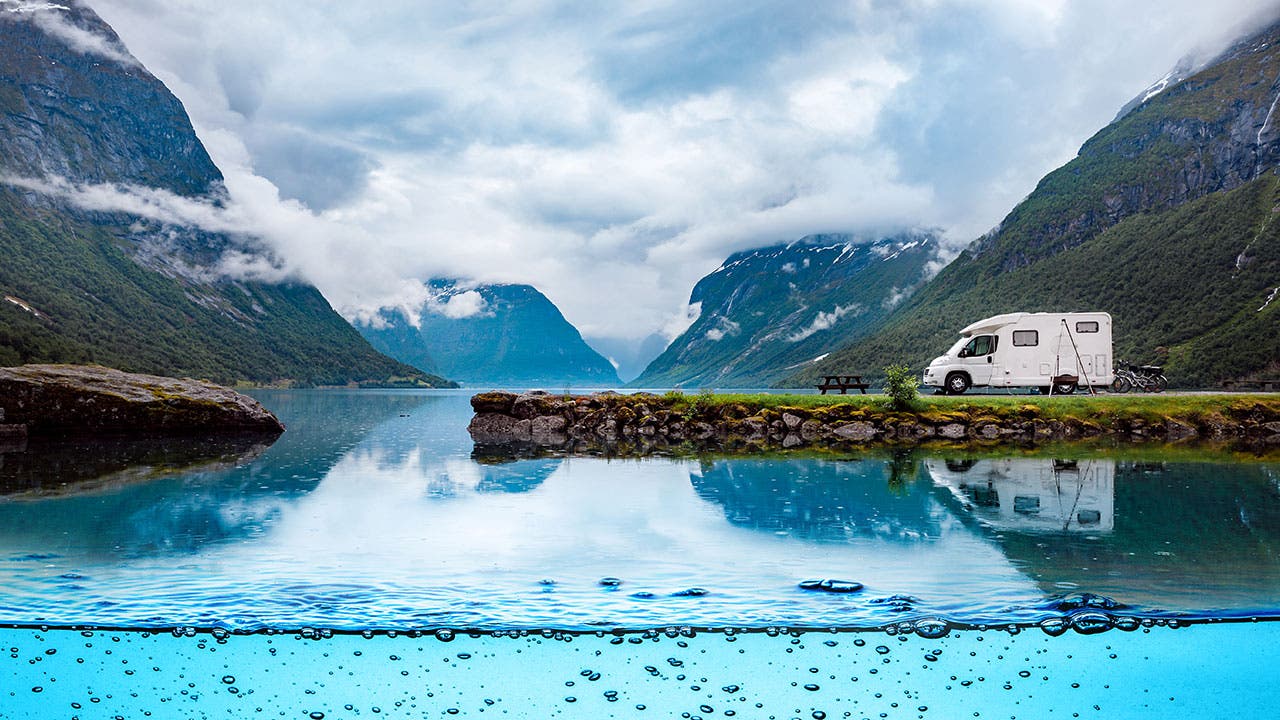 Buying a recreational vehicle, also known as a camper or an RV, will allow you to see the country, vacation comfortably, or visit relatives and friends. Once you've decided to purchase an RV, your first step is figuring out camper financing, especially since an RV is probably the second most expensive purchase you'll ever make, after your home.
How to finance an RV
You can and should do some things before you start shopping to ensure that your purchase not only goes smoothly but also results in a financially-conscious and favorable outcome.
1. Set a budget
An RV is a significant purchase. At the low end, you can find a towable pop-up camper type for about $6,000. At the high end, RVs can go as high as $500,000 or more. Figure out what you want and what you can reasonably afford.
Many RV loans offer 10-, 15- or even 20-year terms. Make sure you are comfortable with the monthly payment over the long run. A 20-year loan can make payments seem affordable, but keep in mind your situation may change. You may have children, get divorced, retire or have grandchildren in that time frame.
Consider how big you really need. Smaller might be better; it's less expensive and easier to park. But you won't like using it as much if everyone is cramped and there's not enough room to move or sleep.
You won't enjoy your new RV if you're worried about paying for it every month. In addition to the monthly payments from an RV loan, you should also budget for:
Gas and maintenance costs
Utility costs (water, cable, electric)
Camping and storage fees
Insurance
2. Save a down payment
Most RV companies require at least 10% of the purchase price as a down payment, and many prefer 20% down. If you can make a larger down payment it will help you lower your monthly payments. You may even qualify for a loan with a lower interest rate.
3. Check your credit score
You'll need a high credit score to qualify for an RV loan with low interest rates. A credit score in the mid-700s or higher will get you the best rate.
Consider whether you want a secured vehicle loan or unsecured personal loan. Both have their benefits:
Unsecured personal loans can offer pre-qualification, fast funding (the turn-around time is one to two days) and you won't risk having your RV repossessed if you fall behind.
Secured vehicle loans have lower rates. You may be able to borrow more, even if you have average credit.
You can use the Bankrate personal loan calculator to help you figure out what you can afford for a personal loan.
RV loans are a little different than car loans, as you could declare your RV a primary or secondary residence which might reduce your federal taxes.
If the RV is used to secure the loan, the mortgage interest could be deducted from your taxes as a homeowner. However, if you declare your RV as a residence you might need special insurance.
Current rates
If you have excellent credit, current RV financing rates hover at about 4%. If you have poor credit, such as a score below 580, you might get approved, but rates will be a jaw-dropping 24%. If your credit score is weak, consider saving for a larger down payment.
Here's a quick comparison from three banks that offer RV financing, the rates as of October 2019, and the minimum loan amount needed to secure motorhome or camper financing:
| | | | |
| --- | --- | --- | --- |
| | Rate | Term | Loan Minimum |
| U.S. Bank | 6.24% | Less than 48 months | $25,000 |
| USAA | 5.75% | Up to 240 months | $5,000-$100,000* |
| SunTrust Bank | 3.99% variable, 4.99%–6.50% fixed | Up to 240 months | $57,201 |
*USAA: Financing for 12- to 72-month terms requires financed amount of $5,000 or greater and approved credit. Financing for 84- and 120-month terms requires financed amount of $10,000 or greater and approved credit. Financing for 180-month terms requires financed amount of $35,000 or greater and approved credit. Financing for 240-month terms requires financed amount of $100,000 or greater and approved credit.
Insurance
Before you can buy an RV, you'll need proof of insurance before most lenders will give you the loan. Be sure to talk to your insurance company and get enough coverage to meet the lender's requirements. Keep in mind the insurance will add to your monthly costs, so budget for that as well.
How to qualify
Check your credit score so you know what kind of rates you're looking at. Lenders consider your FICO and credit scores to try to determine how much of a risk you are. They will also consider your debt-to-income ratio. They will want to see you have collateral in case you default on the loan. The RV itself can be collateral.
Your rate for RV financing might be higher than the rate you got for your car loan. RV's are considered luxury items and lenders are more cautious about lending money for luxury items. This is because in times of financial crisis, luxury items are expendable.
Use the internet to your advantage. If you fill out a single application, you may have several offers from different lenders, meaning you can pick and choose. You can research credit unions, banks and online lenders. If none of these options appeal to you, the RV company will have financing as well. Keep in mind the RV company wants to make a sale. They know the RV you want is right in front of you. This may entice them to offer a decent rate, but it might also entice them to put together a good deal for them, not you.
Whatever lender you go with, they will want to know what RV you intend to purchase, the value of the RV, the age and mileage. Buying a used RV can save you money upfront, but usually come with higher interest rates.
Things to know
Set a budget. Figure out what you can reasonably afford and what will suit your needs. Do this before you go shopping so you are not tempted to buy more RV than you need.
Check your credit score. A credit score in the mid-700s will get you the best rate. If your credit score is lower, you might have to pay a higher interest rate or put down a larger down payment to qualify.
Compare different lenders.You can consider banks, credit unions and online financing companies. You can also consider the RV company you buy it from, but don't go unprepared. In addition to dealerships, sites such as RVs.com, RVT.com and RVTrader.com can give you an idea of prices and if there are any deals. Check these sites when doing your research
Negotiate. Just as you would when buying a car, be prepared to haggle. RV dealerships will expect it and you could save yourself a good bit of money. The price of an RV is inflated by as much as 30–35%, so there's room to negotiate.
Don't owe more than the RV is worth. Much like a car, an RV depreciates up to 30% the minute you drive it off the lot. The risk of becoming upside-down in the loan is quite high, although not inevitable. To avoid becoming upside down, you can make a larger down payment. You can also buy a less expensive RV, pay it off and trade it in for a more expensive model later on.
The bottom line
Buying an RV can be a life-changing experience. Make sure you get an RV that fits comfortably into your budget while still meeting your needs. Shop around and buy the RV that's right for you. The open road awaits.