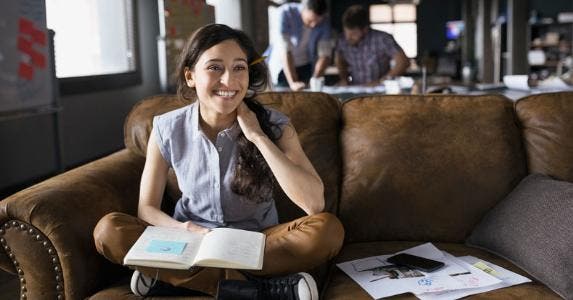 Dear Personal Loan Adviser,
I saw a story on the news about a personal lender called Upstart that considers your earnings potential, education and other factors in making the decision to approve the loan.
I've had lenders tell me that my credit history is "too thin" to be approved for a personal loan. I'm a college graduate in a starter job, and I could really use a personal loan to get my finances under control.
What can you tell me about this lender?
— Debbie Indebted
Dear Debbie,
I saw the segment, too, so I can ask: "What's a millennial doing watching the network news?"
COMPARE RATES: Find the lowest rate on a personal loan.
Bankrate's own analyst, Greg McBride, CFA, even got to weigh in on the loans from an investing perspective in the segment. He said, "The jury's going to be out until we're in a recession-area environment, and delinquencies and defaults go up, and that's where you can really see what form of lending was worth the risk and which was not."
Peer-to-peer lender scoring models
Upstart, along with others, are peer-to-peer (P2P) lenders that have proprietary credit scoring models that take unconventional approaches to underwriting. You can learn more about these lenders in a Bankrate article, "Use unconventional creditworthiness to get a personal loan."
Like most P2P lenders, these sites don't do a "hard pull" on your credit report so shopping around for a personal loan doesn't negatively impact your credit score. If you receive a loan offer and decide to formally apply for the loan, that's when the lender does a hard pull on your credit report, which can impact your credit score.
Although these millennial-friendly personal lenders have a different approach to loan approvals, it still makes sense to look into what other P2P lenders and conventional lenders are willing to do for you.
Ask the adviser
To ask a question of Dr. Don, go to the "Ask the Experts" page and select one of these topics: "Personal Loans," "Financing a home," "Saving & Investing," "Senior Living" or "Money." Read more Dr. Don columns for additional personal finance advice.
Bankrate's content, including the guidance of its advice-and-expert columns and this website, is intended only to assist you with financial decisions. The content is broad in scope and does not consider your personal financial situation. Bankrate recommends that you seek the advice of advisers who are fully aware of your individual circumstances before making any final decisions or implementing any financial strategy. Please remember that your use of this website is governed by Bankrate's Terms of Use.