Guess which country had the most foreign buyers of homes in the United States last year:
Brazil
Canada
China
Mexico
Your guess is probably influenced by where you live. For example, living in South Florida, I totally would have guessed Brazil, because I overhear Brazilian Portuguese all the time up here in Palm Beach County, and Brazilians own a lot of houses down in Fort Lauderdale. But Brazil didn't even make the top 5. I visited my hometown of Fort Worth, Texas, over the weekend, and then I would have guessed Mexico.
But I would be wrong. Chinese buyers are the most prolific by far, according to the National Association of Realtors. From April 2015 to March this year, Chinese buyers spent more on American homes than citizens of the next 4 countries combined.
RATE SEARCH: Shop today for a mortgage.
"Foreigners — especially those from China — continue to see the U.S. as a solid investment opportunity and an attractive place to visit and live," says Lawrence Yun, chief economist for the Realtors.
Read: How to market your home to foreign buyers.
International buyers spent a total of $102.6 billion on residential real estate during the 12 months ending in March. That includes vacation homes, investment properties and homes bought by immigrants. People from other countries bought 214,885 U.S. residential properties.
More than a quarter of the $102.6 billion came from Chinese buyers.
The most popular state for international buyers is warm, sunny Florida, followed by California.
Yun says it's possible that we'll see fewer buyers from the United Kingdom over the next year, depending on the economic fallout of the Brexit vote. "However," he adds, "with economic instability and political turmoil outside of the U.S. likely to persist, the world view of American real estate as a safe investment should keep demand firm, even as pressures from a stronger dollar continue to weigh down on affordability."
Do you live outside the United States and want to buy a home there? See How foreigners buy homes in the United States.
Mortgage rates this week
The 30-year fixed mortgage edged upward a tiny bit this week, averaging 3.6%, in Bankrate's weekly rate survey. Rates are still low enough that you still might benefit from refinancing.
Tweet of the week
#PalmBeach real estate factoid: Realtor signs are closely regulated — and tiny, like this one. pic.twitter.com/UvI21t9Fcj

— Darrell Hofheinz (@PBDN_hofheinz) September 27, 2015
Factoid of the week
How's your credit score? This spring, half of homebuyers had credit scores above 748, according to CoreLogic Servicing and the Urban Institute. (They're talking about homebuyers who got mortgages, and refinancers weren't counted.)
The median credit score for homebuyers has hovered around 750 for about a year. If you're under the impression that it's tougher to get a home loan than it was in the good old days, you're right. Ten years ago, the median credit score for homebuyers was just a little over 700.
The best mortgage rates go to people with credit scores of 740 and higher (some lenders even set that bar at 760). Because half of homebuyers have credit scores below 748, it's easy to conclude that half of homebuyers aren't getting the best mortgage rates.
And credit score is only part of the equation. The size of your down payment, your loan-to-value ratio, how much you have in the bank — all of these things influence how good of a mortgage deal you get. Read more about how your credit score affects your mortgage rate.
RATE SEARCH: Get preapproved for a mortgage today.
Home listing of the week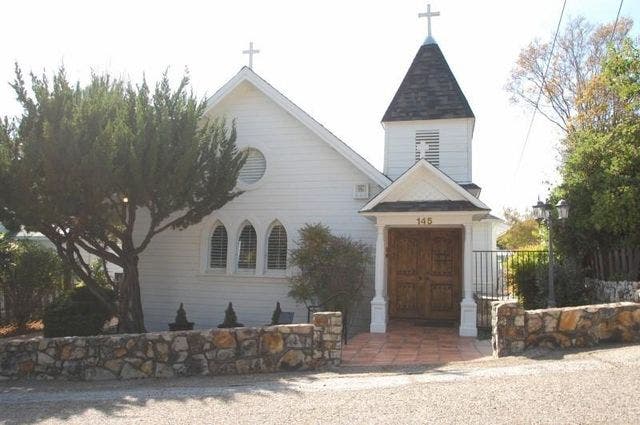 Want to dwell in an old church? You can, if you're willing to part with $850,000 for this property in Sutter Creek, California. I was about to say it's a converted church building, but "converted" conveys the wrong impression. Let's call it a renovated church building instead. I'm intrigued by the criss-crossed roof beams in the living room. I'm sure there's a precise name besides "criss-crossed roof beams."
The house, listed by Paula Johnsen of Century 21 M&M and Associates, has 4,400 square feet, 4 bedrooms, 2 full bathrooms and 2 half-baths, and a few pews.
RTI comment of the week
Every week, Bankrate has the Rate Trend Index, in which loan officers predict whether mortgage rates will go up, down or stay about the same in the coming week.
Unchanged: Mortgage rates have been pretty resilient this past week and look as though they will remain strong but reasonably flat for another week. Economic data has been mixed and mixed data brings continuity of rates. The stock market has shown remarkable strength following Brexit and could stand to pull back from current levels. Should that happen, rates could benefit if money flows into bonds.
— Jim Sahnger, mortgage planner, Schaffer Mortgage, Palm Beach Gardens, Florida
RATE SEARCH: Ready to shop for a mortgage? Find the best deal today.
If you're in the mortgage industry and you would like to be included in the weekly RTI, let me know at hlewis@bankrate.com. I send an email every Tuesday around noon eastern time, and a reminder email 24 hours later if I haven't heard from you, and the deadline is early Wednesday afternoon eastern time. Then the RTI is posted the next day.
Horrible neighbor of the week
Even though this section is supposedly about horrible neighbors, this letter to our Real Estate Adviser is about lack of knowledge instead of horribleness. It's an illustration of why adverse possession laws — also known as squatter's rights — exist. The letter writer asks:
I've just discovered through a land survey that my neighbor has been using a 20-foot strip at the very back of my 1-acre piece for upward of 20 years. This strip, it turns out, comes within inches of his house. Can I reclaim this even though the neighbor considers it his?
Read why the Real Estate Adviser suggests reaching a friendly agreement before threatening a lawsuit.