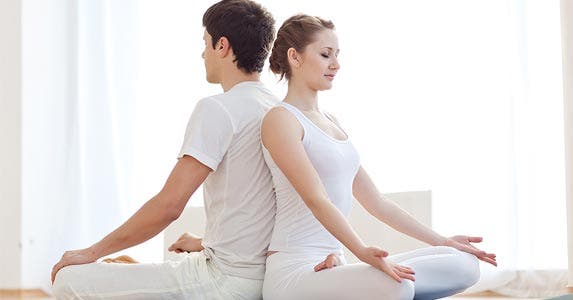 7 fun, offbeat Valentine's Day ideas for couples
Looking for something lighthearted and different to share on Valentine's Day?
From sweating through a yoga class to indulging at your favorite dessert spot, there are all kinds of ways to get out together and enjoy the day. And they don't require a pocketful of cash.
The key: Have fun together, says Terri Orbuch, Ph.D., author of "5 Simple Steps to Take Your Marriage From Good to Great."
"Spending time together holding hands and laughing — it adds spice to your relationship," she says.
So if you're looking for something a little offbeat — not your average dinner and a movie — consider these 7 ideas to get you started.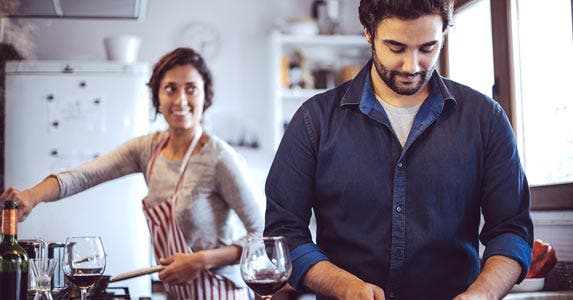 Not your typical 'dinner at home'
© klublu/Shutterstock.com
Do you normally eat in the kitchen or dining room? Set up a formal dinner in a different room of the house, says Teri Gault, CEO of TheGroceryGame.com.
Break out the fine china, formal table cloth, the best flatware, and your favorite crystal, she says. Send your partner an Evite — and attire is formal or semiformal.
"It's very romantic and sexy to be eating together at home in a different room," Gault says. "It's one of my favorites."
"When you do Valentine's Day dinner at home, you save so much money," says Gault. "And it's one of the cheapest times of the year to buy steaks, lobster, shrimp and crab," she adds. So you can eat like kings.
Prep everything ahead of time so you don't have a lot to do, she says. One of her favorites for the meal: kabobs. "They marinate fast," and are simple and quick to cook, Gault says. Finish the last details in the kitchen together.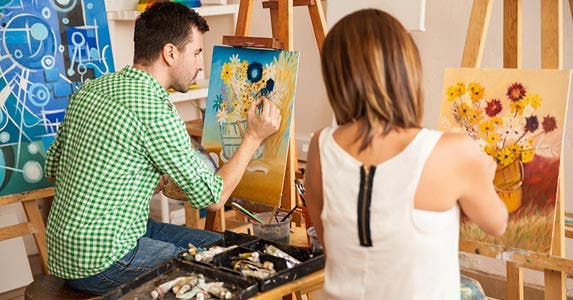 Explore your artistic sides
© antoniodiaz/Shutterstock.com
If you are intent on finding unusual Valentine's Day ideas for couples this year, consider nurturing your originality. Whether it's throwing or painting pottery, or creating a picture in oil or watercolor, it can be a lot of fun to indulge your creative sides together, says Orbuch.
A variety of businesses let you do just that, she says. Some are set up as cafes, others like more formal painting classes. Many serve wine and food, while others allow you to bring your own, she adds.
Orbuch took a 2-hour class that cost about $20 per person. A group of attendees, with professional instruction, paint the same subject or scene. "You can bring a bottle of wine and learn how to paint," she says. "It's a great activity to do as a couple."
Whether you opt for cooking, pizza baking, pastry making, painting, pottery or any other creative pursuit, "you're doing something with a partner," Orbuch says. "It's fun, it's different, and it's a little offbeat."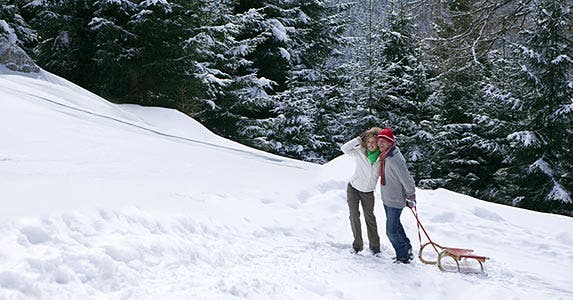 Revisit your childhood
© Air Images/Shutterstock.com
Want a quick trip down memory lane, along with the chance to learn more about your beloved's childhood?
Take your significant other to the playground, says Kendal Perez, spokeswoman for CouponSherpa.com.
Swing on the swings, spin on the merry-go-round and give the monkey bars a try. "Channel your internal playfulness," she says. Or find a hill and go sledding, she says. "Think about the things you enjoyed as a kid and how to incorporate them into the day's events."
For new couples, it's also a great way to get to know more about each other, she says.
Enjoying playful activities together can bring back memories of childhood and school days, says Perez. It can help you learn a lot more about each other.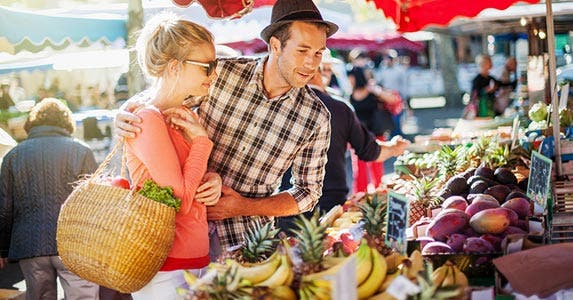 Indulge in a wine tasting, visit farmers market
© Jack Frog/Shutterstock.com
Wine bars, wineries, wine stores and some upmarket food stores will be holding wine tastings over Valentine's Day weekend, says Orbuch.
They offer congeniality, and a nice bit of knowledge on wines, along with the tasting. "They have food, and it's very inexpensive" — many times about $20 each, she says. "And it's really fun."
Or get out and have fun together by taking in your local farmers market.
Grab a nice early breakfast and hit a local farmer's market, says Orbuch.
Sample, shop, taste and take it all in together. You're not only engaging all your senses, you're sharing the experience with your partner.
After visiting the market, "come home and make your own brunch together," Orbuch says. Shopping and prepping a meal together can be very romantic, she adds.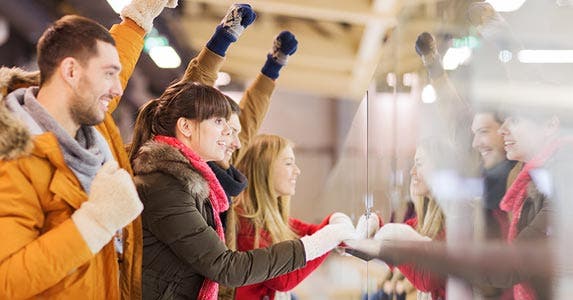 Cheer for your team together
© Syda Productions/Shutterstock.com
Have a partner who's a big sports fan? Pick up some tickets and take in a game over the Valentine's Day weekend, says Orbuch.
If you want to keep it inexpensive, look for box office ticket deals, she advises. Many teams offer specials (some also include hot dogs and sodas), for bargain prices, she says.
And who cares if you're not sitting at center court or center ice? "The idea is to make it personal and spend time together," says Orbuch.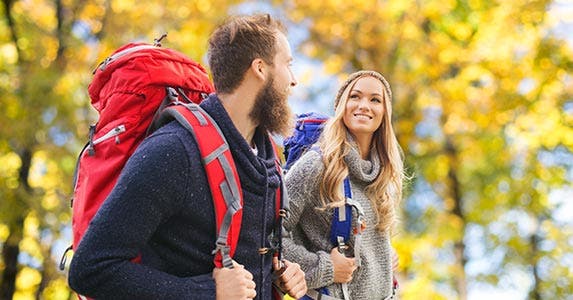 Hit the gym together
© Syda Productions/Shutterstock.com
If your loved one is more the outdoorsy type, plan an excursion.
Whether it's a long walk, a bike ride, a hike or some cross-country skiing, find a way to enjoy the winter sunshine, fresh air and each other, says Orbuch.
Weather permitting, you can pack a lunch or a thermos of hot chocolate or coffee.
If it's too frosty where you live, hit the gym together, she says. Attend a yoga or ballroom dance class. Or walk the local mall.
Afterward, unwind together at a local cafe or diner, she says.
An added bonus: "Exercising together ignites passion," says Orbuch.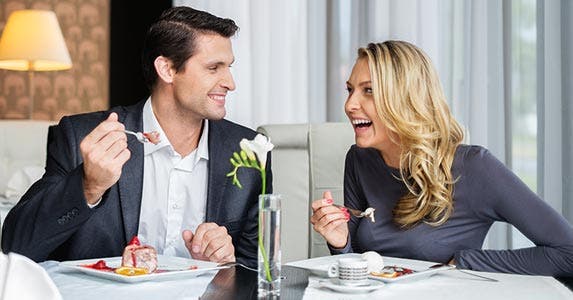 Go out for dessert
© Nejron Photo/Shutterstock.com
Want to enjoy the romance, ambience and indulgence of a Valentine's Day bite out — without the cost of a big meal?
Go out for dessert, says Perez. "Dessert is the best part."
Whether you opt for a rich, chocolate fondue or 2 pieces of your favorite pastry, it makes for an affordable treat and a splurge that you can enjoy together. "You can still have the dining out experience for $25 or less," says Perez.
So have brunch, lunch or dinner at home — and let the pros do the heavy lifting for your sweet treat, she says.
Or follow the old adage and "eat dessert first."