How to make extra money
If you find you could use a little extra cash every now and then (and who couldn't?), there are plenty of ways you can pick up some bonus money. And they don't necessarily involve going out and landing a second job.
You might use the skills you've honed at work to develop a side business, or take advantage of occasional opportunities to be a mystery shopper or focus group member.
If you find something you like in your quest to drum up a few extra bucks, you might even want to turn it into a regular gig.
To get started on making some money on the side, consider these five suggestions.
CARD SEARCH: Your side hustle might qualify you for a business credit card. Compare the best business credit card offers at Bankrate.com.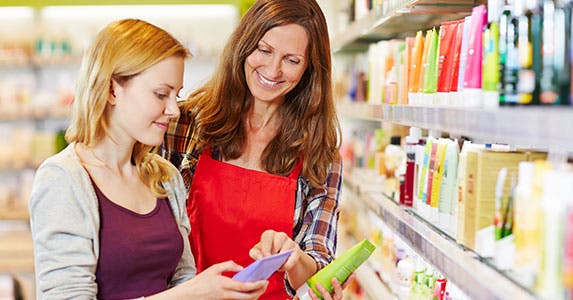 Mystery shopping
The concept is simple: You pose as a customer for a retail store, restaurant, hotel or other business. Then you submit a report on your experience, complete with plenty of details.
You can pick up repeat mystery shopper assignments if you're "analytical, precise and articulate," says Anne M. Obarski, customer service strategist for Merchandise Concepts, a consulting firm.
You not only have to be able to interact and communicate well, it helps to have a scientist's exactitude for details, she says.
You also want to sign up with reputable firms. And since scammers love work-from-home jobs like mystery shopping, "you've got to be careful," says Obarski.
Her advice: Go to the industry's main professional organization, the Mystery Shopping Providers Association, and sign up only with its members. The association maintains a code of ethics and has been around since 1998.
Pay varies widely with the job. Shoppers can make from $10 for an assignment to up to $500 or more, Obarski says. And, if you like it and you're good at it, you could conceivably turn it into a job earning up to $15,000 to $20,000 annually, she says.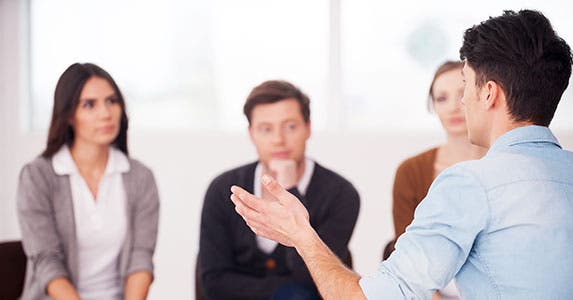 Join a focus group
g-stockstudio/Shutterstock.com
Want to share your opinions and get paid for it? Consider being part of a focus group.
Just register with a local market research company, says Amy Shields, director of research for the Marketing Research Association.
A scheduler will call and ask you a few screening questions, such as whether you've used a particular product or service, how frequently, etc.
If selected, you'll be scheduled to go to a group session, Shields says. Focus groups typically have three to 12 people and last an hour or two, she says. Often, there's a snack or small meal, plus a check or cash when you leave.
As with mystery shopping, carefully vet companies before you apply. You want to work with legitimate market research firms that regularly conduct focus groups. If someone asks you for money or wants you to cash checks for them, that's a scam, says Shields.
Focus group rules often stipulate that participants can be part of only a few groups annually, so this won't be a regular source of income, says Shields. But pay is often in the $75-to-$200 range, she says.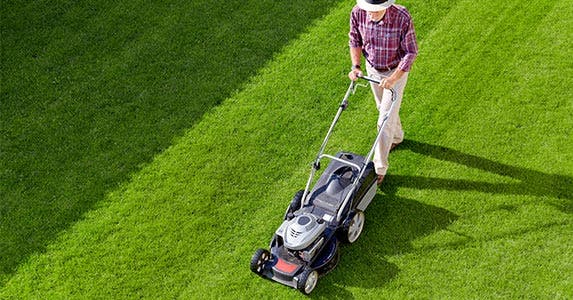 Start your own side business
Menzl Guenter/Shutterstock.com
If you've got professional training or specialized skill sets, you might be able to use all of that to make money on the side.
For example, if you're in the marketing department of a large widget maker, you could help your kid's karate gym with its marketing needs during your off hours.
Be very careful not to infringe on your employer's turf, use work resources, compete for clients or help the competition, says Martin Yate, author of "Knock 'Em Dead: Secrets and Strategies for Success in an Uncertain World."
Plus, not every employee is a good candidate for parallel side jobs, he says.
You'll want to find out: Does your company own your intellectual property, or do you have a noncompete clause?
Never use company devices (phones, tablets, computers) for your side business — even if you're allowed to take them home, says Yate. Those tools often contain tracking software, so employers could be peering over your shoulder.
Here's the upside, for you and your employer: By learning to run a company, you'll also become a much better employee, says Yate.
RATE SEARCH: Entrepreneurs, find a great credit card for your small business needs.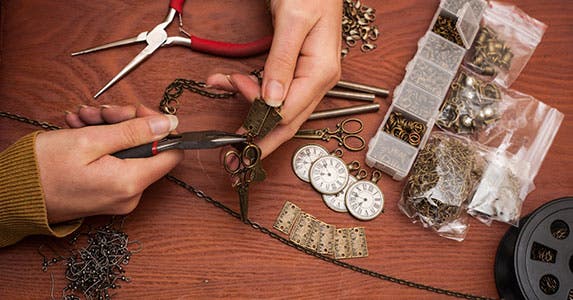 Monetize a hobby
gabriel12/Shutterstock.com
Thanks to online marketplaces such as eBay and Etsy, hobbyists are finding that they can make extra cash doing what they love.
For years, Jim "Griff" Griffith has sold men's shirts and shoes online.
He figures he probably clears an extra $7,000 to $10,000 a year with his hobby. Plus, he picks up some pointers for his day job as the senior manager of seller community education and advocacy for eBay.
Griffith's advice to potential online entrepreneurs: Shop the sites you're interested in using so you can see the transactions from the customer's point of view. Then test and refine your selling skills with one item — preferably something small, easy to ship and something you have no emotional attachment to — a few times.
Want to make it a regular habit? Stick to products you know and love, says Griffith, who estimates that he spends about two and a half hours a night on his side job. "If you love what you sell, it makes it easier" to turn that passion into a small business, he says.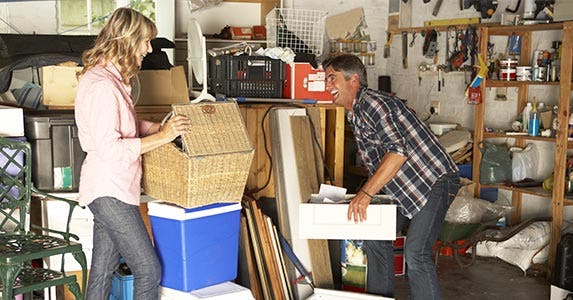 Sell unwanted items
Monkey Business Images/Shutterstock.com
How would you like to clear some space in a closet, attic or basement and make a little money at the same time?
Resale stores are looking for gently used items or even items that have never been used, says Adele Meyer, executive director of NARTS: The Association of Resale Professionals.
And skip anything broken, worn or shabby.
The key to a good deal is finding a store that's "a good match" for what you want to sell, she says. "Some stores carry multiple merchandise lines while others may specialize."
One resource is the shopping guide on the association's website at NARTS.org. You can search for a member list of consignment shops by merchandise category and ZIP code.
Before you visit stores, check the policies spelled out on their websites. It pays to understand how each store works.
Along with researching what you can make and when you get paid, find out what happens if an item doesn't sell.
Two hot items for consignment: furniture and teen apparel. "These are two of the areas that are showing a big increase in customers," says Meyer.
CARD SEARCH: Business credit cards offer great perks. Shop for a business credit card at Bankrate.com.