Even insurance is sexy in the movies
Insurance acts as the great and powerful Oz behind the movie screen, protecting against the loss of life, limb and livelihood of everyone on set; the intellectual property of the writers and director; the potential liability of location shoots; and the substantial investment of the producers.
But on those rare occasions when insurance has been featured as part of the film itself, it often results in a surprising plot twist or memorable cameo that makes for marvelous moviegoing.
"By itself, insurance is pretty boring and uncinematic," says George Pelecanos, producer and Emmy-nominated writer on the hit HBO series "The Wire" and author of best-selling Washington, D.C.-set crime novels including "The Cut." "But the way that the movies have made insurance work is by throwing sex into it. And good-looking people."
When insurance takes center stage, it often returns "reel" dividends in lessons learned about the use (and more often misuse) of indemnity, the manipulation of policies for profit and the fundamental fairness of shared risk.
We asked Pelecanos to grab the popcorn and come along as we selected the 10 best insurance movies of all time.
'The Apartment' (1960)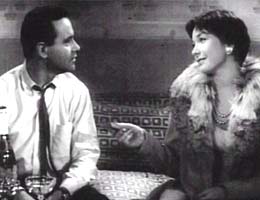 The plot: Lonely bachelor C.C. "Bud" Baxter (Jack Lemmon) works long days at a New York insurance company but spends longer nights pacing the streets of Manhattan while his superiors use his apartment for trysts. Baxter quickly rises up the corporate ladder to become assistant to head honcho Jeff Sheldrake (Fred MacMurray). But when Baxter learns Sheldrake has been using his digs to entertain Fran (Shirley MacLaine), the elevator operator with whom Bud is smitten, things get complicated.
Why it's worthy: "'The Apartment' came at a time right before the counterculture when the message was the search for individuality against the establishment, represented by the insurance company," says Pelecanos. "The shots of the offices, the way the desks were aligned, suggest complete conformity." Baxter's moral questioning presaged the youth rebellion and generation gap that soon followed.
Set notes: "The Apartment" won best picture, director and screenplay Oscars for Billy Wilder (see also, "Double Indemnity") and ranks No. 80 on the American Film Institute's 2007 list of the 100 Greatest American Movies of All Time. Lemmon and MacMurray had a knack for insurance films; Lemmon also stars in "Save the Tiger" and MacMurray in "Double Indemnity," which are both on our list.
'Cedar Rapids' (2011)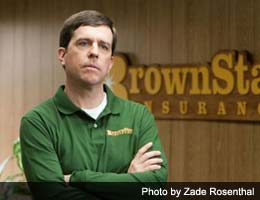 The plot: Small-town Iowa insurance agent Tim Lippe (Ed Helms) winds up in "Hangover" territory when he's dispatched to a regional insurance conference in the "metropolis" of Cedar Rapids. Lippe's assignment: Bring home the coveted Two Diamond award previously won by a senior partner who recently hanged himself. Insurance veterans Dean Ziegler (John C. Reilly) and Joan Ostrowski-Fox (Anne Heche) do the corrupting, but it's Lippe who clings to his principles and ultimately prevails, redeeming himself and the entire insurance profession.
Why it's worthy: This entertaining sleeper may be the most list-worthy for its optimistic answer to a central moral question facing the insurance industry today: Can an honest, hardworking, community-minded insurance agent still make a living without selling his or her soul? That Lippe not only survives his baptism of fire (water) but uses his head and heart to outmaneuver his scheming superiors makes for one happy ending worthy of applause.
"It's quite a different message from what was coming out in stuff like 'The Apartment,' which was walk away from that life completely," says Pelecanos.
Set notes: Rated R for language and adult situations. Don't miss the TV commercial at the end.
'Sicko' (2007)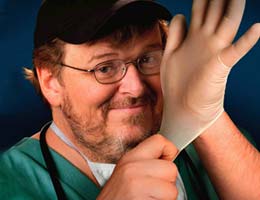 The plot: The poster for "Sicko" says it all: a photo of filmmaker Michael Moore donning a rubber glove with the warning, "This might hurt a little." And indeed it does for America's for-profit, nonuniversal health maintenance organizations, or HMOs, which come up dismally short as Moore compares them to the nonprofit, universal health care available in Canada, England and France.
The film traces the origins of the 1973 act that created HMOs to a taped White House conversation between Richard Nixon and assistant John Ehrlichman in which Nixon approves of Ehrlichman's assessment of HMOs: "The less care they give them, the more money they make."
Why it's worthy: It's the one and only darkly funny, deeply disturbing documentary on our dysfunctional health insurance and pharmaceutical industries. After learning that 50 million Americans have no health insurance and some insurance contracts contain as many as 37 pages of pre-existing conditions to deny coverage, viewers of "Sicko" will have difficulty convincing themselves that America's health care system is the best in the world.
Set notes: "Sicko" grossed more than $33 million, received a 15-minute standing ovation at Cannes International Film Festival and prompted a full press campaign by America's health insurance giants to discredit it.
'Groundhog Day' (1993)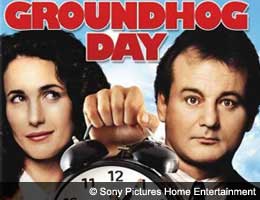 The plot: Misogynist TV weatherman Phil Connors (Bill Murray) loathes his annual obligation to cover the emergence of Punxsutawney Phil from its Pennsylvania burrow every Groundhog Day. Unfortunately, the fates decree he'll experience the same Feb. 2 again and again until he gets it right with the help of his news producer Rita (Andie MacDowell).
Why it's worthy: Phil's recurring sidewalk reunion with Ned ("Bing!") Ryerson (Stephen Tobolowsky), his nerdy former high school classmate turned unshakable insurance agent, became a comedy classic.
"'Groundhog Day,' like 'Cedar Rapids,' is sort of Capra-esque in its populism," says Pelecanos, invoking the director Frank Capra of such heartwarming films as "It's a Wonderful Life." "That's why those two movies have weight. That's why we remember 'Groundhog Day.' It's not just the gimmick of the movie, which is obvious; it's this whole community of people that you get to know."
Set notes: Ranked No. 34 on AFI's 100 Funniest Movies, "Groundhog Day" became the phrase that has entered our vocabulary as shorthand for an unpleasant experience that keeps repeating.
'The Rainmaker' (1997)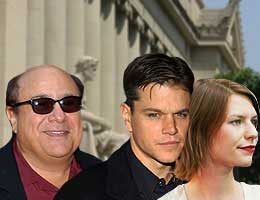 The plot: Newby Memphis, Tenn., lawyer Rudy Baylor (Matt Damon) and his streetwise partner Deck Shifflet (Danny DeVito) take on Great Benefit Insurance over a denied claim for a bone marrow transplant on a 22-year-old man dying of leukemia. They're up against Great Benefit's formidable attorney Leo F. Drummond (Jon Voight), whose clubby judicial ties would ordinarily see the case dismissed out of hand. But when the presiding judge dies suddenly, his successor (Danny Glover), a former civil rights attorney, allows the case to continue.
Why it's worthy: Director Francis Ford Coppola expertly peels back the layers of deceit, arrogance and greed behind the wealthy facade of a faceless corporation in his adaptation of the John Grisham novel. In Rudy's climactic courtroom confrontation with Great Benefit's unctuous CEO Wilfred Keeley (Roy Scheider), we share the outrage of every person whose life has been casually ruined by small print in an undecipherable insurance contract. Keeley's last scene as he boards a flight for a European "vacation" may be the most chilling of all.
Set notes: "The Rainmaker" fell victim to public saturation with Grisham adaptations at the time, including "The Firm" (1993) and "A Time to Kill" (1996).
'Double Indemnity' (1944)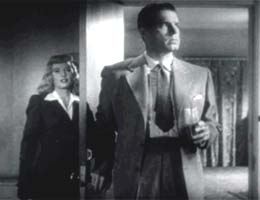 The plot: Los Angeles insurance agent Walter Neff (Fred MacMurray) falls under the spell of Phyllis (Barbara Stanwyck), the seductive wife of a client. Together, they trick her husband into signing a life insurance policy then orchestrate his death to look like an accident, so Phyllis will collect twice under the double indemnity clause. Just one catch: Neff's mentor Barton Keyes (Edward G. Robinson), the insurance company's claims adjuster, smells foul play.
Why it's worthy: Ranked No. 29 on AFI's 100 Greatest American Films and written by mystery noir master Raymond Chandler with director Billy Wilder (see "The Apartment"), "Double Indemnity" graphically illustrates that insurance fraud doesn't pay. It's also absolutely mesmerizing.
"'Double Indemnity' is one of the best screenplays ever written; I own a book that just dissects the screenplay because it's pretty much perfect," says Pelecanos. "The really smart thing about that movie is that the insurance agents aren't just a father figure (Robinson) and a son; it's sort of hinted that there is a deeper relationship there, which kind of makes it a little bit more perverse. It's a beautiful movie."
Set notes: By all means, see it. In glorious black and white.
'The Incredibles' (2004)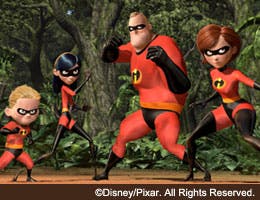 The plot: Bob Parr (voice of Craig T. Nelson) and his wife Helen (Holly Hunter) used to be the world-saving crime fighters, Mr. Incredible and Elastigirl, until such super-heroics were outlawed due to public outrage over the collateral damage. Fifteen years later, suburbanite Bob is pacing his boring cubicle at Insuricare where the closest he gets to super feats is guiding little old ladies to beneficial loopholes in their insurance policies. A mysterious summons to a remote island changes all that, and soon the crime fighters get their groove back while saving mankind from the evil Syndrome (Jason Lee).
Why it's worthy: Beneath the brightly colored Disney/Pixar animation beats a story about the very essence of insurance: security. When the world turns its back on the Parrs, Helen encourages Bob to "go save the world, one policy at a time." When he tries, his boss explodes, forcing Bob to return to what he does best: Provide insurance of the superhero kind.
Set notes: Bob's boss (Wallace Shawn): "Complaints I can handle. What I can't handle is your customers' inexplicable knowledge of Insuricare's inner workings. They're experts! Experts, Bob! Exploiting every loophole! Dodging every obstacle! They're penetrating the bureaucracy!"
'Save the Tiger' (1973)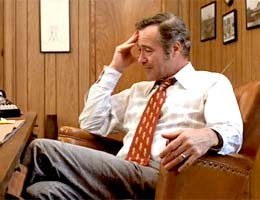 The plot: Harry Stoner (Jack Lemmon) has tried everything to save his sinking L.A. apparel business. He's cooked the books against the advice of accountant Phil Greene (Jack Gilford). He's hired prostitutes for his clients. But on this day, he and Phil take in a matinee with an arsonist to discuss torching their San Diego warehouse to collect the insurance money.
Why it's worthy: Lemmon won his second Oscar for this pitch-perfect portrayal of a businessman at the end of his tether in an economy that looks very familiar today. Stoner doesn't recognize the world around him, a world vastly different from the ones his fellow GIs fought and died for in World War II. He gains little insight from Myra (Laurie Heineman), the flower child with whom he shares a countercultural night in Malibu, Calif. Cornered, he makes a fateful decision.
"The government has a word for survival," he tells Phil. "It's called fraud."
"It's arson, Harry! Arson!" Phil pleads.
Harry replies, "It's the same accommodations."
Set notes: Stoner's speech to kick off a fashion show, in which his mind slowly replaces the tony audience with his dead Army buddies, is unforgettable.
'The Thomas Crown Affair' (1968) (1999)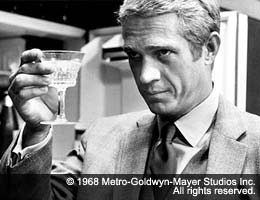 The plot: Enigmatic Boston real estate tycoon Thomas Crown (Steve McQueen in the 1968 version) has a lucrative secret pastime: He's robbing a bank. Not himself, of course; instead, he choreographs a team of five total strangers through the theft he has intricately timed and researched. Crown hardly needs the money; it's the rush he's after. On the hook for the stolen $2.6 million, the bank's insurance company sends investigator Vicki Anderson (Faye Dunaway) to solve the case. She immediately suspects Crown and just as quickly falls for his charms. Or does she merely pretend to in hopes of landing her own fat payday? Ah, whom to trust?
Why it's worthy: "In 'The Thomas Crown Affair,' nobody cares about the central story really; it's all about Steve McQueen and Faye Dunaway," says Pelecanos. Indeed, the cat-and-mouse game between the 38-year-old McQueen and the 27-year-old Dunaway makes for movie magic, as in this early scene:
Crown: "What a funny, dirty little mind."
Anderson: "It's a funny, dirty little job."
Crown: "Think you'll get me?"
Anderson: "I hope so."
Set notes: Most romantic chess game scene ever. The 1999 Pierce Brosnan-Rene Russo remake lacks the playful romantic chemistry.
'Sleuth' (1972) (2007)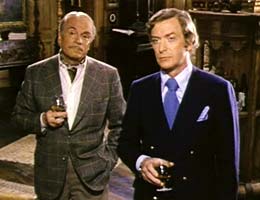 The plot: Famous mystery writer Andrew Wyke (Laurence Olivier in the 1972 version) invites his wife Marguerite's lover, a lower-class hairdresser named Milo Tindle (Michael Caine), to his country estate to propose a novel solution to the affair. Marguerite won't leave Wyke's money, Milo lacks the resources to afford her and Wyke wants to get rid of her bills without a costly divorce. Wyke proposes a bit of theater: Tindle would pose as a burglar and steal Marguerite's jewelry, Wyke will use his mystery-writing skills to fool the police and insurance company, and Tindle will walk away with the $170,000 insurance settlement to support Marguerite. All goes as planned until Wyke pulls a gun.
Why it's worthy: Like "The Thomas Crown Affair," this film adaptation of the Tony Award-winning play by Anthony Shaffer is a clever cat-and-mouse game with insurance at its core. Unlike the Steve McQueen-Faye Dunaway film, first-time viewers of "Sleuth" have no idea of the wild ride ahead.
Set notes: Director Kenneth Branagh's 2007 remake updates the setting with a high-tech surveillance theme. While it's fun to see Caine inhabit the Wyke role and the ever-menacing Jude Law as Milo, the Harold Pinter screenplay falls short of the original.