Petal® 1 "No Annual Fee" Visa® Credit Card review
At Bankrate we strive to help you make smarter financial decisions. While we adhere to strict editorial integrity, this post may contain references to products from our partners. Here's an explanation for how we make money.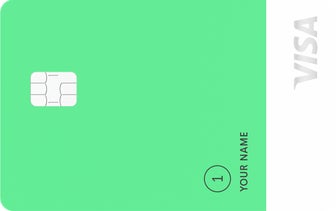 Recommended Credit Score
No Credit History

A FICO score/credit score is used to represent the creditworthiness of a person and may be one indicator to the credit type you are eligible for. However, credit score alone does not guarantee or imply approval for any financial product.
Best for local cash back offers
Annual Fee:

$0

Purchase Intro APR:

N/A

Regular APR:

19.99% - 29.49% (Variable)
Terms and Restrictions Apply
Bankrate Rating
Our writers, editors and industry experts score credit cards based on a variety of factors including card features, bonus offers and independent research. Credit card issuers have no say or influence on how we rate cards.
Best entry-level card for local cash back offers
Rewards rate: N/A (select cash back with Petal Perks program)
Welcome offer: N/A
Annual fee: $0
Purchase intro APR: N/A
Balance transfer intro APR: N/A
Regular APR: 19.99 percent to 29.49 percent variable
If you're brand-new to the world of credit but secured credit cards carry too many upfront costs, the Petal® 1 "No Annual Fee" Visa® Credit Card can help reduce these barriers. Instead of just looking at your credit score, the Petal 1 Card evaluates other financial indicators like your income and bill payment behavior. With the Petal 1 card earn a credit limit increase in as little as 6 months. Terms and conditions apply.
The Petal 1 Card's easy-to-use experience could make it a solid unsecured alternative until you build your credit to the next level. Still, you may be able to find more consistent rewards and better benefits with other starter cards—even with no credit history—if you're willing to settle for certain secured cards or if you qualify for a student card.
Outside student cards, the Petal 1 card could be the next best low-cost unsecured option if your financial history can't bump you up to the Petal® 2 "Cash Back, No Fees" Visa® Credit Card.
Current sign-up bonus
The Petal 1 card doesn't offer a sign-up bonus, which is relatively common among credit cards for no credit history.
Cash back
The Petal 1 credit card doesn't have its own consistent cash back program, but the Petal Perks program may occasionally earn you cash back at select merchants.
Earning cash back
The Petal Perks program works like Amex Offers and other card-linked offer programs, except you're automatically enrolled into each Petal Perks offer without the need to activate. You can earn anywhere from 2 percent to 10 percent rewards on eligible purchases at participating retailers in the form of "cash back points."
Earning rewards this way can be hit-or-miss since each offer depends on its own terms and time frame. If rewards are your game, you should switch to a more effective cash back card once you've built credit with your card.
Redeeming cash back
Your "cash back points" can be redeemed for a statement credit at any amount or a check or direct deposit starting at $20.
How much are points worth?
These points work like cash back since they're earned as a percentage of a dollar. Therefore, each cash back point is worth 1 cent.
Benefits
Other than the Petal Perks program, the Petal 1 Card doesn't carry any additional benefits outside the perks the Petal 1 Card offers as a traditional Visa card, including:
Zero liability fraud protection
Cardholder inquiry services
Pay-per-use 24/7 roadside dispatch assistance
Lost/stolen card reporting
Emergency card replacement and cash disbursement
However, Visa benefits can vary from card to card, so contact your issuer for the full benefits list.
Rates and fees
The Petal 1 Card is an overall low-fee card compared to other credit cards for those with no credit history. This credit card carries no annual fee, no foreign transaction fees and respectable interest rates (19.99 percent to 29.49 percent variable).
Unfortunately, the APR isn't as competitive as the Petal 2 Card's (12.99 percent to 26.99 percent variable), and the Petal 2 Card doesn't charge returned or late payment fees.
On the bright side, the Petal 1 Card provides a $500 to $5,000 initial credit limit, which is amazing for an unsecured card in its class. Obtaining a credit limit that high off the bat can give you a low credit utilization ratio and boost your credit score if you keep a low balance.
How the Petal 1 Visa card compares to other cards for no credit history
The Petal 2 Card and its rewards blow the Petal 1 Card out of the water, but the Petal 1 Card still sets itself apart from the competition by streamlining the fine print and costs associated with a starter card—allowing cardholders to focus on learning the credit-building ropes.
If you're looking for cash back on par with the Petal 2 Card's up to 1.5 percent rate on eligible purchases, you'll need to either be a student or not mind a deposit for a secured card.
If you've reached at least fair credit, the Capital One QuicksilverOne Cash Rewards Credit Card is a worthwhile rival with its unlimited 1.5 percent cash back on all purchases and portfolio of Capital One benefits in exchange for a $39 annual fee.
Card
Rewards rate
Annual fee
Welcome bonus
Other details
Petal® 2 "Cash Back, No Fees" Visa® Credit Card

1 percent on eligible purchases
Up to 1.5 percent cash on eligible purchases back after making 12 on-time monthly payments
2 to 10 percent cash back at participating merchants with the Petal Perks program

$0
N/A

12.99 percent to 26.99 percent variable APR
$500 to $10,000 initial credit limit
No fees

Discover it® Secured Credit Card

2 percent cash back at gas stations and restaurants (on up to $1,000 in combined purchases each quarter, than 1%)
1 percent cash back on all other purchases

$0 (minimum $200 security deposit)
Discover matches all cash back earned in your first 12 months.

22.99 percent variable APR
Credit line matches the security deposit
No foreign transaction fees, no penalty APR and the first late payment fee is waived (then up to $40)
Discover it account management benefits, including free dark web account monitoring

Capital One QuicksilverOne Cash Rewards Credit Card

1.5 percent cash back on all purchases

$39
N/A

26.99 percent variable APR
No foreign transaction fees
Standard Capital One benefits, including virtual credit card numbers, auto rental collision damage waiver coverage, travel accident insurance and extended warranty coverage
Additional Visa card benefits (offerings dependent on your credit limit)
Bankrate's Take—Is the Petal One Visa card worth it?
The Petal 1 "No Annual Fee" Visa Credit Card is a decent low-cost choice if you're dead set on an unsecured card and your credit score doesn't reflect the best financial habits yet. However, the Petal 2 Card is the superior no annual fee card if you're eligible.
You also have a few better options if you qualify for a student credit card or if you can pony up a deposit for a secured card.
Pros
No annual fee and no foreign transaction fees
Great rates and fees for an unsecured credit card if you have no credit history
Initial $500 to $5,000 credit limit
Cons
No consistent ongoing rewards outside the Petal Perks program
Higher rates and fees than the cash back-earning Petal 2 Card
No additional benefits other than the standard Visa features