Milestone® Gold Mastercard® review
At Bankrate we strive to help you make smarter financial decisions. While we adhere to strict editorial integrity, this post may contain references to products from our partners. Here's an explanation for how we make money.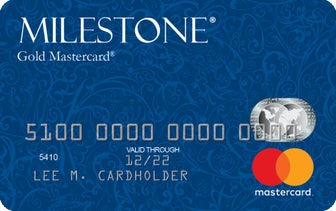 Recommended Credit Score
Bad to Fair (300 - 670)

A FICO score/credit score is used to represent the creditworthiness of a person and may be one indicator to the credit type you are eligible for. However, credit score alone does not guarantee or imply approval for any financial product.
Apply Now
On Genesis FS Card Services's secure website
Best for fraud protection
Annual Fee:

$35-$99

Purchase Intro APR:

N/A

Regular APR:

24.90%
Terms and Restrictions Apply
Bankrate Rating
Our writers, editors and industry experts score credit cards based on a variety of factors including card features, bonus offers and independent research. Credit card issuers have no say or influence on how we rate cards.
Best for building credit
Rewards rate: N/A
Welcome offer: N/A
Annual fee: $35 to $99
Purchase intro APR: N/A
Balance transfer intro APR: N/A
Regular APR: 24.90 percent
Building credit takes a lot of hard work. Whether you're starting with no credit history or rebuilding after your credit score took a dive, you're left with few options as many lenders may hesitate to offer you a credit card or personal loan.
The Milestone Gold Mastercard fits into a category of credit cards specifically built for people with bad credit. Like many other credit cards for bad credit, the Milestone card is laden with confusing terms, high interest rates and varying annual fees. On the bright side, it doesn't require a security deposit since it's an unsecured credit card and it reports your scores to all three major credit bureaus.
Current sign-up bonus
Since the focus on the Milestone Gold Mastercard is to build credit, the card doesn't come with a sign-up bonus or a rewards structure. That's not unusual for cards of this type.
Benefits
The Milestone Gold card might not be your first choice for credit cards, but if you're out of options and don't want to turn to a secured card, it reports to all three major credit bureaus and can help you boost your credit enough to qualify for better credit cards in the future.
Mastercard account protection
Standard Mastercards offer zero liability fraud protection for any unauthorized purchases made on lost or stolen cards. They also offer cardholders identity monitoring, protecting your Social Security number, email addresses, account login information, credit and debit cards and bank accounts.
Painless prequalification
If you don't have the best credit, you don't have to worry about prequalifying for the Milestone Gold Mastercard. The soft pull process does not affect your credit score, and there is no security deposit required to get the card.
Rates and fees
The Milestone Gold Mastercard has an APR of 24.90 percent, a cash advance rate of 29.90 percent and a penalty APR of 29.90 percent for all three of its card offerings. Note that according to the terms and conditions of the card, the penalty APR may be applied indefinitely, so it's important to always make payments on time (within 25 days after the end of the billing cycle) if you choose to get this card.
For what you're getting, the annual fee can be pretty steep at $35 to $99 ($75 the first year if you qualify for the $99 fee), depending on your creditworthiness. Since the Milestone Gold Mastercard credit limit is only $300, this annual fee can really cut into the initial credit of the card, which can increase your credit utilization ratio and make credit-building a bit harder. If you exceed your limit, the penalty fees (late payment, returned payment or over-limit fees) can be up to $40 for each card. You'll only face an overlimit fee if you opt in to the issuer's Overlimit Coverage, since transactions beyond your limit will be declined. Although it sounds like a positive, the Overlimit Coverage can pose up to two additional $40 fees on top of the original overlimit fee if you carry an over-extended balance to the next billing cycle, but the coverage's terms state you'll only pay one fee per billing cycle.
On the bright side, the foreign transaction fee is pretty light at 1 percent (typically 3 percent) and the cash advance fee of 5 percent or $5 (whichever is greater, not to exceed $100) is waived during your first year.
How the Milestone Gold Mastercard compares to other credit cards for bad credit
The Milestone Gold Mastercard falls right in line with the litany of other credit cards that claim to help people with bad credit while bombarding them with confusing terms and high fees. To give this card some credit, though, it's not the worst in its class. For example, the Total Visa® Unsecured Credit Card charges a program fee, an annual fee and an account servicing fee. If you're committed to not paying a security deposit for a credit card while you rebuild your credit, the Milestone is a much better option.
But if you want to find the best combination of rates and fees for rebuilding your credit, you'll need to turn to a secured credit card like the Capital One Platinum Secured Credit Card. While the APR is slightly higher than the Milestone card, it has a $0 annual fee and a flexible credit limit (Make the minimum required security deposit and you'll get an initial credit line of $200. Plus, deposit more money before your account opens to get a higher credit line). Plus, Capital One will monitor your account, and as you use it responsibly by doing things like making on-time payments, you may be automatically considered for a higher credit line in as little as 6 months (with on-time monthly payments) with no additional deposit needed.
Although the credit line upgrade review period is a bit higher (eight months), your best card for no credit history may be the Discover it® Secured Credit Card. It's one of the rare no annual fee secured cards that earns rewards, plus all cash back earned in your first year will matched with Discover's Cashback Match program.
Card Name
Rewards
APR
Annual Fee
Other Fees
Discover it® Secured Credit Card

2% cash back at gas stations and restaurants (on up to $1,000 in combined purchases per quarter, then 1%)
1% cash back on all other purchases

22.99% variable (six-month 10.99% intro balance transfer APR, then standard variable rate)
$0

Late payment fee: none the first time, then up to $40
Cash Advance: 5 percent or $10, whichever is greater
No penalty APR or foreign transaction fees

Capital One Platinum Secured Credit Card
N/A
26.99 percent variable
$0

Late payment fee: up to $40
Cash Advance: 3 percent or $10 , whichever is greater

Total Visa® Unsecured Credit Card
N/A
See Terms
See Terms

Late payment fee: up to $40
Cash Advance: 3 percent or $10, whichever is greater. (after the first year)
Program: $89 (one-time)
Additional fees: See Terms
Best cards to pair with the Milestone Gold Mastercard
It's probably not a good idea to pair any other cards with the Milestone Gold credit card. If you're in a position where you need this card, you should have one goal—building your credit. Rather than pairing cards with the Milestone credit card, you can think about upgrading to a better card. You likely still won't qualify for the best rewards cards right after graduating from a rebuilding card like this one, but you can find cards that offer lower fees and better interest rates for people with fair credit.
Bankrate's Take—Is the Milestone Gold Mastercard worth it?
This card might not be the best choice unless you have very limited options.
For a card that is aimed more toward those with less-than-stellar credit scores or little credit history, the Milestone Gold Mastercard limit, rates and fees make for a bad combination for people who are trying to get back on their feet. The high annual fees mixed with a low credit limit severely cuts into the initial available credit, and the indefinite penalty APR gives no grace to those who might make a late payment.
Make sure to consider other cards before you make a decision to apply for the Milestone Gold Mastercard. There are much better options out there—even for people with bad credit.
Pros
No security deposit required
Applying doesn't impact your credit with a hard credit pull
Cons
Potentially high annual fee ($35 to $99)
High APR (See Terms) and other fees riddle its confusing terms
No rewards program or welcome offers available