Apple Card review
Why you can trust Bankrate
At Bankrate, we have a mission to demystify the credit cards industry — regardless or where you are in your journey — and make it one you can navigate with confidence. Our team is full of a diverse range of experts from credit card pros to data analysts and, most importantly, people who shop for credit cards just like you. With this combination of expertise and perspectives, we keep close tabs on the credit card industry year-round to:
Meet you wherever you are in your credit card journey to guide your information search and help you understand your options.
Consistently provide up-to-date, reliable market information so you\'re well-equipped to make confident decisions.
Reduce industry jargon so you get the clearest form of information possible, so you can make the right decision for you.
At Bankrate, we focus on the points consumers care about most: rewards, welcome offers and bonuses, APR, and overall customer experience. Any issuers discussed on our site are vetted based on the value they provide to consumers at each of these levels. At each step of the way, we fact-check ourselves to prioritize accuracy so we can continue to be here for your every next.
Bankrate follows a strict editorial policy, so you can trust that we're putting your interests first. Our award-winning editors and reporters create honest and accurate content to help you make the right financial decisions.
Key Principles
We value your trust. Our mission is to provide readers with accurate and unbiased information, and we have editorial standards in place to ensure that happens. Our editors and reporters thoroughly fact-check editorial content to ensure the information you're reading is accurate. We maintain a firewall between our advertisers and our editorial team. Our editorial team does not receive direct compensation from our advertisers.
Editorial Independence
Bankrate's editorial team writes on behalf of YOU – the reader. Our goal is to give you the best advice to help you make smart personal finance decisions. We follow strict guidelines to ensure that our editorial content is not influenced by advertisers. Our editorial team receives no direct compensation from advertisers, and our content is thoroughly fact-checked to ensure accuracy. So, whether you're reading an article or a review, you can trust that you're getting credible and dependable information.
You have money questions. Bankrate has answers. Our experts have been helping you master your money for over four decades. We continually strive to provide consumers with the expert advice and tools needed to succeed throughout life's financial journey.
Bankrate follows a strict editorial policy, so you can trust that our content is honest and accurate. Our award-winning editors and reporters create honest and accurate content to help you make the right financial decisions. The content created by our editorial staff is objective, factual, and not influenced by our advertisers.
We're transparent about how we are able to bring quality content, competitive rates, and useful tools to you by explaining how we make money.
Bankrate.com is an independent, advertising-supported publisher and comparison service. We are compensated in exchange for placement of sponsored products and, services, or by you clicking on certain links posted on our site. Therefore, this compensation may impact how, where and in what order products appear within listing categories. Other factors, such as our own proprietary website rules and whether a product is offered in your area or at your self-selected credit score range can also impact how and where products appear on this site. While we strive to provide a wide range offers, Bankrate does not include information about every financial or credit product or service.
This content is powered by HomeInsurance.com, a licensed insurance producer (NPN: 8781838) and a corporate affiliate of Bankrate.com. HomeInsurance.com LLC services are only available in states were it is licensed and insurance coverage through HomeInsurance.com may not be available in all states. All insurance products are governed by the terms in the applicable insurance policy, and all related decisions (such as approval for coverage, premiums, commissions and fees) and policy obligations are the sole responsibility of the underwriting insurer. The information on this site does not modify any insurance policy terms in any way.
Apple Card
Regular APR
10.99% to 21.99% (Variable)
The Apple Card is one of the most unique cash back credit cards on the market today, but it's also geared specifically toward consumers who already own Apple devices. This rewards card works in conjunction with iPhones or your Apple Watch, as well as with Apple Pay, to streamline purchases and help users earn up to 3 percent cash back on everything they buy.
What are the advantages and disadvantages?
Apple Card comes with an array of unique features geared to Apple users, and consumers get to earn tiered rewards on everything they buy—including 3 percent back on Apple products like phones, computers and accessories. However, this card isn't for everyone, and it has several limitations you won't find with other rewards cards.
Pros
Generous cash back rate on all purchases: The Apple Card lets users rack up 3 percent back on Apple purchases as well as with select retailers, 2 percent back on other spending when paying with Apple Pay and 1 percent back on all other purchases.
Earn rewards daily: Unlike other rewards credit cards that award points at the end of each billing cycle, the Apple Card accrues cash back as you make purchases every day.
No hidden fees: This card is free of annual fees, foreign transaction fees and late fees.
Apple Card Family feature: You can add other family members as authorized users to your Apple Card to create an Apple Card Family. This feature makes it easier to monitor all family spending and rewards in one place.
Introductory rates for eligible Apple purchases: Cardholders can qualify for introductory APR offers for select Apple purchases. The length of your introductory 0 percent APR offer will vary.
Allows joint cardholders: Finally, the Apple Card is one of the very few credit cards that allows joint co-owners on one account. This feature can be beneficial if you want to co-own a credit card and build credit with a partner or spouse.
Cons
Top rewards rates have stipulations: You'll only earn the top 3 percent back rate when you shop with Apple and use Apple Pay at select merchants, and earning 2 percent back hinges on paying with Apple Pay.
Must own Apple products: This card is designed for Apple users and not really useful for people who own other types of devices.
Doesn't allow balance transfers: Goldman Sachs, the issuer of this card, has reportedly made it difficult to transfer balances from this card to another. The Apple Card does not allow transferred balances from other cards, either.
You have to request a physical card: The Apple Card is meant to work within Apple Pay, so it doesn't automatically come with a titanium card unless you request one.
A deeper look into the current card offer
Quick highlights
Rewards rate: Earn 3 percent back when you shop with Apple and select retailers, 2 percent back on other spending when paying with Apple Pay and 1 percent back on all other purchases
Welcome offer: None
Annual fee: $0
Purchase intro APR: N/A
Balance transfer intro APR: N/A
Regular APR: 10.99 percent to 21.99 percent variable APR
Rewards rate
While the Apple Card doesn't always offer a traditional sign-up bonus (it does occasionally offer limited-time bonuses), cardholders can earn some pretty generous rewards on their spending from day one. This is partly because this card offers up to 3 percent back on select purchases, but also because your rewards accrue daily as purchases are made.
How you earn
You'll earn 3 percent back when you shop with Apple, 2 percent back on other spending when paying with an Apple Pay and 1 percent back on all other purchases. While the 3 percent cash back rate is very generous, you have to ask yourself how much you spend with Apple within a year. Maybe you frequently upgrade your phone or invest in a new Macbook every few years, but unless you're a heavy Apple shopper this bonus category may not lead to a ton in rewards.
Also note that this card offers 3 percent back with specific merchants that can change over time. Current retailers that earn 3 percent back include Duane Reed, Mobil, Panera Bread, Uber, Walgreens, Exxon, Nike, T-Mobile and Uber Eats. However, you must pay with Apple Pay at these retailers to earn the bonus rate.
The 2 percent cash back rate is also generous, but keep in mind that, you'll need to pay with your Apple Card and use Apple Pay on a device like your iPhone or Apple Watch. Though support for the mobile wallet has grown considerably in recent years, not all merchants accept Apple Pay. If Apple Pay isn't an option, you'll only earn 1 percent back on non-Apple purchases made with your physical card.
Meanwhile, earning 1 percent back on general purchases is pretty standard among cash back credit cards.
How to redeem
The Apple Card lets you add to your cash back rewards balance daily, which is a major plus. However, the ways you can use your Apple Card cash back is rather limited. You can turn your rewards into Apple Cash—a prepaid card in Apple Wallet—and send money to friends or make purchases via Apple Pay using those funds, or, if you don't have an Apple Cash account, you can redeem your rewards as a statement credit to your account.
How much are the rewards worth?
Since the Apple Card offers cash back instead of rewards points, the cash back you earn is worth the exact dollar value you would expect. For example, earning 3 percent back on a $100 purchase would leave you with $3 in rewards, and the same purchase at the 1 percent back rate would leave you with $1 in rewards.
Other cardholder perks
The Apple Card does have a handful of benefits users might grow to love, but its perks aren't the same ones you will find with other cash back credit cards. For example, the Apple Card doesn't come with any travel insurance protections, nor does it come with purchase protections like purchase security or extended warranties. Instead, you'll enjoy a unique and useful mobile experience, a few consumer-friendly payment and expense tracking features and more, including:
Mobile expense tracking
Since your Apple card is meant to work alongside Apple Pay and your iPhone, this card makes it easy to monitor your spending on a daily basis or over the course of many months. You can use the app to view receipts for all your purchases, or to get a visual of your spending by color and by category. You can even look at a spending summary by the week, the month or the year.
Smart payment suggestions
Apple not only lets you set up payment alerts on your phone, but also makes smart payment suggestions that can help you pay less in interest over time.
Features for families
Apple Card lets you co-own an account with another person. You can also set up an Apple Card Family account that lets you keep track of spending and rewards of all cardholders and authorized users to your Apple Card in one place. Apple Card Family users who are ages 18 and older can even begin building credit through their participation.
End-of-month due dates
Finally, this card keeps things simple by setting end-of-month payment due dates. You'll never have to wonder when your payment is due as a result.
Rates and Fees
The Apple Card doesn't charge an annual fee, nor does it charge foreign transaction fees. Cardholders won't even pay late fees on their card, which is really a stand-out feature.
If you carry a balance, you'll pay a variable APR of 10.99 percent to 21.99 percent.
How the Apple Card compares to other cash back cards
Before you sign up for the Apple Card, you should compare it to a few other cash back credit cards with different features and rewards. The chart below compares the Apple Card to the Wells Fargo Active Cash® Card and the Chase Freedom Flex℠, two other no annual fee cash back cards worth considering.
Apple Card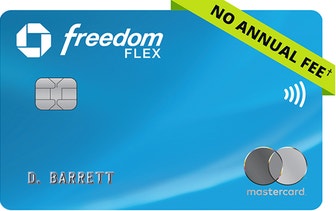 Chase Freedom Flex℠
Recommended credit
Good to Excellent(670 - 850)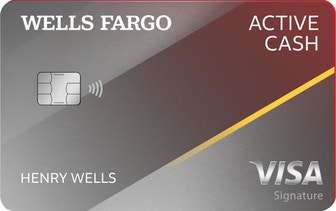 Wells Fargo Active Cash® Card
Intro offer
$200 cash rewards
Recommended credit
Good to Excellent(670 - 850)
Best cards to pair with this card
Since the Apple Card only gives the 2 percent back rate on everyday purchases made with the card through Apple Pay and your Apple device, you may want to pick up another rewards card to use for in-person spending where Apple Pay isn't available. That way, you can earn more than 1 percent back in these circumstances, which is what the Apple Card offers for purchases made with the physical card.
The Wells Fargo Active Cash Card could be a good choice, since it offers a flat 2 percent back on purchases with no annual fee.
Bankrate's Take: Is the Apple Card worth it?
If you use Apple devices and spend a lot on Apple products already, the Apple Card may be well worth signing up for. This is especially true if you spend a lot in other categories the Apple Card offers 3 percent back in, such as T-Mobile for your phone bill each month or Uber Eats. If you make most of your purchases with Apple Pay and your phone already, then you're already primed to earn 2 percent back on most of your non-Apple spending as well.
Still, there are plenty of other rewards cards that offer a lot more flexibility, meaning you'll earn the promised rewards rate no matter whether you pay with a physical card or through an app. With that in mind, you should compare the top card options before you decide.