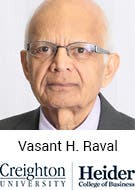 The credit card industry made a lot of news in 2014. Retailers such as Target, Staples and Home Depot suffered major data breaches that put shoppers' personal information at risk.
On a more positive note, this year saw more companies turning to the use of chip-enabled credit cards, which offer increased levels of security. Mobile point-of-sale systems also are revolutionizing how people pay for goods and services.
What do all these developments mean for consumers?
Vasant H. Raval, professor of accounting at the Heider College of Business at Creighton University in Omaha, Nebraska, says today's credit card customers have a growing number of options for using their cards.
But he also cautions that risks lurk behind every credit card transaction.
Raval expands on those thoughts in the following interview.
What are some of the biggest developments surrounding credit cards — and credit card debt — during the past few years?
Beyond any doubt, the biggest development surrounding credit cards has been in mobile point-of-sale (mPOS systems). Two factors that contribute to this have to do with technology in near-field communication (NFC) and mobile phones as card-accepting devices.
NFC facilitates two devices — (a) consumer's smartphone and retailer's cash register, for example — to exchange data at close proximity — less than 2 inches apart.
Related developments include mobile payment ecosystems — Apple Pay, for example — that bring together card issuers and card brands, applications, transaction processing (typically in the cloud), merchants, mobile operator and the Internet-connected devices.
On the consumer's side, smartphones have revolutionized the electronic payments. On the retailer side, developments such as Square are helpful. Initially, Square started with a simple card-swipe device that could be attached to a mobile phone or tablet, thus enabling small businesses to accept small payments electronically without the burden of having to maintain an elaborate infrastructure for payment card processing.
Finally, online payments systems, such as Dwolla and PayPal, provide an online payment network.
In recent years, there have been many stories about security breaches involving the personal details of credit card holders. How big a threat do these breaches potentially pose for shoppers?
Every shopper is potentially exposed with each payment card transaction the shopper enters into. It is not so much the initial loss on account of the transaction, but rather the amount of "cleanup" you have to do if you are affected. This is time-consuming and frustrating, and could take many months following the compromise.
In monetary terms, consumers bear minimum losses, and even these amounts — typically $50 –are often excused by the card issuers.
What can credit card issuers do to better protect the security of credit card holders?
It appears there is no foolproof way to ensure protection. Some of the options to secure the payment ecosystem could be cost-prohibitive. Because humans are likely to make errors that they may never repeat, it is difficult to protect systems from every situation where people interacting with the system may commit an error.
The chip-and-PIN method popular in Europe seems more secure. However, transition to such systems throughout the universe of payment card vendors is costly. Consequently, their implementation in the U.S. is slow, if at all.
In contrast, mobile point-of-sale ecosystems (such as) Apple Pay may not require a significant commitment on the part of the retailer to upgrade devices for enhanced security. We may find the payment card industry leapfrogging to new technologies without having to invest in chip-and-PIN infrastructure.
What are some things shoppers can do to protect their own personal information — and their finances — when shopping with credit cards?
There are several things consumers can do to protect themselves, including:
?Keep (your) credit limit as low as you can. If necessary, increase your credit limit temporarily.
Consolidate your cards into one or two.
Use the credit card online only to transact with the most reliable businesses. (Carefully check that you did not make any typographical error in reaching the site.) This practice is also recommended for on-site transactions as well. Using a credit card at the local farmers market may not be a good idea.
?Review the charge card bill regularly, even if you are paying electronically and automatically through your bank account. If you are getting an electronic copy of your bill, avoid the tendency to postpone reviewing the bill.
Limit — ideally, eliminate altogether — the practice of sharing your credit card data over the phone or by email.