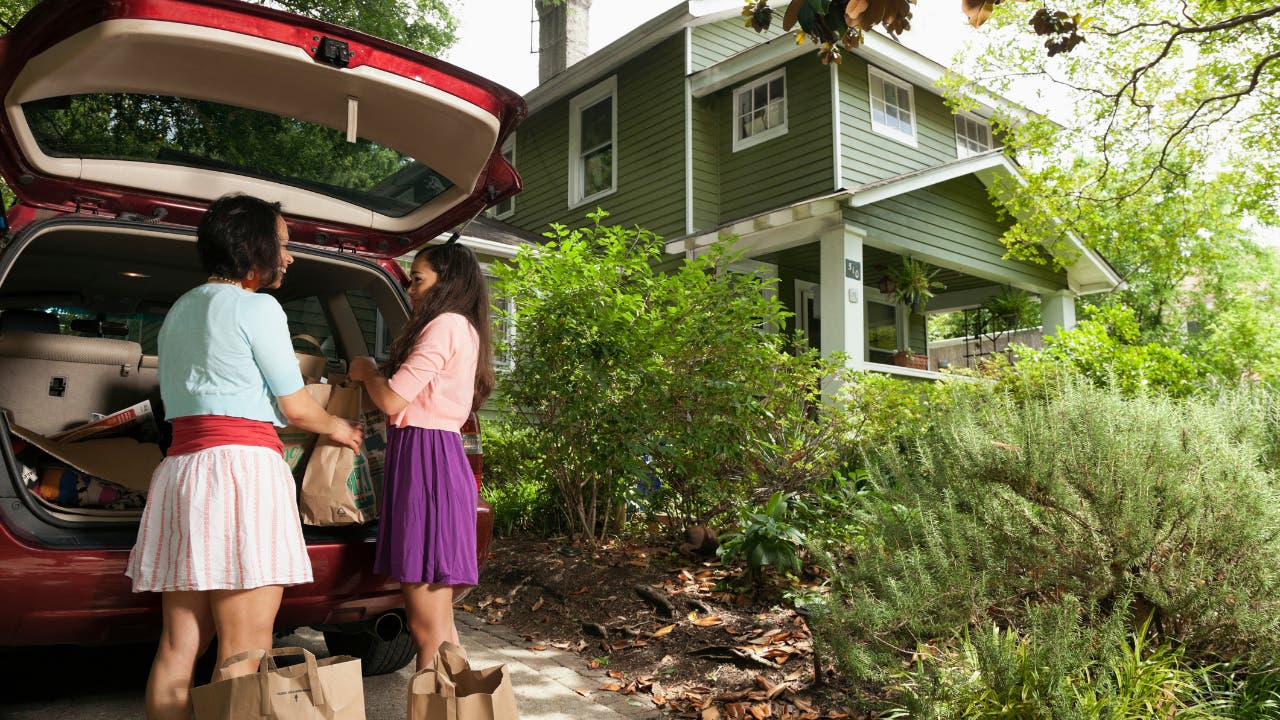 In 1939, Iowa Farm Mutual Insurance Company opened its doors in Des Moines, Iowa. In its infancy, the company sold liability insurance to local farmers. As the company grew and opened offices in other states, it expanded its insurance product line to include coverages for cars, homes and other types of property. Today, the company goes by the name Farm Bureau Financial Services and employs 4,000 field agents in offices in Arizona, Iowa, Idaho, Kansas, Minnesota, Montana, North Dakota, New Mexico, Oklahoma, South Dakota, Utah, Wisconsin and Wyoming.
Farm Bureau Insurance is known for its superior car and home insurance products. It also offers protection for your business, farm and recreational vehicles.
Farm Bureau car insurance coverage options and discounts
Farm Bureau offers a full line of automobile coverages, including:
Liability insurance, which covers the cost of repair or replacement of another person's automobile or other property when you are at fault in an accident. Liability coverage also pays for the injuries of other people but does not cover the injuries of the insured.
Comprehensive coverage pays for theft of or damage to your automobile not caused in an accident. For example, if a thief smashes your car window, your comprehensive policy will pay for repairs.
Collision insurance pays to replace or repair your automobile, regardless of who was at fault in an accident.
Medical and no-fault coverages, which many states require you to have, helps pay for your medical expenses following an accident, regardless of who was at fault.
Uninsured and underinsured coverage pays the medical expenses of you and your passengers if an uninsured or underinsured driver is at fault in an accident. Like medical and no-fault coverages, some states require you to have uninsured and underinsured motorist insurance.
Farm Bureau Insurance offers you many ways to reduce the cost of your premium. Remember to see which discounts you could qualify for when you get a Farm Bureau Insurance quote.
Bundle your Farm Bureau automobile and homeowners policies through the Farm Bureau Member's Choice program. Bundling enables you to pay one premium for your car and home coverage, and it features a single deductible to protect all eligible property in the event you ever need to file Farm Bureau insurance claims.
Install Farm Bureau's Driveology device on your vehicle's OBD-II port to reduce your premium by up to 30%. The device collects data on your driving habits and rewards good drivers with lower rates.
The claim-free discount rewards drivers who do not file any Farm Bureau insurance claims by lowering their premium costs. The claim-free discount is not available in all states.
Students who maintain a B average or higher may qualify for a good student discount. And, drivers under the age of 25 may qualify for a safe your driver discount if they maintain a good driving record.
Farm Bureau policyholders who do not drive more than 7,500 miles per year may qualify for a low mileage discount.
When you insure more than one vehicle through Farm Bureau Insurance, you may qualify for a multiple car discount.
Member's Choice members who consistently renew their auto insurance policies may qualify for loyalty credits on rates.
Farm Bureau home insurance coverage options and discounts
Farm Bureau's homeowners policies let you add coverages to protect your home, personal property and properties connected to your home.
Guaranteed replacement cost coverage can pay up to 125% of your homeowners policy's limit to repair or replace your home.
Residential equipment breakdown coverage can help pay to replace air conditioners, computers, electronic equipment and hot water heaters.
Farm Bureau's other building insurance helps cover the cost of repairing or replacing unattached garages, sheds or other buildings, along with their contents. This benefit kicks in if the damage or loss to an additional structure exceeds the $2,500 limit of your core policy.
With personal property coverage, you can protect valuable items such as electronics, cameras and jewelry.
Umbrella coverage can protect you from liability if someone dies or sustains an injury on your property. Umbrella coverage takes over after you exhaust the liability limit on your core homeowners policy.
As with automobile policies, Farm Bureau Insurance offers policyholders several ways to reduce the cost of their homeowners policies.
Bundling your policies cover all your possessions with a single deductible. If you bundle Farm Bureau car, boat and homeowners policies, one deductible will apply if all sustain damage by the same calamity.
When you buy a new home or replace the roof on your current home, you may qualify for homeowners premium discounts.
Add a burglar alarm system to your home and you may qualify for a protective device discount.
When you renew your homeowners policy, you may qualify for a longevity credit.
Farm Bureau ratings, reviews, customer satisfaction and complaints
J.D. Power and Associates conducts an annual study of insurance companies and ranks insurers based on billing process and policy information, customer interaction, policy offerings, policy pricing and overall customer satisfaction.
In its 2019 U.S. Auto Insurance Study, Farm Bureau Insurance ranked number one in the Southeast and Texas regions, with 5-star ratings in all categories. Farm Bureau of Indiana ranked third in the North Central region and Farm Bureau Mutual ranked 11th in the Central region.
The Better Business Bureau gives Farm Bureau Insurance customer service and claims an A+ rating. The BBB rates companies based on the number of consumer complaints it receives about a company, the size of the company, the way a company responds to complaints, the amount of time a company takes to resolve a complaint, whether or not a company makes an effort to resolve a complaint, a company's complaint resolution rate and the length of time a company takes to resolve a complaint.
Most BBB complaints filed against Farm Bureau Insurance by auto and homeowners policyholders involve issues with billing and customer service.
Reasons why Farm Bureau is a great option
According to The Zebra, an organization that conducts research on the insurance industry, Farm Bureau auto insurance is a great choice for many types of drivers. In a study comparing Farm Bureau Insurance and the Amica Mutual Insurance company, Farm Bureau offered lower rates than Amica did for several types of drivers.
The study found that Farm Bureau policyholders with very poor credit pay an average annual premium of around $1,780, while Amica customers pay $2,010. Car owners with a DUI on their records pay an average annual premium of $1,850 with Farm Bureau, compared to Amica drivers, who pay around $3,350. Farm Bureau also offers better premium rates than Amica does for all ages of drivers. Amica policyholders in their teens pay an average premium of around $5,360, compared to Farm Bureau drivers, who pay almost half that amount. And Amica policyholders in their 60s pay an average premium of about $1,060, while Farm Bureau customers pay just $870.
Farm Bureau's homeowners insurance pricing also beats the competition in many locations. According to The Zebra, Arizona residents pay an average cost of over $1,280 per year for homeowners insurance, but Arizonans covered by Farm Bureau pay around $900. In Virginia, Farm Bureau policyholders pay the lowest rates for homeowners insurance, just over $775 per year, more than $300 below the state average.
And remember, if you choose a Farm Bureau insurance quote for both your auto and home insurance coverage, you can bundle your policies for even greater savings.
Additional policies offered by Farm Bureau
Most people want to protect more than just their home and car. Farm Bureau has a large selection of insurance products, including:
Farm vehicle, motorcycle, recreational vehicle and residential equipment insurance
Condo, mobile home and renter's insurance
Term life, universal life and whole life insurance
Agricultural-related business, commercial business, crop and livestock and home-based business insurance
Disability and long-term care insurance
Business succession, employee benefits and workers compensation insurance
Frequently asked questions
What do I need to get a Farm Bureau car insurance quote?
To get a Farm Bureau insurance quote, the Farm Bureau agent will need to know your age, the type of car you drive, how many miles you drive each year, your location and information about your driving record.
How do I file a Farm Bureau insurance claim?
You can file a claim online through the Farm Bureau Financial Services website, or by calling your Farm Bureau agent or the Farm Bureau national call center.
Does Farm Bureau offer investment products?
Besides insurance, Farm Bureau also offers annuities, mutual funds, retirement funds and college funds.
When filing an auto claim, how many estimates does Farm Bureau require?
If you choose an auto body repair shop in Farm Bureau's Preferred Auto Repair Shop program, you only need to submit one estimate and Farm Bureau will pay the shop directly.