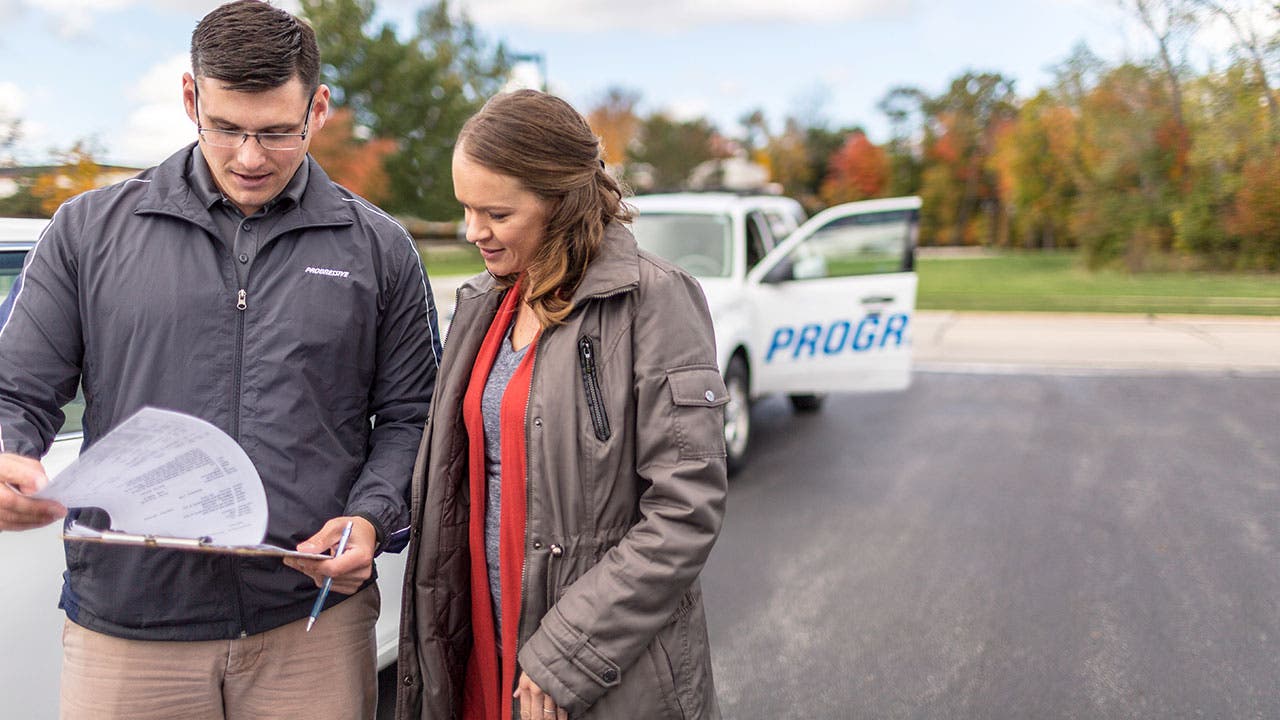 Progressive is a leader among auto insurers. The Ohio-based insurer, which was founded in 1937 by Jack Green and Joseph Lewis, is the nation's fifth-largest property and casualty insurer and biggest auto insurer measured by premiums, according to the Insurance Information Institute.
While Progressive is mostly known for car insurance, it does offer a full line of coverage ranging from cars to condos.
The basics of Progressive auto insurance
Progressive was the first insurance company to have a website and to allow customers to buy insurance through the website. Progressive is well-known for its online price comparison tool, where you can compare car insurance quotes.
Progressive offers bodily injury and property damage liability insurance, comprehensive and collision coverage and much more.
The insurer scores decent or above-average marks for customer satisfaction. It got 3 out of 5 stars in J.D. Power's 2018 U.S. Auto Claims Satisfaction Study, which was based on nearly 11,000 auto insurance customers who settled a claim in the six months before taking the survey.
Progressive offers a long list of auto insurance discounts, including:
Multi-policy discount
Safe driver discount
Snapshot discount
Multi-car discount
Continuous insurance discount
Discounts for older teenagers and young adults
In addition to auto insurance, Progressive offers home, renters and life insurance through third parties. It also insures motorcycles, boats, RVs and commercial vehicles.
Pros of Progressive auto insurance
If you're thinking about buying a Progressive auto insurance policy, here are some of the benefits.
Gap insurance: Not all big insurers offer gap insurance, but Progressive does. For example, Geico doesn't currently offer it. Gap insurance is a form of add-on car insurance coverage that helps drivers cover the gap between what they owe on the car and the car's actual cash value if there's an accident. For example: If you have a wreck and your car is worth $5,000, but you owe $7,000 on it, you have a $2,000 gap. With gap insurance, Progressive would pay up to 25 percent above the value of your car if it has been totaled, which should help cover what you owe on the car.
Roadside assistance: Progressive offers roadside assistance for reasons beyond an accident. For example, if you need a tow, run out of gas or have a flat tire, you can call Progressive's roadside assistance phone line and it will send a roadside service professional to you. Other reasons to use roadside assistance for include: winching service, jump-start a battery, locksmith service and on-scene labor. However, some of the services listed are only available depending on the type of coverage you have, so be sure to check which services are provided for your coverage.
Custom parts and equipment value: Progressive offers custom parts and equipment coverage. This coverage will replace or repair things you add on to your car – for example, custom rims or a new stereo system. Custom parts and equipment coverage typically insures your after-market items up to $5,000, according to Progressive.
Pet injury protection: If you have collision coverage, Progressive's pet injury protection will help you cover vet bills and medicine if your pet gets injured in a car accident. Not many insurers offer this type of coverage. The coverage will pay up to $1,000 for vet bills and medicine, according to Progressive.
Cons of Progressive auto insurance
There aren't many glaring cons when it comes to Progressive auto insurance. However, you can find complaints about the insurer online if you search for them, though that is true of any insurer.
Other insurance coverage available from Progressive
Here's a list of some of the types of insurance Progressive offers, in addition to auto insurance:
Motorcycle cycle
Boaters insurance
RV insurance
Commercial vehicle insurance
Segway insurance
Pet insurance
Homeowners insurance
Renters insurance
Condo insurance
Identity theft insurance
Life insurance
Flood insurance
Electronic device insurance