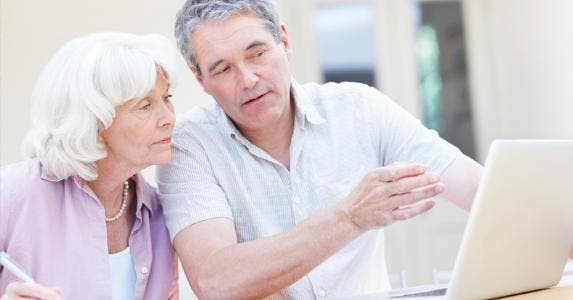 Dear Senior Living Adviser,
For the past 16 years, I have let someone else manage our accounts, and for the past 5 years my investments earned nothing, even as the U.S. stock market tripled. We could have done so much better. I was asleep at the wheel.
After firing my fund manager, I am taking charge. The first thing I did was go almost all to cash. I believe that now is not a good time to dive into the market.
I am 61, my wife is 69 and we are both healthy. She filed for Social Security benefits at age 62. I plan on doing so when I turn 70. I'm still working and expect that to be the case for at least another 5 years.
We have approximately $500,000 for retirement investing. Of that amount, $210,000 is in a 401(k) and $290,000 is in a taxable account. About $36,000 is invested in stocks. The rest is sitting in cash.
How should we invest this money? I am thinking about investing in about 6 mutual funds. What are the pros and cons of tax-advantaged mutual funds? What about reinvesting the earnings back into the same funds? This seems to be a big deal. I am not sure why.
We live in South America and rent. The cost of living is pretty low and we enjoy it here.
— Walt Wonders
Dear Walt,
While firing your money manager no doubt gave you a measure of satisfaction, sitting in cash and trying to time when you're going to get back into the stock market is no picnic for any investor. I'd suggest working with a financial planner instead of just having a money manager. That'll give you a complete overview of your financial picture rather than just focusing on how the portfolio is invested.
A mutual fund or exchange-traded fund can be well-diversified on its own for retirement investing. There's no magic number of funds you should own. You could do well with as little as 2 to 4 mutual funds. A low-cost total market index fund gives you exposure to small-, medium- and large-capitalization stocks in a market. You'll want foreign and domestic exposure to stocks, bonds and cash in that portfolio. The mix should be based on your risk tolerance, other sources of retirement income and financial goals.
There's a lot of research done on retirement investing, including what you should hold in a taxable account versus a tax-deferred account like your 401(k). All of the money coming out of the 401(k) will be taxed as ordinary income. Long-term capital gains in the taxable account may qualify for a lower tax rate. That argues for growth stocks in the taxable account and bonds in the tax-advantaged retirement accounts.
A mutual fund has to pass along its income and realized capital gains to its investors. That keeps the fund from having to paying taxes. When you get a distribution from a fund and then reinvest it in the fund's shares, you still have to pay the taxes due on the distribution. In a tax-advantaged retirement account, the taxes are deferred. In a taxable account, they're due in the tax year the distribution is paid.
You'll want to research Social Security claiming strategies. It may be possible for you to claim a spousal benefit at your full retirement age and earn delayed retirement credits on your work record up until age 70, when you file for retirement benefits, based on your work record. I recommend working with Social Security Solutions to discuss your claiming strategy.
Working and living in South America can complicate your financial situation. That's another reason not to be a do-it-yourselfer when it comes to managing your taxes, investments and retirement income planning. You fired your money manager. Fine. That doesn't mean that you don't need to replace him with another financial planner.
Ask the adviser
To ask a question of Dr. Don, go to the "Ask the Experts" page and select one of these topics: "Senior Living," "Financing a home," "Saving & Investing" or "Money." Read more Dr. Don columns for additional personal finance advice.
Bankrate's content, including the guidance of its advice-and-expert columns and this website, is intended only to assist you with financial decisions. The content is broad in scope and does not consider your personal financial situation. Bankrate recommends that you seek the advice of advisers who are fully aware of your individual circumstances before making any final decisions or implementing any financial strategy. Please remember that your use of this website is governed by Bankrate's Terms of Use.